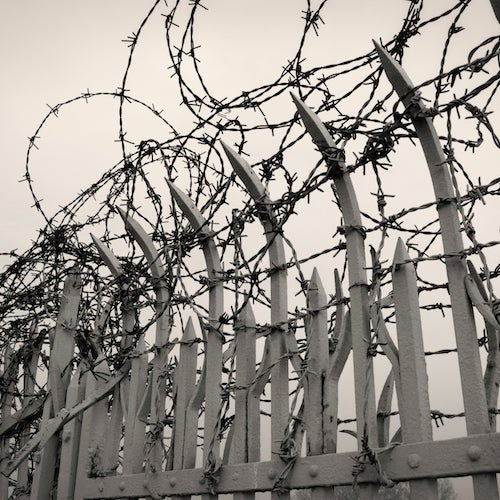 Of the 28.7 million black Americans living in the nation's largest metropolitan areas, nearly one-quarter reside in segregated neighborhoods -- where at least 80% of residents are black. People living in urban areas are even more likely to be isolated, with 44.4% living in homogeneous neighborhoods, where the vast majority of residents have the same skin color or ethnicity.
Nearly 14% of U.S. residents are African American. Therefore, if 14% of each community were black, the United States would be perfectly integrated. For the 100 largest metropolitan areas, this is never the case. 24/7 Wall St. reviewed large U.S. metro areas containing at least one census tract -- small statistical areas -- where at least 80% of the population is African American. The most segregated metro areas have the largest percentage of black area residents living in these racially homogeneous communities.
Detroit is the most segregated metro area in the United States. Among the city's 962,000 black residents, 57.7% live in predominately black neighborhoods.
Richard Rothstein is a senior researcher and segregation expert at the Economic Policy Institute, a left-leaning think tank. In an interview with 24/7 Wall St., Rothstein said there is a distinction between segregation and ethnic and racial homogeneity, which unlike most isolated African American communities, could be related to immigration patterns, grouping due to shared language, and so forth. "Only African Americans were segregated by a century of explicit federal state and local policy," Rothstein said.
The United States has a long and troubling history of race-based housing segregation. Until the fair housing act was passed in 1968, municipalities and private realtors were able to legally force African Americans to live in separate neighborhoods. The long-term consequences of these policies, coupled with the continuing trend of white flight, has entrenched segregation and the resulting inequalities in U.S. metropolitan areas.
Not all racial segregation can be blamed on discriminatory housing policies. The path towards integration is not set, and while activists and lawmakers struck a blow against segregation during the Civil Rights movement of the 1950's and 60's, it persists in different, perhaps more subtle forms to this day. One such example is the process of gentrification taking place in many urban U.S. areas. Rothstein noted that gentrification is often mistaken for integration. In neighborhoods where the population was "once all black, and now they're mixed, but in 10 years they're going to be all white, that's a misleading indicator of integration," he said.
One of the most serious and observable long-term consequences of residential segregation can be seen in the public school system. School funding is largely determined by property tax revenues. In metropolitan areas characterized by wealthy white neighborhoods and low-income black neighborhoods, therefore, schools in white neighborhoods are much better funded. Consequently, white children are much more likely to succeed than black children in a nearby neighborhood, even as they are attending classes often just a mile or two away.
While a range of factors affect disparities in educational attainment on a racial level, the effects of segregated housing on learning outcomes are evident. Among white adults nationwide, 89.1% have a high school diploma and 34.9% have a bachelor's degree. For black residents 25 and older, the corresponding educational attainment rates are 84.9% and 21.0%. In many of the most segregated metropolitan areas, the differences are much larger. For example, in Milwaukee -- one of the more segregated U.S. metros -- educational attainment rates of white residents are comparable to national figures, but just 80% of black adults have graduated from high school and just 12.4% have a four-year college degree.
Speaking to the Cleveland Plain Dealer, Marjory Givens, associate scientist with the University of Wisconsin Population Health Institute said "Highly segregated neighborhoods tend to have environmental hazards, often elevated crime levels, and segregated residents in general have fewer opportunities for good education or a job that pays a living wage, or access to health care and healthy food."
These are America's most segregated cities.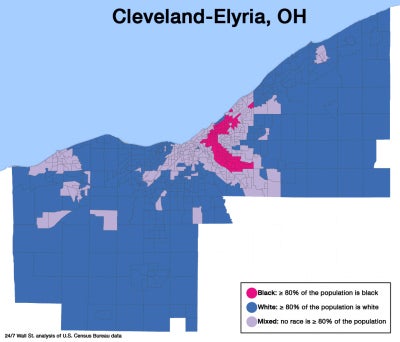 5. Cleveland-Elyria, OH
Black ppl. in black neighborhoods: 44.9%
Black population: 19.6%
Black poverty rate: 33.8%
White poverty rate: 10.1%
There are a number of ways to measure segregation. Nearly 45% of Cleveland's black residents live in neighborhoods that are at least 80% black. There are numerous methods used to measure segregation. One measure, of exposure to other races, pages the Cleveland area at nearly the most segregated. Across the nation, about 37% of the people the average white American encounters are also white. In Cleveland, the share is 84.7%.
Like most major metropolitan areas, racially segregated neighborhoods in the Cleveland area -- as well as the socioeconomic inequalities in these neighborhoods -- are at least in part a consequence of racially conscious discrimination. During the early 1900's, black families could only access housing on the east side of the city, which is where all predominately black neighborhoods can be found today.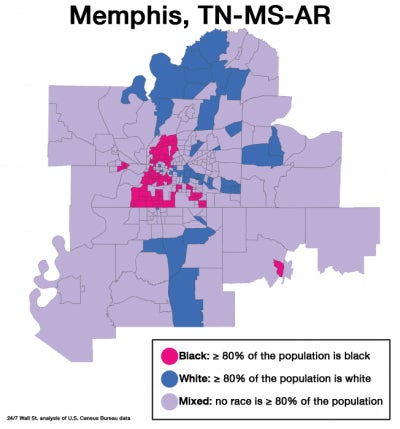 4. Memphis, TN-MS-AR
Black ppl. in black neighborhoods: 47.2%
Black population: 45.8%
Black poverty rate: 28.9%
White poverty rate: 9.7%
In the 1930s, the Memphis Housing Authority began a series of urban redevelopment programs, frequently referred to as "slum clearance." The city tore down residences in black middle class neighborhoods. The city justified the plan with claims these building were decrepit and unsafe, but in actuality these family homes were part of a hard-won black community. In its place the housing authority built a massive public housing complex. Not only did the city disregard the pleas of black residents, but officials effectively exacerbated segregation by dramatically increasing the amount of low-income housing.
Nearly 46% of the Memphis population is black, one of the largest black populations of any urban region. Nearly half of these residents live in a neighborhood that is at least 80% black. Memphis' white residents are about twice as likely to graduate from college, earn about twice as much money, and are only about one-third as likely to be unemployed.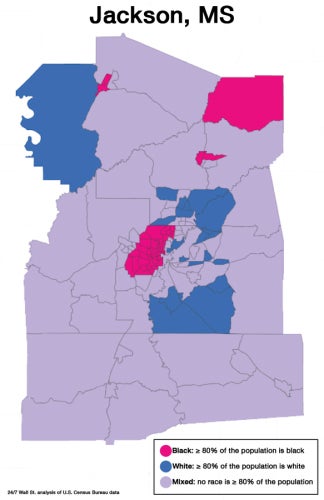 3. Jackson, MS
Black ppl. in black neighborhoods: 47.7%
Black population: 48.4%
Black poverty rate: 29.8%
White poverty rate: 9.9%
With 47.7% of Jackson residents identifying as African American, the area has the largest black population of any large U.S. metro area. Jackson is one of the few U.S. regions where black people outnumber whites. Jackson is also nearly the most segregated city in the country. Of the 278,370 African American area residents, close to half live in predominantly black neighborhoods.
With a homeownership rate of 54.0%, African American area residents are more likely to own their homes than black residents of any other large metro area reviewed. However, the difference from white residents is no less stark. The white homeownership rate in the area, at 79.4%, is also the highest white homeownership rate.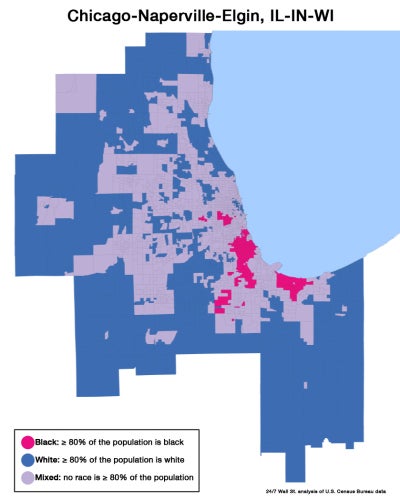 2. Chicago-Naperville-Elgin, IL-IN-WI
Black ppl. in black neighborhoods: 50.3%
Black population: 16.8%
Black poverty rate: 29.4%
White poverty rate: 9.3%
Chicago is one of the nation's largest and most diverse cities. Perhaps as a result, the number of racially homogenous neighborhoods is relatively low. Of the 2,200 tracts in the metro area, fewer than 1,000 have 80% or more people of a single racial group. Still, black area residents are more likely than not to live in predominantly black neighborhoods, which helps make the Chicago metro area one of the most racially segregated areas in the country. While segregation of white and black people is uniquely pronounced in the United States, other racial groups are also isolated from one another. Like several other large U.S. cities, Latino immigration to Chicago accelerated in the 1990s, and today, Spanish-speaking and white residents live relatively separately. More than one in every five Hispanic area residents live in predominantly Hispanic neighborhoods, the sixth highest such percentage of large metros.
Social and economic gaps between black and white Americans exist across the nation virtually without exception. In the Chicago area, the gaps are especially wide. The black poverty rate is more than three times that of white area residents, one of the largest such disparities nationwide.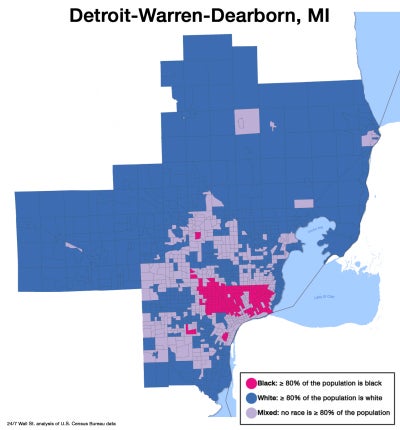 1. Detroit-Warren-Dearborn, MI
Black ppl. in black neighborhoods: 57.7%
Black population: 22.4%
Black poverty rate: 33.3%
White poverty rate: 11.4%
By using race to determine home loan eligibility, the FHA deliberately segregated the Detroit area over the course of the mid-20th century. The racist policies are memorialized by a wall originally built along 8 Mile Road to separate black and white neighborhoods.
While the wall no longer separates black and white residents, still today few areas are more divided along racial lines than the Detroit metro area. More than 60% of residents live in neighborhoods dominated by their respective racial groups, double the average percentage nationwide. Of African American area residents, 57.7% live in predominantly black neighborhoods, the highest such share of any metro considered. As is the case in U.S. metro areas virtually without exception, black Detroit area residents are considerably more likely to live in poverty than their white peers. The black poverty rate, at 33.3%, is a great deal higher than the white poverty rate of 11.4%.
Popular in the Community