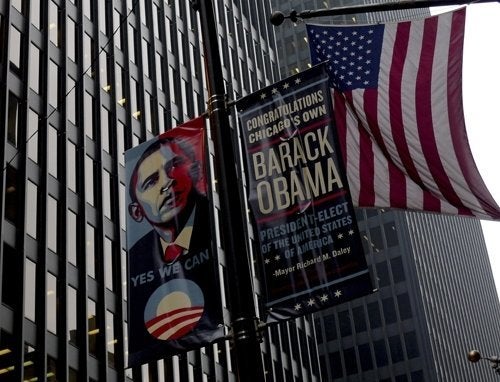 It was Chicago-native and future Secretary of State Hillary Clinton that once said:
"Being a [Chicago] Cubs fan prepares you for life -- and Washington."
What the events of this week have shown us is that while Chicago may prepare politicians for Washington, nothing can adequately prepare a politician for Chicago -- except perhaps the ups and downs of being a Chicago sports fan.
Only two months ago, Chicago was a city that ate, drank, breathed, and dreamt hope. There was the hope that one (or both!) of our city's two baseball teams would see a World Series berth (both were knocked out in the first round of playoffs).
The disappointment and despair was relatively short-lived, however, as we soon-after elected a Chicagoan to the White House, our city bubbling over with promise and pride. Even our skyscrapers seemed to stand up a little straighter, the lights of our skyline seemed to dazzle a bit brighter.
Then, just when it seemed that the Chicago Bears had found a quarterback it could bank on, Kyle Orton got hurt. Boo.
Shortly after, Barack Obama selected Chicago congressman Rahm Emanuel as his chief-of-staff. Hooray!
Now, a cloud hangs over us once more as our state's governor, a Chicago guy through-and-through, was arrested on federal charges of fraud and soliciting bribes in connection with his duty of selecting President-elect Obama's Senate replacement. Rod Blagojevich's arrest Tuesday morning made headlines from coast to coast, but Chicago has already had the attention of the nation -- and the world -- since early November. In addition to the boost in tourism we've enjoyed from the crowds of people lined up to see where Mr. Obama got his hair cut or ate his Italian beef sandwiches, the International Olympic Committee has been evaluating us as a contender to host the 2016 Olympic Games. And of course, President-elect Obama's regular press conferences, cabinet announcements, and transition government initiatives take place in Chicago. The political press corps is here. Homeland security is here. As President Bush has become the lame duck commander-in-chief, Washington D.C. has become the lame duck nation's capital, forced to yield the spotlight to the City of the Big Shoulders, Hog Butcher for the World.
It was not a Chicago politician but a German politician who once said, "Laws are like sausages. It's better not to see them being made." This is a phrase that a mentor and colleague of mine, whose knowledge of Chicago politics is limitless, repeats regularly.
As names are named, and Rod Blagojevich becomes the fourth Illinois governor since the '70s to be charged with white collar crime, you may find yourself asking, "What's wrong with Chicago?" or "What's going on in Illinois?"
As a Chicagoan, I beg you not to judge us by the mistakes some of our lawmakers have made.
During the campaign, Senator John McCain said rather spitefully with regards to Barack Obama:
"I don't need lessons about telling the truth to the American people... and were I ever to need any improvement in that regard I probably would not seek advise from a Chicago politician."
But for all of the faults of some Chicago politicians, Illinois has certainly given this nation its share of great leaders. President-elect Obama and his team of experts promise to steer this ship out of the rocky economic waters in which we now find ourselves. Our late congressman Paul Simon was a fierce and outspoken champion for gender and racial equality. Illinois conservatives will be quick to inform you that Ronald Reagan was born here. And of course, we gave you the president who presided over the greatest internal conflict in our nation's history, Abraham Lincoln.
We've given you decades of laughter, thanks to comedians like Bill Murray, Chris Farley, Tina Fey, Steve Carrell, and even Steven Colbert. We've given you timeless literature, for people of all ages, from Ernest Hemingway, Shel Silverstein, Michael Crichton, and Carl Sandburg. Studs Terkel. Harrison Ford. Oprah Winfrey. Harry Caray. Even Kanye West.
I call myself a Chicagoan now, but I'm a new Chicagoan. I am the daughter and granddaughter of native Chicagoans, but I was born and raised in New Jersey, and then went to the University of Maryland, Baltimore County (UMBC). I only ended up here because my parents relocated from the east coast while I was in college, and after working the Kerry campaign in 2004, I was broke and needed somewhere to live. But I love this city more than any place I've ever lived. I met the man I'm going to marry here and bought my first home here. I will never leave, if I can help it.
We are more than Governor Blagojevich. We are more than our cold winters, Al Capone, our hot dogs (always without ketchup), deep-dish pizza, and 100-year curses.
I'll leave you with the words of the divine Sarah Bernhardt:
"I adore Chicago. It is the pulse of America."
Related
Popular in the Community