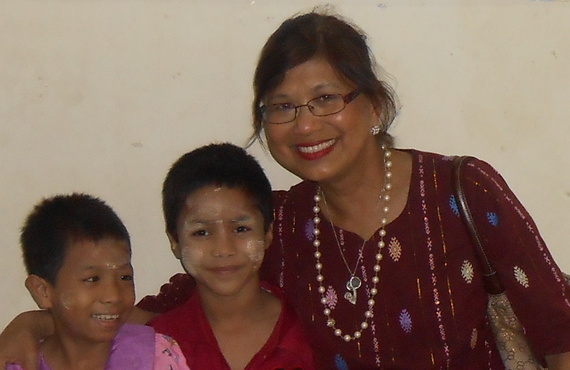 Thelma Tun Thein is going home.
Forty-two years ago Thelma came to the United States to pursue the American dream -- an education, a family, a meaningful career. She did all that.
She worked in a cafeteria while earning college degrees in nutrition. She was married to a doctor in Dallas. She brought up three children. She helped thousands of expectant mothers learn about nutrition and the benefits of breastfeeding through jobs with the City of Dallas and Methodist Hospital.
But this week, Thelma Tun Thein is leaving her life in America behind to return to her native Burma, also known as Myanmar. She's going back to help people in that long-oppressed country achieve their dreams.
"My number one motivation is to do something to help my people. If I don't, it will haunt me," she said over the holidays.
She revisited Burma last year to give workshops on maternal health and nutrition and was shocked by what she saw. Malnutrition is chronic. More a third of the children under five have stunted growth. She had her photo taken with a young girl who looked around the age of 12 and was several inches shorter than Thelma's 5 foot, 2 inches. The girl was actually 18.
Burma's mortality rates for infants and children under 5 are the highest in Southeast Asia, according to UNICEF. Most deaths are caused from low birth weight due to malnutrition, treatable diseases, and prematurity.
Saving children has not been a priority for the generals who have ruled the country for more than 50 years. Only three percent of the budget is dedicated to health, compared to more than 20 percent for defense.
Generals still control the reins of power, although steps have been taken toward a "Burma Spring." The economy has been opened to the world of investment, with Coca-Cola, MasterCard, Hilton, Ford and even Kentucky Fried Chicken setting up shop in what was once a pariah state.
The government has invited the 3 to 5 million Burmese expatriates who fled in past decades -- especially the educated professionals -- to return to help rebuild the country. Academics with degrees from Harvard, Cornell, and Berkeley have come back to work on economic policy and what seem like never-ending peace talks. Accountant Jasmine Thazin Aung came back to head the Burma office of PricewaterhouseCoopers. Entrepreneur Thar Htet returned to run a high-tech start-up. Film director Midi Z returned to make a movie called -- what else -- Return to Burma.
But many expats are hanging back because the military has not relaxed its grip on Parliament. Unfair barriers have been put in place to keep Nobel Peace Prize winner Aung San Suu Kyi from running for President this year. Journalists are still being jailed. Corruption is rampant. Attacks on ethnic groups continue.
Despite any risks, Thelma Tun Thein is determined to return. She knows she has the skills to save young lives. And she developed a commitment to helping others early. Her father left Burma to serve as a U.N. diplomat in Thailand in the 1960s. She grew up in a house in Bangkok where Burmese refuges often stayed for long periods while waiting for visas. "We didn't suffer the same poverty or persecution as those inside Burma," Thelma acknowledges. "They suffered every day. We suffered for them."
Sent to study in Texas in the 1970s, she was one of two Asians in her high school class. Other students would ask her things like "Do Asians have cars?" or "Is it true Asians don't sweat?" She would reply, "In Texas, they do."
In Dallas, she became known as the den mother of the thousands of Burmese refuges in the area. Since she speaks Burmese, English, Thai, and a little Spanish, French and Korean, she provided translations for those in the hospital. She tutored literacy classes. She explained to newcomers how to pay their phone bills and their rent. When the Bush Presidential Center wanted to include local Burmese in discussions, Thelma brought a roomful.
But mostly, Thelma counseled pregnant women of all races and ethnicities in Dallas about healthy choices. Quite a few named children after her. Even those who weren't Burmese called her "Saya ma," which means teacher. Her family name Tun Thein means "brightness of a hundred thousand lights" -- that perfectly describes her smile, which can be seen across a room.
As she finished packing for her new job at a Rangoon hospital, Thelma said she wanted to be like the Psalm: a tree planted by rivers of water, with leaves that would not wither, but bear fruit. "I just want to be an asset," she said. Though unsung, her record here in the U.S. is testimony she will indeed.
Rena Pederson is author of the new book The Burma Spring: Aung San Suu Kyi and the New Struggle for the Soul of a Nation.
Support HuffPost
The Stakes Have Never Been Higher
Related
Popular in the Community