NEW YORK -- "Now is the moment when we can do something," Mitt Romney says in the TV ad, "And with your help, we will do something."
Unlike other super PAC ads, this one, which has been running nationally on cable networks like CNN in recent days, mixes conservative cheerleading with a marketing pitch: Give us money, and we'll throw the president out of office.
Viewers who call the 800 number displayed prominently throughout the ad are asked to sign a "voice petition" to defeat Obama, and then to donate money to America's Next Generation, the conservative super PAC behind it. As thanks for their donations, callers will receive bumper stickers that say "Don't Tread on Me Obama" and "Romney 2012."
Whereas most big-name super PACs involved in this year's election have collected money from wealthy mega-donors to spend on advertising and organizing in crucial swing states, America's Next Generation is attempting to pioneer a new model of grassroots donor-based advocacy.
"Instead of giving $25 million they're giving $25," R.C. Hammond, a Republican political operative who serves as spokesman for America's Next Generation, told The Huffington Post. "The idea of a grassroots super PAC -- that hasn't been done yet."
Hammond said that America's Next Generation has made 600,000 advocacy calls so far this year and received contributions from 35,000 donors since its inception two years ago. "That's a pretty powerful grassroots movement," Hammond said.
A large proportion of the group's money has not been spent on ads designed solely to defeat Obama or other campaign-related activities, however. America's Next Generation has spent more than $1 million so far this election cycle, much of which has gone toward appealing to donors for more money, via phone calls and national television ads, according to a review of Federal Election Commission records.
The majority of the spending disclosed so far has gone to a single telemarketing firm, InfoCision Management Corporation, which has personal ties to the super PAC. By the end of June, according to yearly and quarterly FEC reports, America's Next Generation had spent $546,453 -- 97 percent of which went to InfoCision.
America's Next Generation's treasurer and interim executive director, Matthew Palumbo, is a former vice president of marketing at InfoCision. Lance Davis, the super PAC's designated agent in FEC filings, is a former director of political marketing for InfoCision.
"Telemarketing is the primary tool with which we're reaching and communicating with people," Hammond said. The large percentage of the group's spending directed towards InfoCision's services, he argued, is the only way its grassroots-focused strategy can succeed.
But one critic argues that donors who believe they are giving primarily to elect Romney are being misled.
"What you essentially have is a telemarketing operation that's also paying for some ads to try to drive potential donors to their website or their phone lines, and for the most part generating income for their company," said Anthony Corrado, a professor of government at Colby College who studies campaign finance. "But they haven't really generated much in the way of campaign activity, and it's getting late."
America's Next Generation was created in November 2010, not long after the Supreme Court's decision in the Citizens United case legalized unlimited political expenditures by unions and corporations. At the time, the group was registered to an address at a medical and dental office building in Great Falls, Va., a suburb of Washington DC. Its headquarters are now in Akron, Ohio -- the same city where InfoCision is based.
The group was mostly dormant until it started raising small contributions towards the end of 2011. At the same time it began spending money on "telecommunications charges" from InfoCision. More fundraising followed, and the super PAC sent more money to InfoCision, for the purposes of "automated advocacy," "automated calling," "telephone marketing" and "automated phone calling," according to FEC reports.
The telemarketing firm has extensive experience with political campaigns and is known for its work with Christian and conservative causes. On its website, it describes itself as "the nation's second-largest privately held teleservices company."
In 2009, American Solutions, a political non-profit associated with former Republican Speaker of the House Newt Gingrich, spent $7.2 million on InfoCision's services. The telemarketer raised $9.2 million for the non-profit -- a 16 percent return on investment. When Gingrich threw his hat into the 2012 presidential race, he again spent millions of dollars on InfoCision's services. Hammond was a spokesman for both of Gingrich's efforts.
The company has prospered even in the wake of do-not-call registries. Lance Davis, the former director of political marketing for InfoCision who now helps run America's Next Generation, told an interviewer in 2007, "We have to be very aggressive in our scripting. … You've got to hit them with a sledgehammer in the first five seconds of the call."
After Davis left InfoCision, however, that hard-charging approach got the company in trouble. Ohio Attorney General Mike DeWine, a Republican, reached a $75,000 settlement with InfoCision in April over alleged violations of charity solicitation rules. The company did not admit to any wrongdoing.
In September, Bloomberg Markets magazine published a lengthy investigation of the company's fundraising activities for non-profits. On repeated occasions, Bloomberg found, call center employees had misled donors into believing that large percentages of their donations would go to charities like the American Cancer Society. Instead of the 70 percent for the charity promised by an InfoCision telemarketer script, only about 44 percent was going to the fight against cancer.
InfoCision, which did not respond to requests for comment, released a statement after the Bloomberg Markets story saying that "Recent news reports about the work InfoCision does for charities are completely false and misleading."
Corrado, the campaign finance expert, said that Romney supporters should be wary of giving to America's Next Generation, however. "They're essentially giving to a fundraising operation that's using a conservative appeal to raise money in a manner that will produce a very small percentage of its take for actual campaign activity," he said.
"It's all just an attempt to identify conservatives who might be willing to part with some of their hard-earned cash to stop President Obama."
America's Next Generation started spending on TV ads in August, and advertising has increased dramatically in the last weeks of the campaign. As of Oct. 9, it had spent at least $1.2 million against Obama so far this calendar year, according to FEC records.
Thus far, however, most of the ad spending has gone toward national spots on CNN and other cable stations, not local stations in swing states, where the candidates' campaigns typically direct their efforts. Hammond said that to date, the group has been concentrated on building up its donor base, but that its strategy will start to shift in the coming days. "As we move towards the election day, that focus will shift more towards Ohio and other battleground states," he said.
"The Next Generation plans to spend between $400k to $500k in the next 30 days on television ads in battleground states, with a strong emphasis on running advertisements in Ohio," said Hammond in an email. "In the next week, a $50,000 TV and Radio advertising buy is in place in Ohio."
Hammond pointed to anti-Obama ads that place less emphasis on fundraising on America's Next Generation's website as examples of activity that will affect the election, but it's not clear how widely they have been used. He could not provide figures, but said that "spending is disproportionately leaning towards advocacy advertising."
In recent weeks, the super PAC's spending has expanded beyond InfoCision to include $455,000 in media buys with the Eleventy Media Group, another organization run by a former InfoCision employee.
Despite the links between America's Next Generation and InfoCision, Hammond said no donor information would be shared with the telemarketer, and decisionmaking is "independent" of the company. "They're a vendor," Hammond said.
If any of America's Next Generation's donors are concerned about where their dollars will go, however, experts say they should keep in mind a crucial fact about super PACs: They are largely unregulated.
"Super PACs are the Wild West frontier of money in politics," said Paul S. Ryan, senior counsel at the Campaign Legal Center, which advocates for stronger campaign finance laws.
"Just about anything goes, so long as the super PAC isn't contributing to candidates or coordinating expenditures with candidates," Ryan said. He had two words of advice for anyone giving to a super PAC: "donor beware."
Before You Go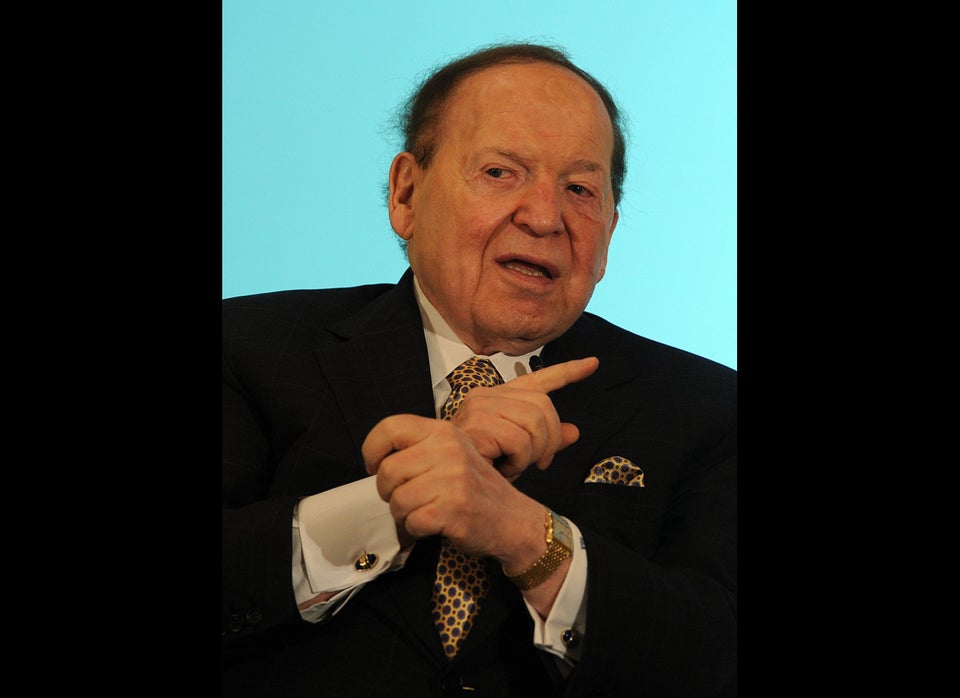 Donors Giving $500,000-Plus To Super PACs
Popular in the Community