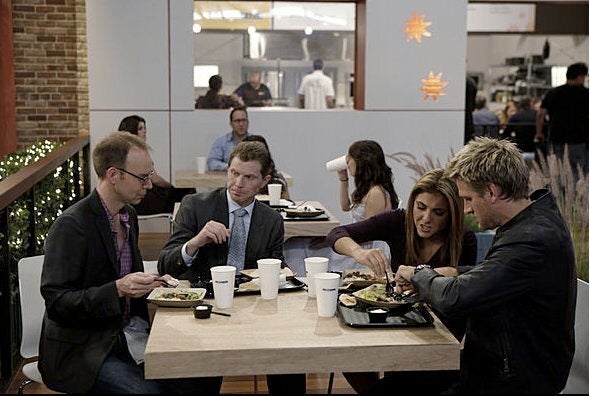 Jamawn Woods, last night's winner of America's Next Great Restaurant on NBC, didn't have a lot of time between the finale and his restaurant opening; as of 11am today, the three locations of Soul Daddy are open for business.
Soul Daddy, a healthier alternative to the often heavy traditional soul food, beat out Indian food concept Spice Coast and the meatball-centric Brooklyn Meatball Co. The Detroit auto worker now has his food available in New York City (South Street Seaport), Los Angeles (Hollywood) and Minneapolis (Mall of America).
The Soul Daddy menu is recommended as a "full meal" with a main dish and two sides, but can also be ordered a la carte. Mains include baked chicken, roasted pork and ribs and sides include collard greens, cheese grits and black-eyed pea salad.
In the final episode, judges Curtis Stone, Bobby Flay, restaurateur Lorena Garcia and Chipotle CEO Steve Ells were won over by Woods' "New Home Cooking" concept. See video of the winner below: