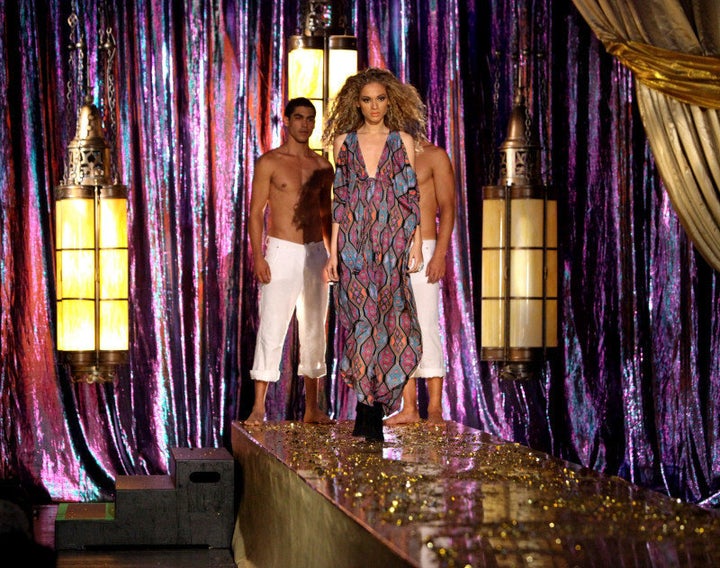 Cheerleading, tears, and a melodramatic finale -- no, this isn't "Bring It On 3: All Or Nothing," it's the latest installment of "America's Next Top Model!" If you recall, this cycle's theme is "College Edition," although that flimsy premise has dried up by Episode 5, and we are treated to the formless ANTM structure of yester cycles. The petty drama takes off as soon as the models return to the house: Laura is "President" of the house this week due to her high scores at judging, and thusly enjoys the lackluster charms of the Tyra Suite. Unlike Victoria, who greedily hoarded the whole room to herself, Laura invites bitchyboo Kristen to cohabitate, prompting Leila's jealousy and a girl-on-girl "obsession" plotline that reverberates throughout the episode. The camera pans over a dingy sink, overflowing with dishes, as Leila waxes self-pitiful, which, if you're familiar with the ANTM editing process, does not bode well for her. Night sets over the Top Model house.

As morning breaks, we see Tyra Banks slither through the front door, with none other than R&B crooner Alicia Keys in tow. Overwhelmed and half-asleep, the girls begin to blather, weep, and in Kiara's case, sing a ditty while clutching Alicia's hand. Miss Keys is here to rally the girls for a charity fashion show, because giving back is her third-favorite hobby (after music and home-wrecking). To awkwardly practice, the models are made to saunter back and forth on the house's rainbow-colored runway while TyTy hollers random cues taken from Alicia's famous song titles: "Superwoman," "Empire State of Mind," and "My Boo" (which I've literally been singing all week). Special focus is put on Leila's walk because she doesn't move her arms to Tyra's liking. The girls* are expected to style themselves for the fashion show, with a "Girl on Fire" motif, taken from Alicia's new album title (Suzanne Collins will be invoicing her). Also, to add a dash of hooker into the proceedings, the dresses will be bid upon and $10,000 will go to the model who twerks it the best, ignoring the reality that the dresses themselves probably have widely varying price tags.

Backstage at the show, Laura sucks at mitigating styling tasks to the other contestants and gets reamed out by Kelly Cutrone, as the bitchier floozies chuckle behind her. The models will be sporting frocks "generously donated" by Kell's longtime client, Mara Hoffman. Work that PR pimpin', Kell! Johnny Wujek ends up styling all the girls, and they're shooed out onto the catwalk with these words of encouragement from Kell: "Please don't embarrass my designer that I've worked with for ten years either 'cause I'll kill you." Each wannabe struts it out, pausing at the end of the runway to caress the shirtless male model who happens to be lazily chilling there.

In recent cycles, emphasis has been largely pulled from walking skills, much to my chagrin, as a walk can really make or break a model for me. On that note: Kristen may be a huge C-word, but she really does look like a legitimate model and her walk is nothing to scoff at. Vicki calls Allyssa out for "grinning a hole through" the audience, even though her own walk looks amateur to me, and Leila shamefully strolls down the runway as Tyrabot shrieks, "Arms! The ARMS!" Let's take a moment to discuss Kiara, though - this bitch seriously sold that dress like her mortgage payment was due and the corner was hers 'til sun-up! This said, it comes as no surprise that Ms. Tranny Realness herself wins "in a landslide," adding ten grand more to her fictional scholarship fund.

Back at the house, the obligatory girl fights resume as Leila bluntly asks, "So Laura you think I'm obsessed with you?" When Leila instead suggests that Laura might be obsessed with herself, the waterfalls start flowing -- Laura feels victimized and says people are always jealous of her; beauty and wealth are cruel, cruel curses. It seems the girls reach a consensus that Leila is to blame in all this for her naiveté and general earnestness. Come morning, the ladies are shuttled to West LA College, where they'll be repeatedly rocketed into the air in a cheerleader-themed photo shoot. But more importantly: Jonte' is back, y'all!! Dressed to impress in thigh-length platform boots and a smiley-face blouse, this refined ebony delicacy and "very well-known choreographer" demonstrates mid-air posing with elegance before traipsing to the sidelines to spout out words of wisdom during the shoot.

The shoot strikes me as a clumsier, low-budget reincarnation of the Cycle 3 trampoline shoot -- four nondescript male cheerleaders (no comment) fling the contestants upwards, to scattered degrees of success. Kristen, Nastasia, and Vicki all soar to new heights with their Jonte'-inspired posing, and Laura (displaying some really regal pink brows) cries over an irrational fear of heights. Leila and Brittany can't give good face, Allyssa bitch-slaps a cheer-gay, and everyone crosses their fingers as the boys precariously haul Yvonne's monolith ass into the air. Leila cites her hope that her fans will redeem her, a concept we'll revisit shortly. You can see all the photos here, under Week 4.

We abruptly find ourselves at judging. Tyra's all future-dragged-up in a padded pink dress with an asymmetrical illusion-netting neckline that reveals the better part of one breast. Behind her, Kelly, "super-duper male model" Rob Evans, and pocket-gay BryanBoy hold court. There must have been a styling prompt, because all the models have their hair in chignons, or as TyTy explains, "the French word for 'slick back wit some gel.'" As per the ritual, the ladies approach the stand one-by-one and receive their judgments, with Nastasia, Kristen, and Laura amassing the lion's share of the compliments and Leila, Brit, and Allyssa all getting briskly backhanded for their sour facial expressions. The assorted scores are summed, and this week's line-up is not without its fair share of dramz:

Nastasia: 40.9
Laura: 38.7
Kristen: 38.1
Kiara: 37.7
Victoria: 36.5
Yvonne: 36.4
Allyssa: 30.8

Alas! In the bottom two we find two of my front-runners, gap-toothed fan fave Leila and blushing beauty Brittany! Brit, her skin bumpy/lumpy with acne, sobs as Leila comforts her with a defeated smirk. Tyra teasingly reveals that, "There is half a point. That separates. The both. OF YOU." When the scores are revealed (Brit: 29.5; Leila: 29.0), I noticed that Leila's fan vote totaled to 6.01, despite BryanBoy's admission that she was still very popular. TyTy feigns shock and BB dabs at a nonexistent tear.
Firstly, let me remark that BryanBoy needs to chill out with his personal opinion, because from my understanding his only function is as a gaysian proxy through which 'social media' is compiled; he can have personality but absolutely no power. Secondly, this entire ruse strikes me as suspicious -- oh, really? The fan favorite is unexpectedly booted from a competition in which fans can vote for one contestant to return? Will this heavy-handedly reiterate the weight of social media and the fan vote this cycle? What I'm saying is that I wouldn't be surprised if Leila still wins this cycle. I guess we'll just need to stay tuned for more shenanigans in next week's episode, featuring shady video games, a steampunk owl shoot, and Yvonne's dirty mouth. 'Til then, fierce and love, Nick ~
PHOTO GALLERY
America's Next Top Model
REAL LIFE. REAL NEWS. REAL VOICES.
Help us tell more of the stories that matter from voices that too often remain unheard.