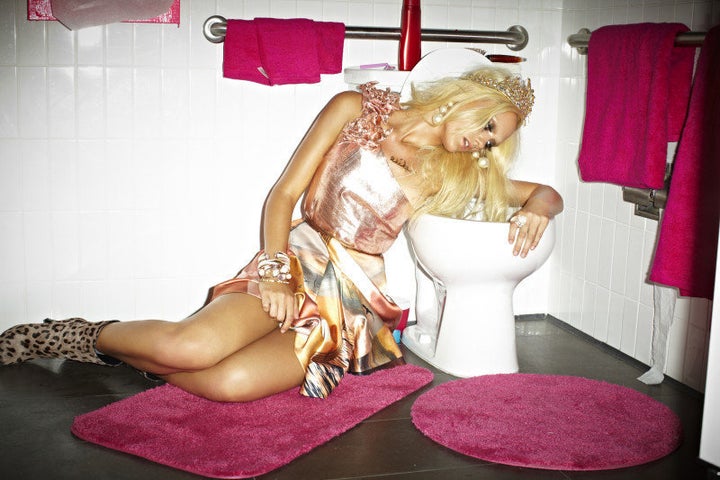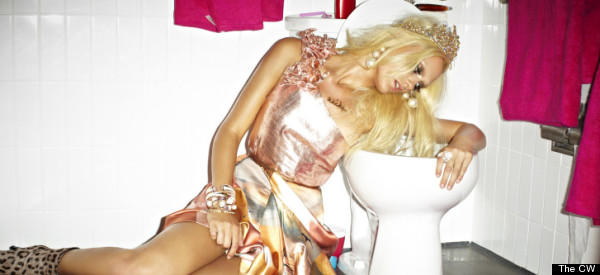 Have you ever licked soda off of a dirty floor? Or referred to your eating disorder as a "stress relief?" How about dry-heaving into a toilet while a stranger takes pictures? If you answered yes to any one of these questions, then you have something in common with the contestants from this week's episode of "America's Next Top Model." If you answered yes to all of the questions, then you are my trashy twin and should maybe curb your drinking habits. But yes, after weeks of aimless creative fumbling, the "ANTM" machine has reverted to its delicious comfort zone: we're talking dumpster-diving, shade-tossing, anorexia-centric TV gold, and its crassness could not have come soon enough.
Laura, the peroxide-crowned carrot, rode into the Top Model house on her high horse after finishing first at panel. She whined about her struggle of living in the collective shadows of her Z-list parents, as she coolly denied everyone else access to the Tyra Suite because they hadn't "earned it." At dinner, Victoria was having issues. She doesn't eat red meat ... or anything else, it seems. Like a long-time alcoholic or someone simply holding her nose, Vicki moaned, "It's like I can't even taste food." And in the grand tradition of "ANTM," all the girls discussed her probable anorexia and negligible weight-loss behind her back; I think these bitches need to back the hell off! Austin Scarlett taught me that "you can never be too rich or too thin," and Fiona Apple taught me that "hunger hurts but starving works," so I am fully behind Vicki's decision to treat her body like a Tomagotchi she left in her locker over the weekend.
With the hunger games temporarily tabled, the girls greeted gay blogger/judge BryanBoy and a bland blonde Nylon rep, who announced that the wannabes would be embarking on a glamorous vacation to the exotic Palm Springs, where they'd ride in the cheapest RVs vouchers can buy and camp out in a nondescript motel with three-too-few beds. On the way, they were made to photograph one another performing "Random Acts of Modeling," which was described as "taking out the trash or pumping gas ... but model-esque," but apparently just means using props to look stupid all over town. I honestly couldn't really discern what the grading criteria was in this challenge, although I did heartily enjoy the sight of Kiara smearing BBQ fare all upons her chest. All-in-all, the poseurs hit up a Statue of Liberty replica, an amusement park, a fried chicken shack and a windmill farm before reuniting with BryanBoy and Nylon's editor-in-chief Marvin Jarrett. It turned out no one was random enough except Laura, who got props for her cotton candy props and walked away with a NylonTV spot.
Later, at the no-tell motel, Johnny Wujek sidled in to wrangle up the models for a decadent, disgusting shoot that further disgraced the already-blackened "ANTM" name. The girls were beautifully styled, with ethereal makeup and freakum dresses, as they entered scenes of disaster and decay. Brittany glowed in a nest of beer cans and rotting pizza, Kiara drew from personal experience while wriggling in a dumpster, and Allyssa clumsily lapped soda from a roach-laden kitchen floor. Vicki's character this week was a devirginized hippie who clutched a toilet while shrieking, "I can't be pregnant and I can't get an abortion!" Nastasia just writhed in a shower, Laura failed at feigning bulimia and Kristen poured milk down her bitchy face.
Back at the house, that same bitchy face forced Vicki from the phone booth where she'd been hysterically sob-talking with her mother-lover. Allyssa perfectly captured the general consensus by observing that "She's one confused, home-schooled human being." I will say that hearing Vicki say, "I'm getting sick" did raise a red flag for me, but then again, reality TV is an exercise in editing, and in my world red flags and green lights are identical. AnoGate came to a head as Nasti suggested that Vicki leave; the other housemates piped in with comments like, "I've never seen you eat, EVER" (my life goal is to have someone say that to me) and the more understated, "We've been kind of noticing that you look different ... " Vicki explained that it's not anorexia: "It's just a stress relief!" Phew, glad that was cleared up. On to panel!
The ladies looked surprisingly chic. Tyra looked predictably busty and unbecoming in a beige halter-type number. Behind Ty, the judges slouched and reclined like thugs: PR asshole Kelly Cutrone, sexy someone Rob Evans, and gaysian BryanBoy. TyTy summoned her minions to review the "stank girl" photo shoot: Nasti raked in the best scores, but babyface Brit and thinspirational Vicki also received acclaim for their character acts. Laura and Allyssa managed to look grosser than their filthy backdrops. Shady bitches will be shady bitches, so obviously Kristen called out Vicki for her weight-loss realness, prompting Tyra to wax self-righteous about her concern for all girls everywhere. She told Vicki that it's her choice to stay, but warned that, "We're gonna be watchin' you." (What I was watchin' was Tyra's hairline and I literally could not trace its origins.) Ego trips aside, the tea leaves read as follows:
Nastasia: 42.2
Brittany: 39.2
Kristen: 38.1
Victoria: 36.7
Kiara: 35.9

That means the bottom two were boring-but-beloved Laura and funky floor-licker Allyssa. The obvious loser was "fiercely-real" (aka chubby) Allyssa, with a score of 29.0 and a set of nauseating highlights to cherish for months to come. TyTy briefly pretended to weep as she claimed, "I was a fat girl with a big butt," before resuming her deathmask-face and shipping Allyssa out the door. Hurry back next week for go-sees, over-sharing, and the pettiest of arguments. 'Til then, fierce and love, Nick ~
"America's Next Top Model" airs Fridays at 8 p.m. ET on The CW.

PHOTO GALLERY
America's Next Top Model
REAL LIFE. REAL NEWS. REAL VOICES.
Help us tell more of the stories that matter from voices that too often remain unheard.