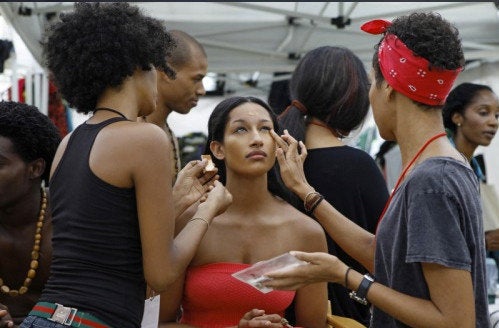 I assume your nails are bloody stubs after last week's ANTM cliffhanger left you in suspense -- following Brittany's vote-off, Tyra announced that the "moment of truth" had arrived, and the ex-contestants of Cycle 19 neatly emerged from the shadows to discover whose social media rankings would revive her Top Model viability. I have no idea where these girls have been staying, or how they've been covertly using the same sets for their photo shoots, but needless to say Tyra must write a tight contract (if you catch my drift). All seven names materialize on screen, and their faces darken one-by-one as they're deemed social media-ocre: Destiny, Darian, Yvonne, Jessie, Brittany, Allyssa. So I guess I spent a week of sleepless nights in vain, because the obvious occurs as Leila is re-admitted into the running. How I missed her signature gap and teeth of varying lengths!

The new (and improved) Final 6 hurry back to the house to pack swimwear suitable for Jamaica; we're treated to a close-up of Victoria reluctantly stowing an apple in her purse as everyone else comments on her emotional instability and antisocial tendencies (this sentence reads like my OKCupid profile). Vicki explains that she rabidly misses her sister-mom and feels "so loooonely." Village Bitch Kristen throws shade at Vicki, then Leila, then Kiara in one terrifyingly cruel run-on sentence before the ladies board their bobsled to Jamaica. Upon landing, the ladies are greeted by some dark chocolate models (and a few mochas), who will "escort" them and "introduce" them to their own personal Jamaicas. Kiara's libido is a central plot point of this episode, and she's already letting her inner slut loose by the time the bus pulls into the Half Moon resort.

Drums pound and grass skirts flail as Tyra shimmies out in contemporary Geisha-wear and heavy-handed cobalt eyeshadow. She explains that no, Jamaica is not a fashion capital, but she DID shoot her first swimsuit calendar here so it's like the same thing. Using her Oprah-giving-prizes voice, TyTy creepily leads the girls and escorts through the rooms of the rental house before they all sit down to a chicken lunch. I gasped three times this episode. The first was when Tyra's mouth, contorted with poultry shards, formed the words, "Every girl is either a Smizer or a Toocher." I saw her use these terms on Instagram, but I didn't expect her to inject them into the ANTM vernacular! Not okay.

The second gasp came from a place of happy shock, when the models arrived at their challenge location (aka an alleyway) to discover the spectacular Jonte,' sporting studded everything. I'm still obsessed with Jonte's ANTM payroll status, and I proudly quote his signature song on a weekly, if not daily, basis. He's here with Dancehall musician Konshens, who has his harem of brightly-yet-scantily-clad hoochies bop and flop their booties to elucidate the finer points of Dancehall style. The girls' challenge is to emulate this island jam, so selected hoochies drag teams of two to hidden alleys and garages to bedeck them in rainbow and neon and teach them to "wine from de waisline."

Laura and Kristen (Team Celery) try too much and too little, Vicki and Leila (Team Ano) swivel their twig bodies about, and Kiara and Nastasia (Team Pussypop) pull out their best grinds, splits, and stank-faces. The lattermost are clear winners, and to them Jonte' trills, "We got some jewelray and some monay for yaaa!" Kristen is noticeably furious about her own lack of charisma, and seems to envy everything from Kiara's "slut"-like dancing to Leila's "fucking gap" (it's not big enough for that, girl). Laura and Kristen pray for a commercial shoot, but as usual, the category is simply "random."

The models watch from a muddy riverbank as stylist Johnny Wujek and model-type Rob Evans drift downstream on a raft. Rob introduces dreadlocked photographer William Richards, who will be shooting a torrid raft affair scene, featuring Rob and the Jamaican escort of each girl's choosing. The styling here makes no sense (as I suppose is fitting), with floor-length bedazzled gowns and clusters of dreadlocks tied in place with tassels. The worst model by far is Rob, who seems to just sit there waiting for it all to be over, but Kristen is generally uncomfortable and hard to work with, and Kiara loses her composure because the models "were so hot I forgot I was modeling." Nasti seems very comfortable with the sexual triangle even though she claims she "ain't neva been in that predicamen." The girls comb the smut from their weaves and book it home, where they awkwardly read the SkullMail and prepare for panel.

Again, the lead-in to judging is a photo of TyTy and Rob, posing erotically on the familiar raft. The camera slowly, disjointedly pans up Tyra's bod, over which a yellow dress has been knotted and pulled off the shoulder. Her face, hair, eyes, and lips are all the same exact shade of bronze, a look that one of my friends proudly flaunted throughout the year 2004. Kelly Cutrone, Rob, and BryanBoy all recline demurely behind Ms. Banks. The ladies are summoned to receive their critiques -- Nasti gets raves for her sexy posturing, but Tyra scolds her for "moochy-tooching." Tyra instructs Kiara to "dun do a duttywine right now," before revealing her disgusting picture that, as one fan describes it, "gets worse the more I zoom in." Leila and Laura blandly but surely sell the clothes and the story; Vicki looks like a dismembered drag queen (and not in a good way); and Kristen apparently channels a chubby lap dancer.

In a moment that's embarrassing for all involved, Kristen runs around the room and tussles BryanBoy's hair, prompting Tyra to ask, "Do you know what acting a fool means?" She then recites lines from her famous Cycle 4 freak-out (third gasp) as Kelly sits beside her, looking nonplussed and underpaid. The scores are assembled and the lineup is as short as last week's:

Nastasia: 39.3
Laura: 38.9
Leila: 34.9
Kristen: 33.3

So psycho skelly Vicki and peen-centric Kiara find themselves on the chopping block. Tyra rushes through her speech and Vicki scrunches her lips as the axe falls: Kiara (32.5) stays, Vicki (31.3) sashays away. I'll be sad to bid Victoria adieu, and will eat 400 calories today (instead of my usual 800) in memoriam. Come back next week if you love dolphin attacks, dangerous rock formations, and photographers named Tyra Banks! 'Til then, Fierce and Love, Nick ~
REAL LIFE. REAL NEWS. REAL VOICES.
Help us tell more of the stories that matter from voices that too often remain unheard.