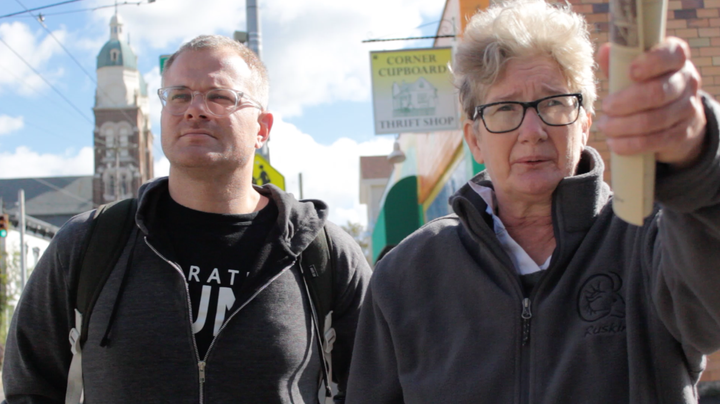 Last week, only days before the The New Yorker published a photo series about the opioid crisis, I was in Dayton, Ohio. It was nothing like the dramatic, sensationalized images that The New Yorker chose. Opioid users are often depicted as doomed, sick, and dying. We're described as "clean" when we stop using, and "addicts" if we start. The New Yorker, and every other major news outlet, would have you believe that Montgomery County, Ohio, is nothing but a boneyard. A place where there is no hope. Four days in Dayton proved that they're wrong — and they're completely missing the real story.
The truth is, there's a lot of hope in Dayton. And it's winning the fight against overdose related deaths. My best friend Garrett Hade and I traveled to Dayton last week to meet with some of the incredible people who are working on the front lines of the drug epidemic. I fell in love with Dayton on my first day. It was beautiful. The white picket fences, friendly neighbors, and community gardens were a strong counterpoint to the health crisis happening right below the surface. When I met the leaders of Dayton's recovery initiatives, I was sold. Dayton is powerful. Dayton is inspiring. And Dayton is rising.
The people of Dayton are finding real, tangible, powerful solutions to the crisis. Yet, their hard work and dedication is overshadowed by the media's pornographic obsession with depicting addiction as nothing more than needles, spoons and dead bodies. This is irresponsible, and it undermines the efforts of organizations like Miracle Makers and the Dayton Public Health Department.
Social entrepreneur Lauren White of Indigo Life experienced this negativity first hand. But she decided to do something about it. "My older brother has struggled with addiction for nearly 15 years, so when Dayton started to get national attention, it hit home. Many of our friends in the film industry also had their own experiences with addiction. We wanted to do something, so we chose to use our storytelling skills as the most immediate thing we could offer. The media's negativity left us frustrated and ready to balance the energy with stories of recovery to break the silence and change the way we talk about addiction."
Lauren has committed to producing 26 videos as part of a solution-based media campaign this year. She's doing this work pro bono: because she believes that we can face addiction, and that recovery speaks more loudly than the disease of substance use disorder. She's not alone. She is one of dozens of leaders in Dayton who are giving their time, energy, and talent to finding a way to save lives.
East End Community Services has taken a stand, too, by advocating for families and children affected by addiction. Every year, they connect over 1,000 people to services that help support their growth and stability: helping families, after all, is the best way to heal a community. Its flagship program Miracle Makers creates a safe, positive, nurturing environment for kids. It's become a haven for children whose parents and families are coping with the effects of substance use. The program's goal is to help children dream again, and become successful. When I walked in to meet some of the kids and the support staff that work with them daily, I saw a group of happy, laughing kids gathering around to practice mindfulness and meditation. I saw healthy snacks and bright, colorful places to play. I saw success. Why aren't those smiling faces on the front page of the New York Times?
Now, I'm not denying that overdose rates are tragically high in Montgomery County. According to their coroner's report, 365 people died of drug overdoses between January and May of 2017. That's almost double the number of lives lost last year. But focusing on the problem is just the tip of the iceberg. Finally, the addiction health crisis is in the public eye — but if it's shown as an unsolvable problem, we'll never get the support, help, and funding we need to defeat it.
President Trump is expected to announce a national emergency this Thursday, which means programs like these could finally get funding. We must help grassroots efforts and community supports. They are our best hope for solving the addiction crisis, but without funding, they risk losing traction. And there are many, many people who need their help.
The strength, heart, and humanity I witnessed in Dayton gives me so much hope for our nation. We can end this crisis. We do recover. However, it's crucial that we tell the stories of people, towns, and groups that dedicate their time and love to turning the tide. We don't need more reminders of the tragedy. That's old news. Instead, we must honor those losses by reaching out and building solutions in every community, across America.
Lauren said it best: "These are people's lives. There is no time to sit back. So many people are affected by addiction and it is going to take all of us coming together to get through this. The more we can highlight all the positive efforts and strides being made, the more people can gain awareness and get on board with a movement that will literally save lives. The least we can do is contribute our God-given talents to make a difference."
Amen to that, Lauren. Thank God for you, and thank God for the people of Dayton.
Need help with substance abuse or mental health issues? In the U.S., call 800-662-HELP (4357) for the SAMHSA National Helpline.