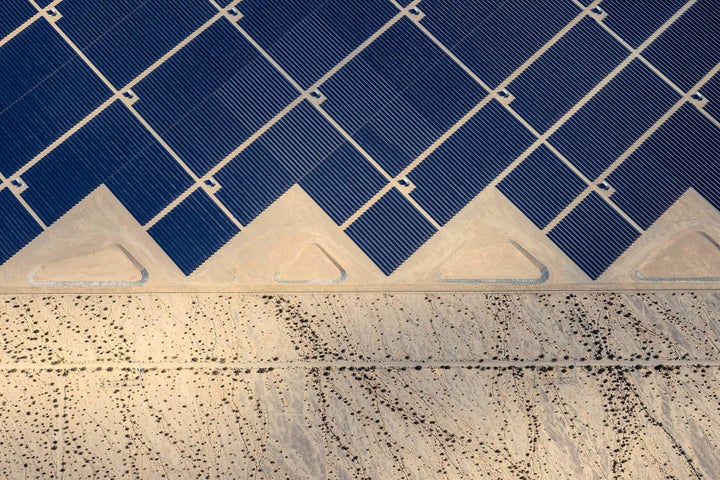 As President Trump retreats from climate action, Governor Jerry Brown and Michael Bloomberg have expressed the frustration that many of us feel. But the former mayor of New York and the current governor of California also saw an opportunity. Maybe Trump had created a watershed moment for climate action? He has certainly motivated a loud response.
State, city and business leaders are now more eager than ever to win a clean energy future. Over 2,000 American cities, states and businesses have announced they will pick up the slack to ensure the U.S. drives down its emissions. They know that if they don't keep up, they risk being left behind, whether or not the federal government plays a role. After all, they are already the largest contributors to U.S. greenhouse gas emissions. Federal leadership has a crucial and irreplaceable role in setting the national agenda, but local action has the potential to offset federal inaction — and do more than that. They can demonstrate that investing in a clean energy future makes economic sense.
Savvy state, city and businesses leaders already realize the green revolution has started. U.S. carbon emissions are falling. Coal is being out-competed by better, cheaper alternatives. Renewables are increasingly affordable, with prices now about a third of what they used to be, and they're generating more electricity than ever. And efficiency technologies are saving ratepayers money while creating good-paying jobs and strengthening businesses.
These are among the reasons why the former mayor of the most populous and economically powerful U.S. city has teamed up with the governor of the most populous and economically powerful U.S. state. Michael Bloomberg and Governor Jerry Brown are helping to spearhead America's Pledge and "We Are Still In" ― to help states, cities and businesses uphold America's climate pledge and win a clean energy future.
Here are some of the ways cities, states and businesses are embracing this challenge:
Cities: The power and incentive to lead
Many cities have already started the effort to uphold America's climate pledge. At least 350 American mayors have already committed to adopt, honor and uphold the Paris Agreement goals, despite federal opposition, and 140 cities actively manage climate risks and measure their impact as part of the Compact of Mayors. 133 of American cities have joined the Global Covenant of Mayors for Climate and Energy dedicated to reducing emissions and strengthening climate resilience.
Cities are eager to take to climate action not only because it makes economic sense but also because of the costly impacts. Their future resilience and survival may in many cases depend on it, as many are perched dangerously on the frontline of fast rising sea levels, increasing and more severe inundations, extreme droughts, hurricanes and heat waves disrupting their citizens and economy.
States: Creating jobs and growing the economy
State governments understand that clean energy and energy efficiency create local, good-paying jobs that can't be outsourced because they're in industries like electrical work and installation. For example, Texas, one of the most fossil-fuel-friendly states, currently has the most wind energy jobs of any state in the country and that growth is not slowing down.
Businesses: Doubling Down on Climate Commitments
Some of America's biggest brands – including Coca Cola, General Mills, Hewlett Packard, Kellogg Company, Pepsi, Phillip Morris, Proctor & Gamble, Pfizer, Wal-Mart Stores and Xerox are among 43 U.S. companies, as part of the Science Based Targets initiative, that have already created (or in the process of creating) targets for reducing emissions in-line with what the science says is needed to address climate change.
They're doing this not only because it's the right thing to do but also because they know it makes business sense. From mitigating the risk of massive droughts and floods disrupting their corporate assets, customers and the economy ― to saving on more efficient energy use and cheaper forms of reliable clean energy, companies know very well that acting on climate is a smart business decision. Initiatives like the Renewable Energy Buyers Alliance (REBA) are helping to drive that action by simplifying renewable energy purchasing for businesses and utilities.
If American businesses are to stay competitive and innovative, they will take to the market of the future; a clean, reliable and efficient one.
The United States can still win a clean energy future. But the clock is ticking. How long will it take? Will it be fast enough? And will the We Are Still In coalition, galvanized by the leadership of Bloomberg and Brown, be enough to offset federal inaction? WRI looks forward to working with these leaders, along with the Rocky Mountain Institute and others to understand how much ground states, cities, and businesses can make up. One things we know: subnational leaders understand the stakes. They are taking action. And there is no time to lose.
Sam Adams is Director of WRI United States, World Resources Institute, and former Mayor of Portland, Oregon.
Related
Popular in the Community