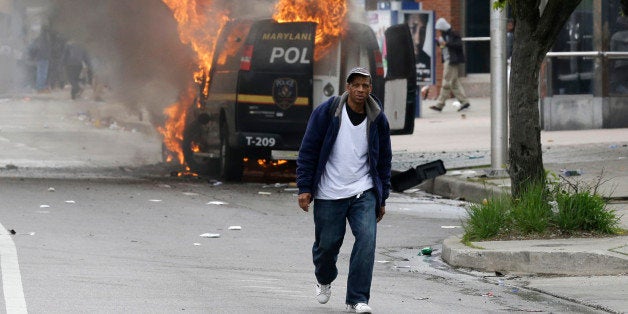 As most Americans were sitting down to dinner Monday night, Maryland's Governor Larry Hogan was declaring a state of emergency in the city of Baltimore. Baltimore was burning, he explained, and nothing short of calling out the National Guard could now bring calm to Charm City. Mere minutes later, CNN, NPR and myriad other media outlets were reporting on the chaos. No matter how many mea culpas the Baltimore Police Department had offered, and no matter what assurances it had given that a thorough investigation into the death of 25-year-old Freddie Gray would be conducted, city residents couldn't be calmed.
And yet, can state officials or the media really be surprised that promises of an internal investigation don't appease? Have they forgotten that citizens have directed their attention again and again to the crisis of police misconduct and abuse without remedy? Can they not remember the myriad instances of police violence against ordinary citizens that even they have acknowledged when they paid out millions of dollars in restitution to the victims? Indeed, as the Baltimore Sun reported just seven months ago, complete with graphic photographs of seriously injured citizens from that city, city officials have paid out over $5.7 million dollars to such victims since 2011. And, it turns out, they got off cheap. The state of Maryland has a cap on what it could be forced to pay out of a mere $200,000 per incident.
Even if state officials can't really grasp why Baltimore is burning today, they would do well to take a bit of a step backward and consider why their city burned before -- back in 1968. They might discover, albeit with some surprise, that then, like now, black residents erupted only because they were bone-sick of hearing news that yet another black man had been killed in America. They might see that the true state of emergency now, like then, isn't rage or even rock throwing. It is the racial profiling and racial brutality of the police.
Indeed, this state of emergency -- the true state of emergency -- has a very long national history. Back in 1967, for example, when Detroit was in flames and its black citizenry also took to the streets in rage and despair, Michigan's Governor George Romney also declared a state of emergency. He also called in the National Guard. And, most importantly, he also misunderstood the true state of emergency that his city faced.
Then, like now, the real emergency wasn't the smashing glass nor the fires. That would all end soon enough.
The real crisis that Romney faced -- indeed the real state of emergency facing his constituents -- was the fact that the Detroit Police Department had been abusing black citizens without censure for decades. The real state of emergency was that black lives didn't matter enough in Detroit.
America's real state of emergency remains that black lives still don't matter enough in cities across America.