From The Academy Awards to Broadway's Spiderman: Turn Off The Dark to Julie Taymor's Across The Universe, the projects of Emmy Award winning choreographer Daniel Ezralow seem to grow bigger and more ambitious by the year. And it doesn't get much bigger than the Opening Ceremony of the Sochi Winter Olympics -- an epic undertaking especially since Ezralow is American... selected to choreograph the History of 20th Century Russia for the whole world to see. No pressure.
Daniel Ezralow in Sochi 2014 (courtesy of Daniel Ezralow)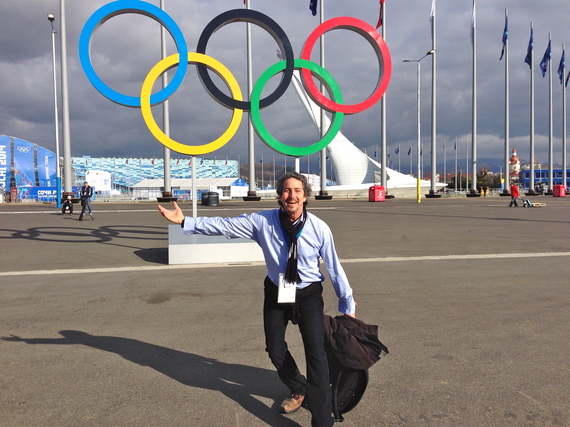 I chatted with Ezralow to find out more about his journey to creating this masterful, memorable piece at the Sochi Olympics Opening Ceremony -
My Grandfather fled Russia in 1905 during the Revolution -- he got on a boat from Hamburg to Nova Scotia and made his way to Los Angeles. Other than what I heard from my Grandparents, or saw on film, I had no clue what Russia was like. I took one year of Russian in school, and didn't go any further. I imagined I'd see grey buildings under a cloud of post-cold war, but when I first visited in August 2013, I was amazed with Moscow -- a phenomenal, modern city that in the last 20 years has become the wealth capital of the world. The one thing that really struck me was how similar and familial it all felt. Russians in many ways are a lot like Americans in that they are proud people, with strong beliefs and strong voices, and yes, the outward freedoms are different because they were closed for so long, but strangely, there was an "I recognize you" that became a very powerful element in my working over there. I felt like I knew these people even though I had never been there before.
Daniel Ezralow's work can be seen from 2:24:45 - 2:38:00...
So why would Russia, a country famous for dance and ballet, call upon an American to choreograph their opening ceremonies?
No matter what country I am in, I become like the place where I am working, but still with a foreign eye. The Russians communicated to me in a way they wouldn't with a native Russian. They gave me carte blanche into their ideas, stories, and I drank it up like it was my food, and adapted them all into the show. Yes, why would they call upon an American to choreograph this? But in another way, it's an unexpected, but perfect choice, as long as I'm the right American (laughs). So many Russians came up to me afterward and said "It is as if a Russian had made it. How did you ever understand it all?" Well, we don't need to take ten years of Russian History to understand certain things, as an artist we just need to be sensitive and touch the pulse. I had a job to serve Russia with these ceremonies. I realize what I really love to do is to bring life to these big projects.
Daniel Ezralow in Sochi 2014 (courtesy of Daniel Ezralow)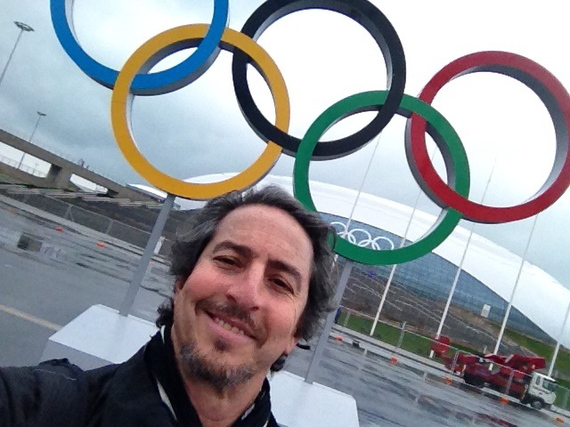 One of Ezralow's strengths is taking a massive space and using it all as his canvas. He admits that there is a challenge with the Olympics in that you have both an arena and close up TV.
There were arial elements that were different from any other Olympics. We didn't focus so much on flying humans, but sitting in that huge arena in Sochi, I got a very strong feeling that whatever is happening on the ground needs to be balanced by whatever is in the air. What I try to do with the choreography is to work with what the designer is creating. We didn't want the audience to look either at the floor or the air but to look at the whole picture.
A moment from Ezralow's History of 20th Century Russia from the Sochi Olympics Opening Ceremony (Courtesy of NBC)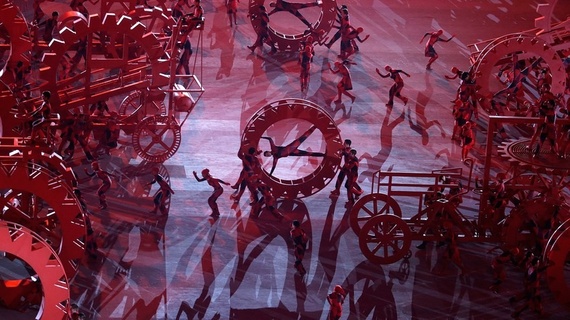 In March, Ezralow tours Italy with the wonderful, whimsical Open featuring an all Italian company. Tailored for more intimate spaces (300 to 1000 seat theatres), Open is a far cry from the colossal scale of Sochi. Ezralow's relationship with Italy has been a special one that dates back to the 1980s when Lina Wertmuller cast him as an actor alongside Harvey Keitel in Un Complicato Intrigo Di Donne, Vicoli E Delitti.
The first time I went to Italy, I fell in love with it as everybody does. I felt a huge degree of support and freedom from the Italians, who have a very improvisational nature. They really allowed me to be a fool, and as a performer you are a hero and a fool together -- you're Apollo and you're the Harlequin. Being in the Lina Wertmuller film, which won the audience prize at the Berlin Film Festival, led to more film and TV appearances, and then I was asked to do an opera, and what I saw was that the more I was myself, the more they embraced me. In America I try to fit the mold of what people want from me, but I didn't care in Italy.
Ezralow's 25 year collaborative friendship with Julie Taymor has been a fountain of inspiration for the choreographer/dancer/actor.
Julie and I are always discussing what can be next. She wants to create some feature films based on her early theatrical projects. We also want to take some of the things like Across The Universe and bring that to life again. Her vision and artistic take is so strong and it inspires me to go to the next level.
Stay tuned for the stateside premiere of Ezralow Dance September 2014, a live music/dance show that Ezralow has custom created for the Ford Amphitheatre in Los Angeles.
Across The Universe (Trailer)
Calling all HuffPost superfans!
Sign up for membership to become a founding member and help shape HuffPost's next chapter