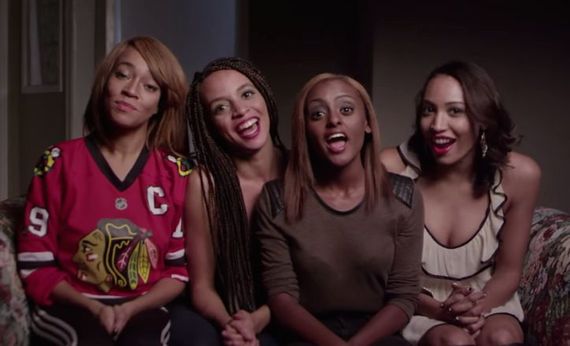 The overwhelming success of 'Scandal', 'How to Get Away With Murder', 'Empire', 'Being Mary Jane' and 'Black-ish', makes it clear that black actors and actresses are finally (and rightfully) in demand. With the line-up for this fall's schedule in place, many shows have diverse casts with black actors in the forefront, like NBC's 'People are Talking' and HBO's 'Brothers in Atlanta', just to name a few.
The story doesn't end there. Black faces are represented not only in front of the camera, but behind the camera, as creators, writers, directors and executive producers, thus positively influencing the portrayal of black people in the media. It is always great to see successful shows championed by black creators and executives, which, unsurprisingly, does not happen often due to a lack of diversity behind the scenes. Shonda Rhimes said it best in her DGA Diversity Award acceptance speech: "It's not because of a lack of talent. It's because of a lack of access. People hire who they know. If it's been a white boys club for 70 years, that's a lot of white boys hiring one another."
Fortunately for this generation, the internet has become a great resource to help break that cycle and provide a platform for young and in charge, diverse storytellers. Anyone can create their own work and upload it online for the world to see without having to fight their way into Hollywood's "goo ole' boys club." Take 'Broad City', for example - today many people know it as the fun, laugh-out-loud female show on Comedy Central, but what many do not know is that it began as a web series. The series creators and stars of the show, Illana Glazer and Abbi Jacobson, started 'Broad City' as a series of day-in-the-life sketches on Youtube. With the support of Amy Poehler, they went on to develop the series for television.
While the goal for many is to eventually produce a traditional television series, the web has increasingly become a place where people seek out great content. According to a study done by Adobe, TV viewing online grew by 388 percent in mid-2014, compared to the same time a year earlier. The entertainment industry as a whole has started to take notice, with Netflix, AOL and Yahoo! now creating original web series only available online. Youtube, however, is the original space to find raw, new talent and has created a platform for many of these new digital media masterpieces. Like many of you, I have ditched traditional television programming on several occasions to sit in front of my laptop and binge watch 'Awkward Black Girl'. (If you haven't seen an episode, you're missing out on life).
One of my current favorite online series to watch is 'Downtown Girls' - a hilarious, hipsteresque web series featuring black women both in front of and behind the camera. The show, starring Emebeit Beyene, Crystal Boyd, Chivonne Michelle and Chandra Russell, and written by Jessica Lamour, follows four girls post graduation as they struggle to make ends meet in NYC. After a wake up call from a college friend, played by High School Musical's Monique Coleman, they decide to get their act together by turning their apartment into a lucrative nightclub in an attempt to leave an imprint on NYC culture.
The internet has forever changed how we watch television. Independently created web series have opened the door to a new generation of aspiring entertainers. Who knows, the next Shonda Rhimes may be lurking somewhere on YouTube. Either way, one thing is for sure - "black" is the new "black" when it comes to entertainment, and we're not going anywhere.
REAL LIFE. REAL NEWS. REAL VOICES.
Help us tell more of the stories that matter from voices that too often remain unheard.