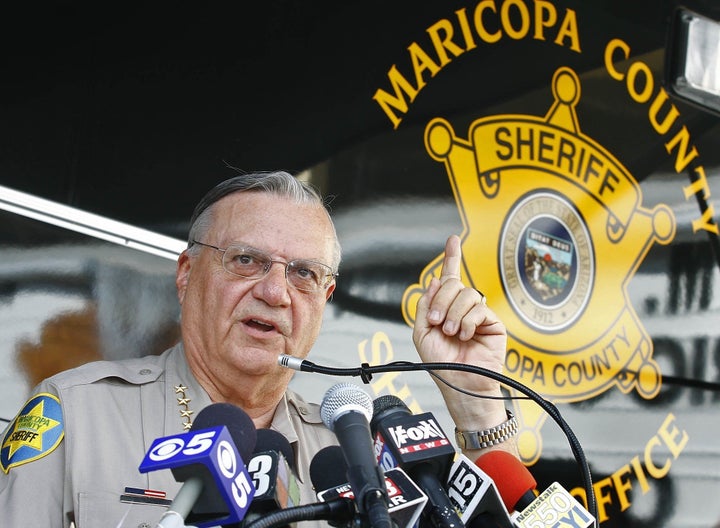 Arpaio is perhaps the most controversial sheriff in America. He is
famous for rounding up local residents on suspicion of being in the
country illegally and for his jails, where inmates live in outdoor tents
and wear pink underwear, pink flip-flops, and pink handcuffs.
In addition to being under investigation for the last few months by the U.S. Department of Justice (DOJ) for possible civil rights violations, including racial profiling, Arpaio's office has also come under investigation by the Department of Labor (DOL) for allegedly withholding overtime pay from employees who worked more than 40 hours per week.
All of the current alleged infractions are civil offenses, not criminal, and a letter from the DOJ to Arpaio in the spring says that the DOJ will help provide assistance to Arpaio to correct any infractions they find.
Because the DOJ inquiry is not a criminal investigation, some local Arpaio critics have complained that the DOJ does not have certain jurisdictional powers (e.g., subpoena, grand jury indictments). Many local opponents of Arpaio's immigration enforcement efforts accuse Arpaio of abusing the power of his office and want Arpaio to be investigated for alleged criminal wrongdoings.
Pablo Alvarado of the National Day Laborer Organizing Network (NDLON) told us a couple of months ago, "Above all, we are concerned for the safety of migrants, Latinos, and those who speak out in Arizona. Arpaio has shown a propensity to retaliate against his opponents."
Phoenix Mayor Phil Gordon expressed similar concerns Monday to the Arizona Republic: "Anyone who raises an issue is subject to phone calls from senior officials in his department, advising them that that's not a wise thing to do. If they continue comments that the sheriff doesn't agree with, people
find themselves under criminal investigation or buried with Freedom of
Information Act requests that would cost the taxpayer tens of thousands of dollars."
Complaints of civil rights violations -- national origin
discrimination and illegal searches and seizures -- from local citizens
and officials, members of Congress,
and others have been mounting over the last couple of years as "Sheriff
Joe" ramped up immigration enforcement under the controversial 287(g)
program, which allows certain local and state law enforcement agencies
to engage in immigration enforcement.
Arpaio spokesperson Brian Lee says neither the Maricopa County Sheriff's Office (MCSO) nor Sheriff Arpaio have been questioned by the FBI, and neither has been made aware of any investigation by the FBI.