On Saturday afternoon, a crisis at Washington College in Chestertown, Maryland came to a tragic end when student Jacob Marberger was found dead from a self-inflicted gunshot wound at Hawk Mountain Sanctuary. Five days prior, the school had taken the unusual step of closing down until the end of the month in response to a disturbing report from Marberger's parents.
Jacob had driven home to Pennsylvania late one evening, grabbed a rifle case, and disappeared. He was seen purchasing ammunition at a gun store shortly thereafter, but would not respond to phone calls or texts. Fearing a potential mass shooting, and erring on the side of caution, Washington College evacuated all students, faculty and staff from the campus.
When I first heard about the crisis at the college, I was deeply concerned. I participated in a panel discussion at Washington College on February 24 and was very impressed with the school and faculty. Then it suddenly dawned on me that I knew Jacob Marberger. He was present at that event and had a great deal to say about the topic: gun ownership and gun violence in American culture.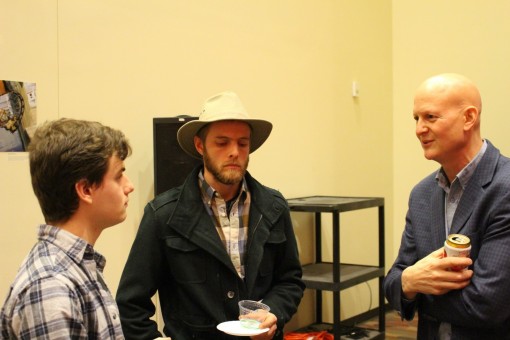 Jacob Marberger speaks to sculptor David Hess during the opening of his "Gun Show" exhibit.
Joining me on the panel that evening were Maryland Institute College of Art professor of philosophy Firmin DeBrabander, the author of the book Do Guns Make Us Free?; Washington College professor of political science Melissa Deckman; and sculptor David Hess. Christine Wade, an associate professor of political science and international studies at the college, served as the moderator.
The panel "planned to expand the conversations... sparked" by an art exhibit that David had created weeks earlier for display on the campus, entitled "Gun Show." The exhibit consisted of 62 sculptures of assault weapons created out of household materials. It was David's reaction to the mass shooting at Sandy Hook Elementary School in Connecticut.
"We have come to accept gun violence as the cost of living in a country with almost as many guns as people," he wrote in his artist statement for the exhibition. David hoped to provoke conversation about America's epidemic of gun violence.
He succeeded in that goal, and Jacob Marberger was part of that conversation. The 19 year-old sophomore attended the premier of David's "Gun Show" gallery exhibit on February 5 and sought out the artist to let him know he was offended by his work.
Jacob stated he was a gun owner and card-carrying NRA member and shared the following issues with David and his assistant:
1) He felt David's articulation of gun violence/gun culture seemed "unfocused"; 2) He felt the use of the term "assault weapon" for sculptures "that can't even fire bullets" was inappropriate, and he claimed the media had hijacked that term to describe any gun used in violence; 3) He accused David of using "[Everytown for Gun Safety head Michael] Bloomberg" gun death statistics to serve his agenda; 4) He was upset that the NRA's point of view was not represented in the exhibit; 5) He was outraged at the notion of gun rights in the United States being tied to white privilege.
David talked to Jacob for some time, but found him to be "adamant" and not satisfied with agreeing to disagree. At some point, David had to cut off the conversation.
A few weeks later, Jacob showed up again at our panel discussion and sat in the front right by the stage. During the Q&A session, Jacob spoke first, asking a kind of non-question in which he opined that the National Rifle Association has widespread popular support (4 million members) while the gun violence prevention movement consists solely of big-dollar "patrons" like former NYC Mayor Michael Bloomberg of Everytown for Gun Safety.
When I attempted to answer and explain that Everytown has millions of average Americans as members themselves, Jacob interrupted me as I spoke. He then interrupted Melissa Deckman when she pointed out that ballot referendums on universal background checks are demonstrating broad public support for gun reform in states across the country.
It wasn't long after that that Jacob's infatuation with firearms destroyed his reputation and got him into serious criminal trouble.
Jacob's father described his son as "an intellectual and conscientious young man," and by all accounts, he was exactly that. He was the speaker of his college's Student Senate, active in theater, and a member of a campus fraternity, Phi Delta Theta. But he began to drift into crisis in early October when he reported two other Student Government Association (SGA) members to school administrators for texting sexually inappropriate comments about a woman in the group. Both students lost their jobs, and some members of Jacob's fraternity began to retaliate against him for not going directly to the SGA members with his concerns. Around this time, someone pranked Jacob by leaning a trash can full of water against his dorm room door so that when he opened it, the water spilled into his room.
On October 7, Jacob got drunk at a party at his frat house -- so much so that his fraternity brothers carried him up to his room 4-5 times during the party, hoping he would sleep it off. But he kept coming back downstairs, and the final time he did so, he was carrying a .22-caliber seven-shot revolver, an antique. He brandished it over his head and ranted about something that it is still not entirely clear. There are some indications he might have been hazing a fraternity pledge with the pistol.
The fraternity decided to remain silent about the matter, but three weeks later, the college figured out what happened and recovered the pistol from a house off-campus. Jacob was suspended from the college and kicked out of his fraternity. The Chestertown Police also filed gun charges against him, including possession of a dangerous weapon, possession of a weapon and ammunition on school property, and possession of a firearm as a minor. He was back in class on November 9 after a forensic psychiatrist determined he was not a threat to himself or others, but disappeared just a week later.
There is no doubt that Jacob's embrace of a degenerate gun culture promoted by the National Rifle Association (to sell guns) played a direct role in his death. That culture preaches extreme faith in the power of firearms to solve problems.
Feeling scared? "Buy a gun." Feeling slighted? "Buy a gun." Don't like what the government is doing? "Buy a gun."
Even Jacob's use of an antique pistol was significant. Pro-gun extremists in this country have frequently employed black powder and other antique pistols in an attempt to aggressively challenge local/state gun laws and defy law enforcement.
There are two things that need to be gleaned from this tragedy to ensure that we don't spend our future mourning additional Jacob Marbergers:
Number one, forcing colleges and universities to allow guns on their campuses is a colossally bad idea that can only lead to additional gun death and injury. One couldn't imagine a more disastrous setting for firearms proliferation, given that young people like Jacob are frequently on their own for the first time at college and experiencing high levels of stress (to say nothing of alcohol and substance abuse).
Number two, guns do not make us free, or supercitizens, or safe. More typically, they destroy families, like the Marberger family has been destroyed. The NRA will continue to attempt to recruit young men like Jacob into the gun culture (even employing pseudo-hipster propaganda through programs like "Noir"); that much we know. It therefore falls upon the rest of us to teach young Americans that guns will never be a solution to what ails them, either personally or politically.
Author's Note: In writing this piece, I consulted with David Hess and Firmin DeBrabander to make sure I was accurately citing their recollections of the evenings of February 5, 2015 and February 24, 2015.
Calling all HuffPost superfans!
Sign up for membership to become a founding member and help shape HuffPost's next chapter