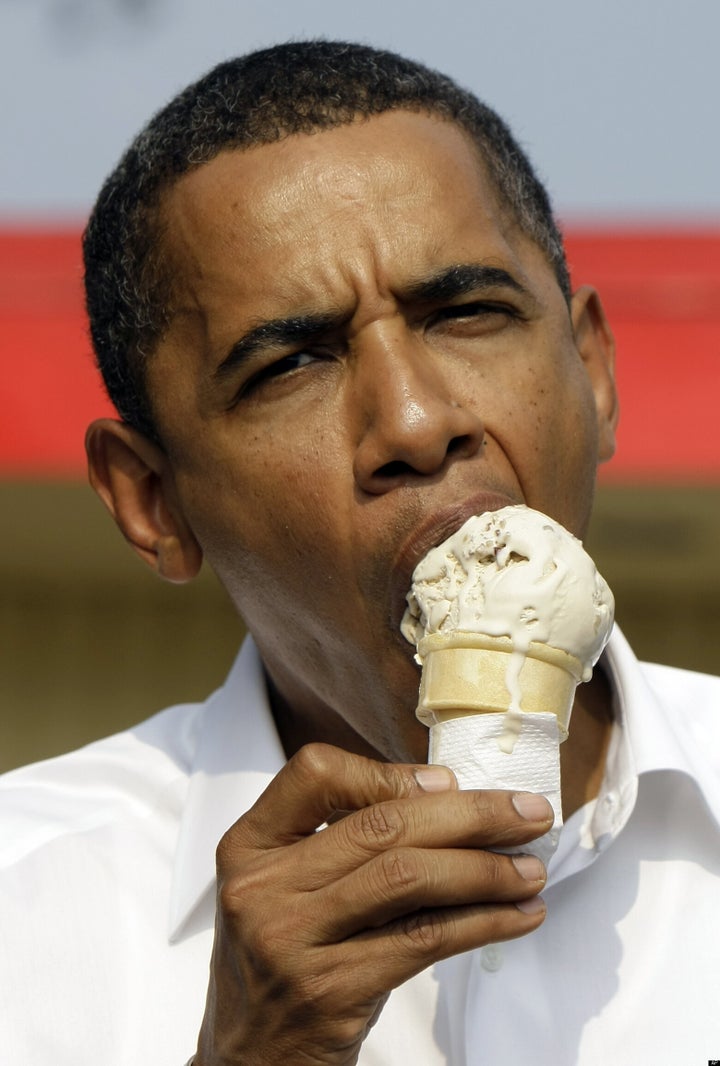 Last week, halfway through National Ice Cream Month, the Baskin-Robbins chain launched a dairy drama by announcing it was discontinuing five of its original 31 flavors. Both the news media and the blogosphere lit up like a Christmas tree, reacting to the company's decision.
Surprised? You shouldn't be. Ice cream has always stirred the passions of Americans.
After drinking his first ice cream soda as a kid, Will Rogers summed up the experience for a friend. "You will think that you have died and gone to heaven," said Rogers. Whether or not ice cream deserves such heavenly hype, no one can deny it has captured America's heart. In 2006, more than 4.3 billion pounds of ice cream were consumed in the U.S.
Can this cold and creamy comfort food solve crimes? This month, the owner of an ice cream store in suburban Portland, Oregon, decided that Rocky Road might be as alluring as cash. The store's owner has offered a year's worth of free ice cream for information leading to the arrest of the burglar who robbed his store.
Clearly, ice cream matters, and it has always mattered in America.
Only a couple years after the Constitution was ratified, the A-List crowd was making and eating ice cream. In the summer of 1790, George Washington spent roughly $200 on ice cream. An inventory of Mount Vernon after Washington's death revealed 10 ice cream pots among the kitchen supplies. By the 1820s, the elite of New York society could purchase ice cream from street vendors in the city.
Ice cream has been a barometer of America's cultural, political and economic trends. In 2010, several months after the country officially slid into the current recession, a Wall Street Journal columnist confirmed just how decadent the preceding economic boom had been. According to the columnist, an ice cream parlor in New York City had created a $25,000 sundae with edible 23-karat, gold-infused whipped cream.
Two years ago, People for the Ethical Treatment of Animals urged the Ben and Jerry's ice cream chain to replace the cow's milk they were using to make their ice cream products with human breast milk. By making the switch, PETA argued, "your customers -- and cows -- would reap the benefits." But the ice cream chain kept right on milking cows.
In 1928, presidential candidate Herbert Hoover publicly identified chocolate ice cream as one of his favorite treats. Perhaps his Democratic rival, Al Smith, sensed an opportunity. Smith announced that he liked all flavors of ice cream, and Catherine Smith backed up her husband. "I've never seen him favor one kind more than another," she attested.
In that presidential election, Smith's religion -- Catholicism -- turned out to be the wedge issue, not ice cream. Smith's momentum melted, and Hoover the chocolate lover won the election.
Growing up in the South, I generally thought of ice cream as a seasonal treat, only later to realize my assumption would strike a New Englander as blasphemy. But the fault line today over ice cream preferences seems to be an East Coast-West Coast division.
Writing recently on a San Francisco-based food blog, pastry chef Emily Luchetti noted that foodies in the Bay Area "are happily spoiled by artisan ice cream shops" that offer funky, counter-culture flavors -- from Jesus Juice to Chocolate Smoked Sea Salt. But ice cream is quite different on the East Coast, she writes.
"The flavors aren't as sophisticated, but the creameries are institutions," Luchetti notes, and the scoops served by East Coast ice cream shops are "double the size as you'll find in California."
The flavor flux at Baskin-Robbins prompted a lot of chatter among ice cream lovers. While some have mourned the death of Caramel Praline Cheesecake, the website Geekosystem has eulogized the chain's decision to send French Vanilla to the graveyard of flavors. "Regular old plain vanilla will still be there, the most unloved stripe in the carton of Neapolitan," writes Geekosystem's Susana Polo.
When it comes to favorite flavors, Americans can be fickle. In 1966, soon after he moved into Las Vegas' Desert Inn, billionaire Howard Hughes learned that Baskin-Robbins was discontinuing his favorite ice cream flavor: Banana-Nut. The eccentric Hughes had his personal staff place a special order for 350 gallons of the chain's banana-nut ice cream.
But Hughes later embraced a different ice cream flavor. This left the Desert Inn's restaurant with a lot of banana-nut ice cream in cold storage. It took the restaurant roughly a year to exhaust the supply it had stored for Hughes.
Popular in the Community