It's been more than three weeks since Bruce Springsteen's latest album High Hopes debuted at # 1 on the Billboard charts.
The critical response has been kind of up and down, but since I'm not a music critic, I like to listen and focus on what moves me, what stays with me. And on this album, enhanced by the fact that I'm a Vietnam vet, I've come to listen over and over and over to the 11th cut, appropriately entitled "The Wall."
I've written several Huffington Post blogs about The Wall -- the Vietnam Veterans Memorial -- in Washington, D. C. over the past few years. But Bruce's song takes the experience to another level, personal and musical. As he said in his liner notes to High Hopes, the song was inspired by his memories of Walter Cichon, "the first person [he] ever stood in the presence of who was filled with the mystique of the true rock star."
Bruce admitted, "Walter was one of the great early Jersey Shore rockers who along with his brother Ray (one of my early guitar mentors) led the Motifs (a local rock band), who were always a head above everybody else."
Regrettably, like many other young men of our generation, Walter Cichon wound up in the U.S. Army, fighting an unnecessary war in Vietnam. Walter went missing in action in Vietnam in March 1968.
"His was a terrible loss to us, his loved ones, and the local music scene," said Bruce of Walter's death. "I still miss him."
Missing is something we all have in common regarding the names on The Wall. But it's more than the names we miss and mourn -- it's the lives we lost, and the lives that could have been lived.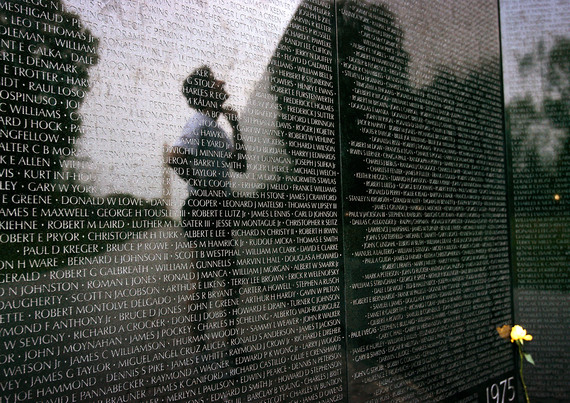 And it hurts, really hurts, even today, almost 50 years to the day when the Vietnam War "officially" started. Bruce Springsteen captured all this, and more, in the poignant lyrics of "The Wall" with lines like "This black stone and these hard tears are all I got left now of you" and "Now the men that put you here eat with their families in rich dining halls."
And the sad, haunting refrain, "And apology and forgiveness got no place here at all, here at the wall."
As my UW-Madison colleague Craig Werner and I have discovered in our hundreds of interviews with Vietnam vets for We Gotta Get Out of This Place, our book about music and the Vietnam War, Bruce Springsteen has been consistently strong on the issue of the Vietnam War and Vietnam vets (see Craig's blog about this here ).
Like many of us blue collar baby boomers, Bruce's roots were working class, marking him a prime candidate for the draft. The drummer for his first band, Bart Haynes, like Walter Cichon, was killed in Vietnam. And while Bruce himself didn't go, he never forgot us -- as Craig noted in his blog, some of Bruce's best songs center on Vietnam: "Lost in the Flood," "Youngstown," "Brothers Under the Bridge," "Highway Patrolman," "Born in the U.S.A." The shadow of the war hangs heavy over entire albums, especially Darkness on the Edge of Town and Nebraska.
More importantly, Bruce's concern wasn't abstract. In 1981, he met Bobby Muller, a Marine who founded the Vietnam Veterans of America after a bullet paralyzed him from the waist down. Taking the stage for a concert in Los Angeles that August, Bruce talked about the darkness that had fallen upon the nation.
"Vietnam turned, turned this whole country into that dark street," he told the crowd that night. "And unless we, unless we're able to walk down those dark alleys and look into the eyes of the men and the women that are down there and the things that happened, we're never gonna be able to get home and then it's only a chance."
A minute later, Bruce turned to the wings and called Muller to join him on stage. Muller addressed the crowd, and later claimed that the evening helped to legitimize the Vietnam veterans movement. And he has never forgotten what Bruce Springsteen did.
"He's a down-to-earth righteous guy who has respect for people and he maintains a personal integrity and down-to-earth aspect I've rarely seen," Muller told us when we interviewed him. "He stays in touch with people like me, with the more recent vets. He is my personal hero."
We talk a lot about heroes nowadays, and many would claim that the 58,286 names etched in the black gabbro are heroes. But that doesn't change the fact that they're gone. Which brings us back to the lyrics in the Springsteen song and the names like Walter Cichon and Bart Haynes that are found there. As Shawn Poole of Backstreets magazine told us there are wonderful tributes there to both Walter Cichon and Bart Haynes.
And somewhere there's a pain that will never be eased. But the music, the songs of Bruce Springsteen and others can help that healing.
Related
Popular in the Community