Part I is a discussion of how the FCC has manipulated some of the statistics in their recent 20th wireless report to help AT&T and Verizon over the public and your interests.
Part II – Did you really think America was Number 1 in LTE speeds?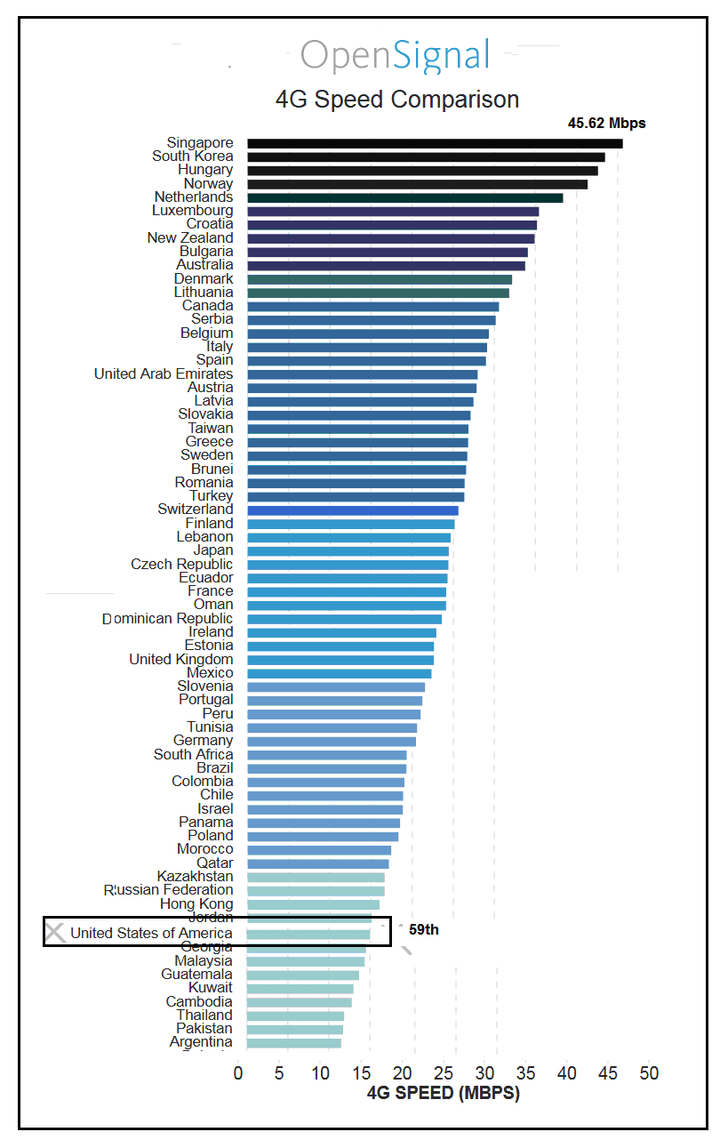 We'll return to this chart in a moment.
Prelude: The 'Insult to Injury' Part
Ars Technica writes that the FCC's current plan is to lower the bar on the speed of broadband in America to two rusty cans, some imaginary string, (not fiber or even copper, but air), and buckets of government funding to AT&T. While there is all this talk of 1Gbps speeds (1000 Mbps=1Gbps), the FCC now wants 10Mbps download speed—1% of 1Gbps, as the new standard.
"But with the FCC now chaired by Republican Ajit Pai, the commission suggested in its annual broadband inquiry last month that Americans might not need a fast home Internet connection. Instead, mobile Internet via a smartphone, with speeds of just 10Mbps downstream and 1Mbps upstream, might be all people need, the FCC now suggests."
And the buckets of government money? In another article, Ars Technica points out that AT&T is getting close to $3 billion dollars to supply rural unserved areas at this ridiculously slow speed. Worse, instead of the 13 million customers to be served, they'll be doing about 1.1 million—that's $2,700+ a line. And this is on top of getting paid enormous amounts for this service by customers in these unserved areas, (which will be addressed in Part III).
Just the article's sub-headline and story should be cause for an investigation:
"AT&T got nearly $3 billion federal subsidy to connect 1.1 million rural customers."
"The 1.1 million customers is also a far cry from the amount that AT&T said its fixed wireless service might cover a few years ago. In 2014, AT&T said that in order to get its DirecTV merger approved, it would commit to bringing "fixed wireless local loop broadband to 13 million new customer locations, largely in underserved, rural locations" within four years of the merger closing."
Now we know why America is 59th in LTE speeds, or why the US is almost at the top of the 'most expensive data cost' list, and this is just the start.
Part III will discuss: Wireless is not a substitute for a wired connection to the home or office. You paid for a fiber optic connection. They manipulated the accounting. Time to start the investigations.
Let's first start off with a list of facts.
America is 59th in LTE wireless speeds according to Open Signal's June 2017 report.
America is 2nd in "most expensive" data out of 41 countries, based on Rewheel Research.
The FCC manipulated the average wireless speed; it is 46%-72% above what the other research firms have found.
40% of the data used is from 'adtech' and 'tracking' software.
"Unconscious Billing" is when the apps, improper settings, or lack of consumer education can eat the entire data plan without knowledge or consent, (besides network glitches).
America averages $60.00 a month in wireless overcharging: On an average bill, (2.9 connections) of $150 bucks a month, 40% is caused by advertising and tracking software.
Verizon and AT&T sells the data about you and the list includes everything from where you go online, where you travel, to who you know. They also share it with their 'affiliates'.
As we wrote in Part I, the FCC has a new report on wireless competition where they claim everything is honky-dory; prices are dropping, speed is increasing and performance is getting enhanced. However, there is a bigger picture. There is a series of related proceedings at the FCC to 'shut off the copper', force-march customers onto wireless, even for the home, remove the cost accounting rules, and even set a new low bar for the speed of broadband service, 10Mbps download, 1Mbps upload.
But none of what we wrote in Part I and what you will read herein, has been addressed by the FCC.
America's Overall 4G LTE Speeds Sucks Compared to the Rest of the World.
Open Signal's report, "The State of LTE (June 2017)" shows that America is 59th in LTE wireless speeds with an overall average of 14.9Mbps while Singapore is 45.6Mbps, about 200% faster. The opening chart shows "the average download connection speed that users in each country see when connecting to LTE networks".
And while the US stats vary by wireless company, by location and a host of other caveats, OpenSignal found that AT&T and Verizon's network speeds are slowing down:
"In the six months since our last State of Mobile Networks: USA report, our measured average 4G speeds and overall speeds for Verizon and AT&T have dropped. The impact of unlimited was particularly evident for Verizon, which saw its average LTE download connection fall 12%, from 16.9Mbps to 14.9Mbps, in our speed tests. AT&T's decline was less pronounced. We measured average 4G download speeds on AT&T at 12.9Mbps, down from 13.9Mbps in our February report. The trend has been consistent as well. OpenSignal has recorded steady decreases in average 4G speed each month for both operators since they unveiled their unlimited plans in February."
The Ultimate FCC Sleaze Move to Manipulate Wireless Speeds Stats
When attempting to cross-check the FCC's claim with the other data sources, that "LTE download speed increased…to 23.5 Mbps for the first half of 2017 in the US", (which is one of the statistics about the US from Ookla), we found that the FCC quotes this statistic because it is the highest possible number and it doesn't match the other research firms' findings; it is 46%-72% above what the other research firms claim, including OpenSignal or even RootMetrics.
(In the previous example, OpenSignal pegs the US average speed at 14.9Mbps compared to 23.5Mbps quoted – which is 58% more. But averaging the findings from the other research groups mentioned by the FCC, RootMetrics and CalSpeed, (which covers just California), with OpenSignal, (and using 2016 data as the FCC didn't update these other sources to 2017), there is a 72% difference for 2016. I note that the details are too inside-baseball for this discussion.)
"5G" is going to fix everything? You got to be kidding; it requires a fiber optic wire with antennas every block or two. If the companies didn't put in the fiber before, do you really think that they'll do it now? Are you really that gullible? Unfortunately, whatever is built will be charged to the wireline customers.
American Is Second in the 'Most Expensive' Data Prices, Worldwide.
Rewheel Research's DF Monitor Report shows that out of 41 countries examined, America is 40th in answering the question: How Many GB Does a Subscriber Get for 30 Euros (€)? (1 Euro = $1.17 as of October 7th, 2017). Or, another way of examining the same information, America comes in second when examining the 'most expensive' wireless data prices.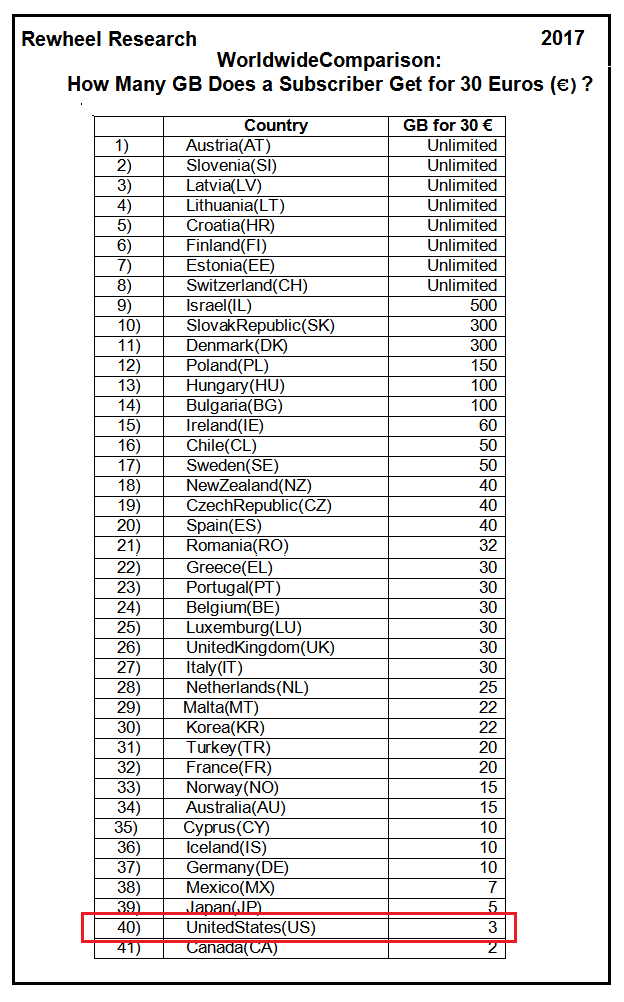 While this is a moving target and the question of 'unlimited' in the US means slowing down the service after 22GB, (and we don't know the details in other countries), the AT&T plans we presented in Part I clearly indicates that this research is more valid than not and that it reveals just how little we get for our money.
40% of the Data Used Is from Whamming and Unconscious Billing.
Besides being slow and expensive, a serious problem is that much of the data being charged is not from the actual usage but from Whamming and Unconscious Billing.
"Whamming"— is a collection of 'wireless-cramming' activities, where one or more companies or services increases the customers' data charges without the customer's knowledge or permission or is working in concert to collect information and sell that information to others without the customer's express permission.
"Unconscious Billing" — Customers are billed for services that use large amounts of a data plan without authorization or the customer's knowledge, where the phone mysteriously has data charges on the bill, even when the phone appears to be asleep or shut off.
PLAY THE VIDEO: Just watch this short video of what happens when you visit the majority of web sites in the US, such as Yahoo or AOL.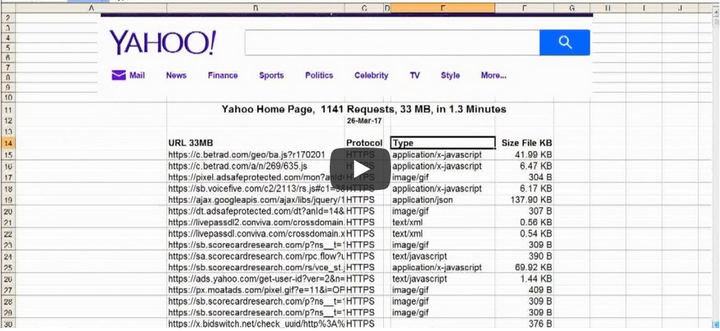 When you visit a web page, there is a swarm of hundreds of companies that are somehow attached to the web page, or your browser, or both, and their goal is to track you, spy on you, and collect information about you, such as where you go online or what you buy. Then, companies sell/rent this collected information about you.
This video shows that in just 1.3 minutes, a visit to the Yahoo home page had 1,141 different 'requests'. (This was created before Yahoo's deal with Verizon.) And the kicker is—it used up 33MB. In the excerpt above, the "URL" column on the left supplies the locations of the company or service throwing something onto the web site (or caught with our diagnostic tool), followed by the "application", which details whether what is downloaded was an image or more likely some software "javascript" used by some adtech. And, on the right you can see the size of each file, in KB. Some of these are very small, under 1K, and appear to be 'web bugs', while others can be quite large, a few hundred KB or more, especially when the page starts playing an advertisement video.
Note: 1000KB=1MB; 1000MB=1GB
Unfortunately, a visit to the AOL homepage exhibited the same stream of adtech and tracking software. This video shows that AOL's home page racked up 40MB in about 20 seconds.
In short, when you go online today it is as if an uninvited mob has joined you on a conference call – with hundreds of uninvited companies, most of whom you never heard of, and you have no idea of their intentions.
We estimate that 40% of all data plan costs are based on this and other questionable wireless activities.
We estimate that $8 billion a month is now being overcharged to pay for this grotesque wireless 'gig pumping' of America's web sites.
On an average bill, (2.9 connections), the four largest wireless companies (AT&T, Verizon, T-Mobile and Sprint) collected about $150 bucks a month in 2016. Forty percent, about $60.00 a month, is in question and caused by this advertising and tracking.
The Wireless Companies, the FCC and the Web Sites are Hiding the Problem.
The Yahoo and AOL videos captured just one web page at one specific time. They are not unique—but it is business as usual, (though the adtech crap is now multiplying faster than digital cockroaches).
Yet, the massiveness of the downloads, etc., has been hidden from view. And hiding all of this activity has been done by the wireless telcos at every turn because if this stuff ever became public, there would be major investigations.
We will return to this topic in future articles.
Part III will discuss: Wireless is not a substitute for a wired connection to the home or office. You paid for a fiber optic connection. They manipulated the accounting. Time to start the investigations
Related
Popular in the Community