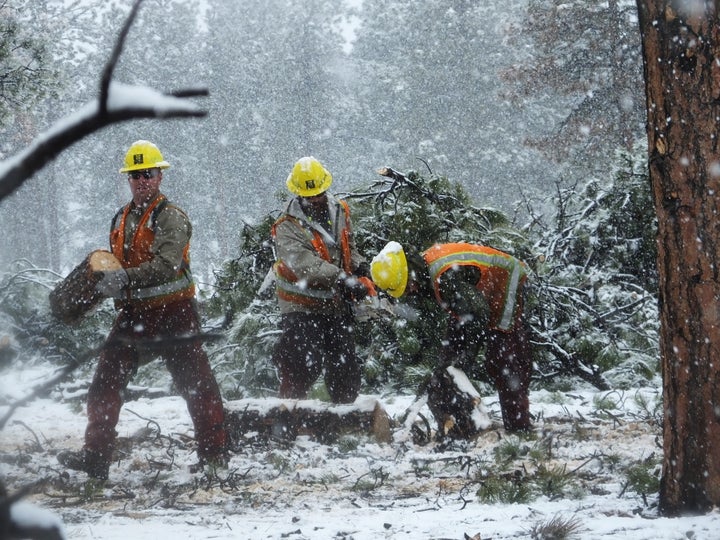 It will enable thousands of community and faith-based organizations, including Habitat for Humanity, the Boys and Girls Clubs of America, and Teach For America, to put boots on the ground to strengthen education from preschool through college, help communities recover and rebuild from natural disasters, support our veterans and military families, combat poverty, assist seniors in independent living, and foster economic opportunities across America.
This would not have happened without the unwavering support of congressional champions of national service, most notably Labor-HHS Appropriations Chairs Sen. Roy Blunt and Rep. Tom Cole and Ranking Members Sen. Patty Murray and Rep. Rosa DeLauro, who fought to ensure that citizens will continue to be at the center of solving the pressing problems facing their communities.
There are countless stories of everyday heroes like Derek Barber who served in the military for 13 years, including five deployments. His brigade, the Airborne Calvary Scout 19D out of Kentucky, was the first light airborne brigade deployed to Afghanistan after the 9/11 attacks. When Derek returned, he wanted to continue to serve his country as a civilian, and through a friend learned about AmeriCorps. He served for two years in the Southwest Conservation Corps Veterans Fire AmeriCorps, earning a living allowance while learning all the required skills and certifications necessary to work in firefighting. Derek leveraged his national service experience and training to get a job with the Alabama State Forest Commission and credits AmeriCorps with being one of the best decisions of his career.
There's Emanuel McCall who, guided by his older brother, moved from Yonkers to Schenectady, New York – away from the bad influences in his life – and joined YouthBuild. Emanuel credits YouthBuild and AmeriCorps with changing his life, calling them his "stepping stool" and the biggest step he's ever taken in a positive direction. He used his Segal AmeriCorps Education awards to attend community college, was appointed by Governor Cuomo to the New York State Juvenile Justice Advisory Board, and was recently hired as a Program Specialist by YouthBuild Schenectady, where he runs the AmeriCorps program and helps new young leaders find their voice and their place in national service – just as he did.
And Roger Guge, a Senior Corps volunteer in northwestern Iowa, who says that serving in RSVP is the key to keeping his mind busy in retirement. While he knows that he's assisting his neighbors and community by driving people to doctor's appointments or on important errands, he says that he likes RSVP as much as they like him because it makes him feel good to help people and develop a relationship with them. This is not unusual; 93 percent of Senior Corps members report improved quality of life because of their service.
Derek, Emanuel, and Roger's stories are just three in the literally hundreds of thousands of examples of individuals – and communities – that have benefited from national service. Their stories are among 27 profiled in my recently released book, In the Service of Others: America At Its Best. If you read the stories, you will notice a common thread: service empowers those who serve as much as it does the people and communities they serve.
And it's no wonder. National service programs harness the energy and ingenuity of our nation's most valuable resource – our citizens – to address community needs and help local economies grow. Working hand in hand with thousands of nonprofit and faith-based organizations, dedicated Americans solve the problems facing their communities, recruit and manage millions of additional volunteers while getting valuable job skills and help paying for college. A report released by the Corporation for National and Community Service (CNCS), the federal agency that runs AmeriCorps and Senior Corps, found that unemployed individuals who volunteer are 27 percent more likely to secure employment than those who do not volunteer.
This would decimate proven, low cost programs and cut the heart out of thousands of community and faith-based organizations that rely on AmeriCorps and Senior Corps to deliver critically needed service. It would be a devastating blow to the thousands of young people who serve in AmeriCorps each year, gaining job skills and help paying for college which is out-of-reach for far too many.
Fortunately, we know we can count on our bipartisan congressional champions, along with thousands of national service supporters who will urge their members of Congress to ensure that AmeriCorps and Senior Corps can continue to provide critically-needed service to their communities. We will continue to rely on all of them as we make the case for strong funding in fiscal year 2018.
Related
Popular in the Community