Looking back, it was oh-so-appropriate that it all started under a circus-style big-top tent.
Soul Asylum played "Runaway Train".
Winona Ryder looked gorgeous and had yet to be caught.
Monica Lewinsky was in college in Portland, Oregon, two years away from securing a prized internship.
The unlikely duo of Massachusetts liberal Ted Kennedy and Utah conservative Orrin Hatch had worked together to pass the bill.
It was 20 years ago this week that a wide-eyed 30-year old from Kansas stood under that tent on the South Lawn of the White House with D.C.'s powerful to celebrate the beginning of AmeriCorps.
It has been a bumpy ride ever since.
A year later, the swearing-in ceremony for the first AmeriCorps members had to be altered because a wacko flew a plane into the White House that very morning.
AmeriCorps has been a political football for its entire 20-year history. Expansions have been followed by contractions. Accounting snafus led to a freeze of the program. The House of Representatives has zeroed out the program for the last few years, leaving the Senate and the president to save it.
Despite all this, AmeriCorps members have gotten things done. Nearly one million, mostly young adults, have served nearly one billion hours. They have helped thousands of local nonprofit organizations provide better service. AmeriCorps members gain valuable professional skills while making a difference in their communities. Their service has a lasting impact on the members themselves and the communities they serve.
AmeriCorps members have been invaluable in growing the organization I founded six years before AmeriCorps began. The 1,549 AmeriCorps members who have served with Youth Volunteer Corps in 42 communities across the nation have been role models for the teenage volunteers we work with. They have developed meaningful service projects, recruited the youth, supervised these impressionable young people and, most importantly, served right beside them hour after hour.
AmeriCorps members are aspirational for the younger and inspirational to the older. They give expression to youth's idealism and a concrete way for them to give back to their community and their country.
The nonprofit sector in America is stronger because so many young people have served in AmeriCorps. Unsurprisingly, the two people who work closest to me at the Youth Volunteer Corps Headquarters in Kansas City are AmeriCorps alums.
Now back to my day at the White House 20 years ago...
I, of course, brought my camera to the bill signing ceremony. In the days before cell phones and digital cameras, it was the size of a small microwave. Tara, who I met that day, and I agreed to use each other's cameras to take pictures if we were fortunate enough to meet the president. When the big moment arrived, in what surely presaged the rocky road ahead for AmeriCorps, my camera jammed. Luckily a White House photographer saved the day and, under the glaring eye of a Secret Service agent, I have the picture -- under the big top, in a strange, faraway land called Washington, D.C.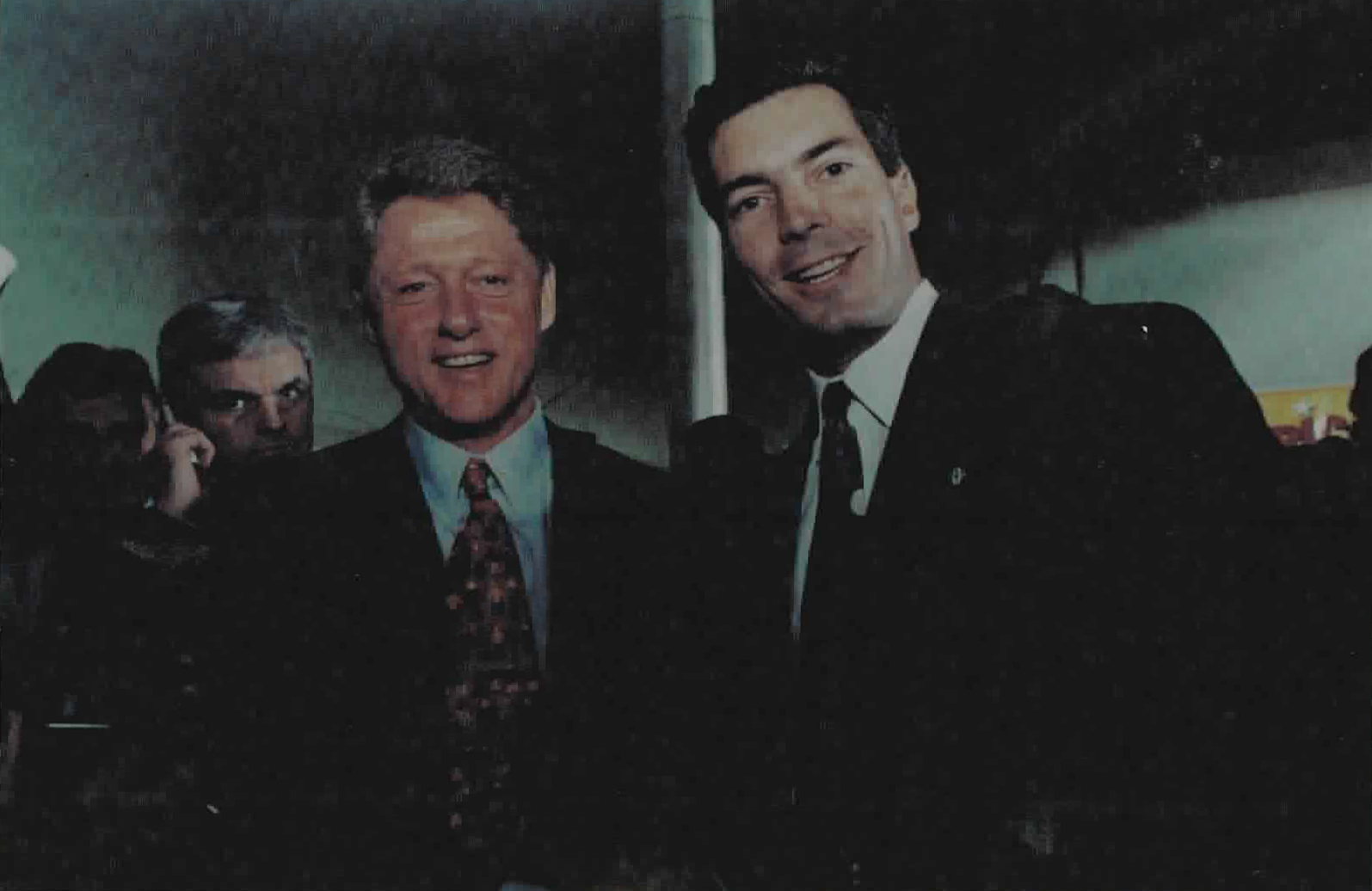 David Battey is Founder and President of Youth Volunteer Corps, a nonprofit based in Kansas City, Mo., dedicated to creating meaningful youth service opportunities. Since 1987, more than 280,000 youth have served with YVC.
Popular in the Community