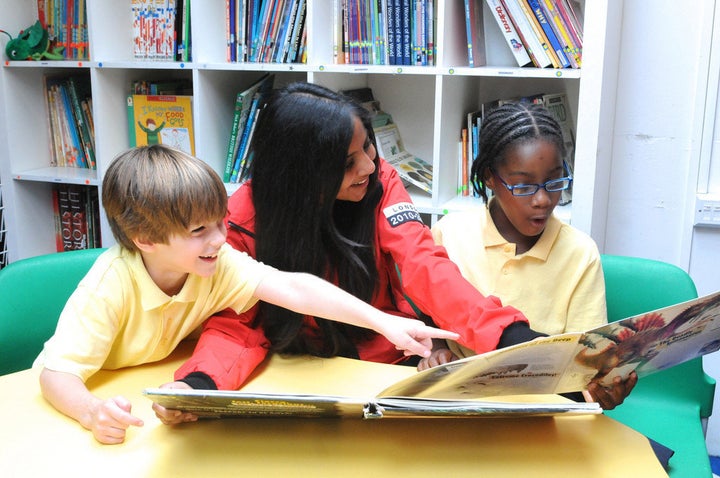 The Corporation for National and Community Service just announced that it received a record-breaking 582,000 applications to serve in AmeriCorps this past year. That's a lot of young people raising their hands to serve -- 50,000 more applications than last year.

Unfortunately, the overwhelming majority -- 86 percent -- are being turned away. Nearly one million AmeriCorps applications have been denied in the past two years alone.
The reason: lack of federal funding to put this tremendous resource of American idealism to work. In fact, while young people are stepping forward in record numbers to serve, federal AmeriCorps funding has been cut two years in a row.

Thankfully, the Obama administration and members of the Senate have protected AmeriCorps from even more drastic cuts -- including its outright elimination -- proposed by the House of Representatives.
This rollback comes on the heels of the 2009 bipartisan passage of the Serve America Act, which called for growing the number of AmeriCorps members each year until it reached 250,000 members strong. If federal funding for the Serve America Act was on track today, there would be 140,000 AmeriCorps members this fall. Instead there will be just 82,000.

Saying "no" to so many young Americans who want to serve is short-sighted.

AmeriCorps taps the energy and idealism of America's youth -- and at the same time it's a solution to pressing needs in education, energy efficiency, disaster relief, and public health. It is a low-cost, high-yield federal investment in our communities and in the civic character and job readiness of America's young people.

While meeting pressing needs right now, AmeriCorps trains young people to become leaders and accelerates their careers by making them stronger candidates for future employment.

Every City Year corps member is an AmeriCorps member. Every dollar AmeriCorps invests in our corps is matched three to one by local sources.

The demand for the service provided by AmeriCorps members is also surging. For example, school district leaders around the country are calling for more City Year AmeriCorps members to serve in more high-need schools to address the nation's dropout crisis and to serve as an integral component of their innovative school improvement and turnaround initiatives.

Here's what New York City's Chancellor of Education, Dennis Walcott, said about the work of City Year AmeriCorps members in New York's public schools:
As Chancellor, the ability to have [City Year] in our schools is so important to us and for our students. The value that [City Year] brings to those schools is tremendous, just tremendous. I am a big believer in City Year, I am a big believer in what City Year represents. I believe that City Year should be in every one of our schools, because if we had folks like you in all of our schools, our schools will be a better place. But most importantly our students will be in a better place. And this is all about our students and how we make sure our students are graduating, and not just graduating, but graduating college and career ready.
National service is not secondary to achieving national priorities. It's essential.

It's time to expand AmeriCorps. It's time to say "yes" to the idealism of America's young people.
Follow Voices for National Service on Twitter for updates.
Clarification: This post speaks of the number of applications to AmeriCorps. Since the Corporation for National and Community Service accounts only for the number of applications it receives, and one applicant can apply for more than one AmeriCorps program, there is no way to determine exactly how many people were actually denied entry altogether.
Related
Popular in the Community