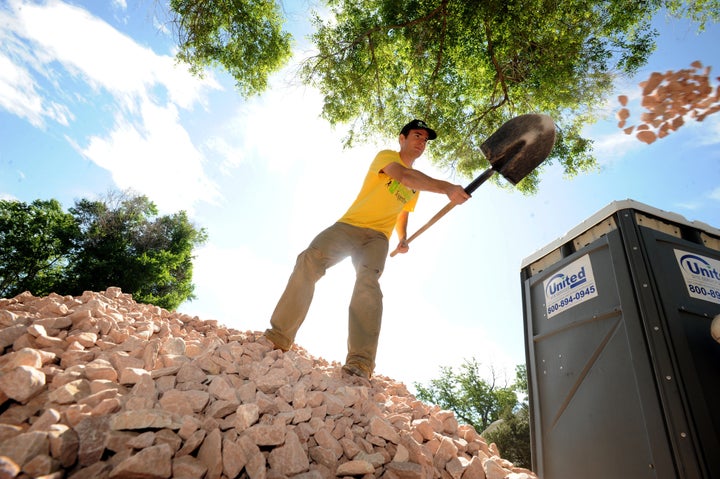 As a kid, Shane Gring spent hours with Legos. Shane hoped to turn his childhood passion for building into a career as an architect. But like millions of others, Shane graduated in the middle of the economic crisis. Instead of becoming an architect, it looked Shane might become an unemployment statistic, another talented young person who couldn't find work and moved back home.
During his senior year in college, Shane volunteered with Habitat for Humanity. Beyond hammering nails, he learned he could serve full-time as an AmeriCorps member with Habitat, allowing him to give back through his passion of design. Applying to multiple sites around the country, Shane landed with Flatirons Habitat for Humanity in Boulder. He packed up his truck and headed to the Rocky Mountain West from his native Detroit to start his AmeriCorps story.
As an AmeriCorps VISTA member, Shane was assigned to work in the emerging field of green building, an assignment that changed his life. Through his work, Shane found that LEED (Leadership in Energy and Environmental Design) certified homes built for Habitat families saved families an average of 40 percent on their energy bills and slashed CO2 emissions by 66 percent. He learned that many young professionals and unemployed people were having a tough time becoming LEED-certified, with limited opportunities to participate in the design and building of green homes from start to finish.
Shane planned to return to Michigan to attend graduate school for architecture. But thinking about what he learned, and the opportunities he'd seen, Shane ditched his plan at the last minute for graduate school to take a risk as a true social entrepreneur would do.
He created BOULD, a social enterprise which provides opportunities for professionals of all levels to become LEED-certified by participating in green Habitat home builds. BOULD meets two needs at once -- providing more Habitat homes that are LEED-certified and energy efficient and money-saving, and providing a direct pipeline to jobs in green building for the people who get trained and certified. It is a win-win that is a hallmark of social entrepreneurship.
As part of AmeriCorps, I had the pleasure of hearing many stories like Shane's. I met people across the country who feared that they would be stymied by economy and found opportunity and a path to further opportunity through AmeriCorps. I visited with dozens of organizations that have AmeriCorps alums as key leaders -- the next generation of talent and leadership. And I met people like Shane, whose service has led them to start important new organizations based on their AmeriCorps experience.
Take the example of Elie Lowenfeld. Lowenfeld served with AmeriCorps VISTA in the summer of 2008, assisting the flood relief efforts in Cedar Rapids, Iowa. During his time with AmeriCorps, he saw a need to create an organization to engage those in the Jewish community in disaster relief efforts. He created the Jewish Disaster Response Corps, which organizes Jewish volunteers to help out in disaster areas around the country. Since its founding, the JDRC has mobilized hundreds of Jewish students to aid in post-disaster rebuilding efforts across the United States.
With more than 750,000 AmeriCorps members having served since 1994, it's no surprise that so many are taking on leadership roles at nonprofits or creating unique start-ups to meet community needs.
At a time of increasing social need and tight fiscal restraints across the country, we need more opportunities for service -- through programs like AmeriCorps or others -- to continue to foster the social entrepreneurs of tomorrow.
Popular in the Community