A Navy veteran and her family know what it is to deal with physical and emotional challenges. So maybe they let down their guard when renting a house from someone who claimed disabilities of her own.
Now their dream home has turned into a nightmare. They're out the money they put up, husband Mark Ames said, and bunking down in a Motel 6, in a story first reported by Los Angeles' KTLA.
Mark, an above-the-knee amputee, told The Huffington Post that his wife, Sharon Ames, a Navy vet who deals with post-traumatic stress disorder, was gleeful when their oldest daughter stumbled upon a Craigslist ad for an affordable four-bedroom house to rent in Riverside, Calif. It was the break the Ames and their three kids had been waiting for. At the time, they were renting a two-bedroom apartment in nearby Ontario.
But the woman to whom they sent an $800 deposit and $1,200 for the first month's rent wasn't the landlord, Mark said, as they learned when the real property manager arrived with the police.
"I feel like I've let my family down," Mark, 42, told HuffPost.
They fell for the scam in part, Mark said, because the fake landlord preyed on their vulnerabilities. She told them that a major car accident had left her disabled and unable to talk on the phone. The two dealt with the paperwork completely through email, according to Mark.
"We can understand being disabled and having things be hard and having to do things a certain way because you're disabled," he said.
The Huffington Post reached out -- via email and voicemail -- to the individual with whom the Ameses corresponded, but she didn't respond by press time.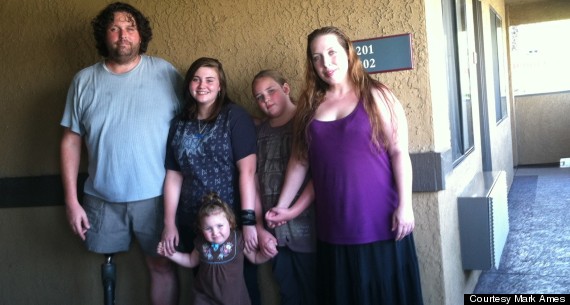 Mark's leg was amputated in 2005 after he developed an infection following surgery to treat an aneurysm. He's unemployed, relies on disability checks and volunteers with a local nonprofit that helps homeless families, he said.
Sharon, 35, was discharged from the Navy for medical reasons more than a dozen years ago, according to Mark. She applied for veterans' benefits more recently and is still waiting for them to come through.
After the Ames family signed the lease and sent the money, they moved into the house on Aug. 22. Per their instructions, Mark said, the side door was open and the keys were lying on the kitchen table.
But two days later, the van that still held many of their belongings was towed, and a police officer showed up and said they had 45 minutes to get out, said Mark. The Ameses learned they had been defrauded.
The heartbroken family quickly packed everything up and is now staying in a Motel 6 in Ontario near the airport. Mark talked to the police, a lawyer and the district attorney's office, and he said the bottom line is that the family won't be able to recoup the funds.
"We don't stand a snowball's chance in hell of getting money back," he said.
The Ameses are now trying to figure out their next move.
"We were all so happy," Mark recalled. "The children were just absolutely glowing. We were making plans for a garden, all the things we wanted for so long."
If you'd like to help, the Ames family has asked donors to reach out via email at xmarkx71@gmail.com.
Before You Go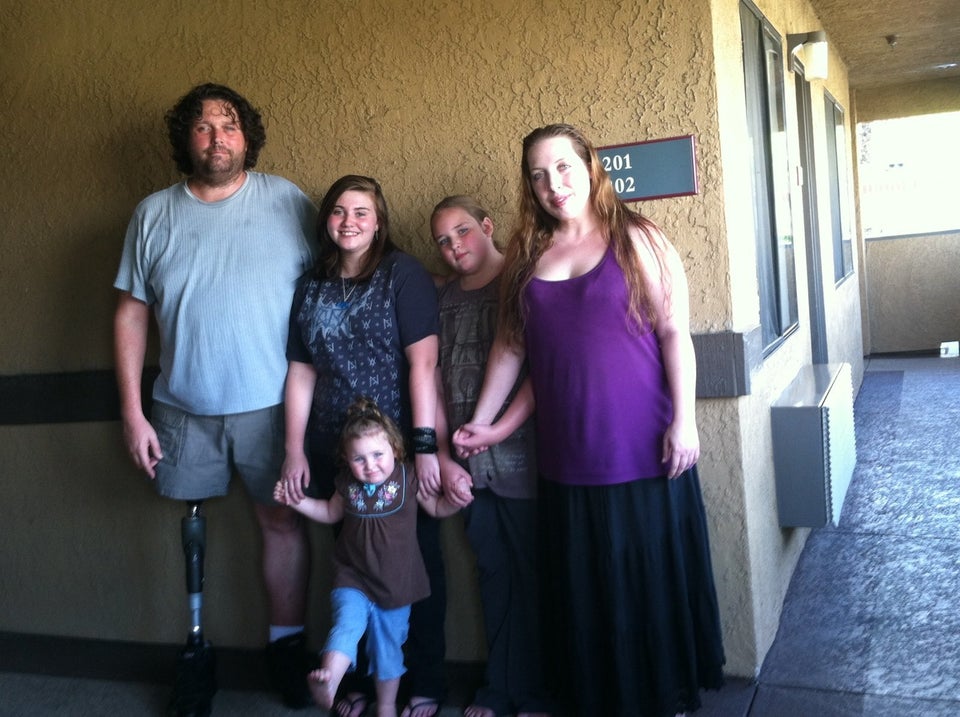 Disabled Veteran Homeless After Craigslist Scam
Popular in the Community