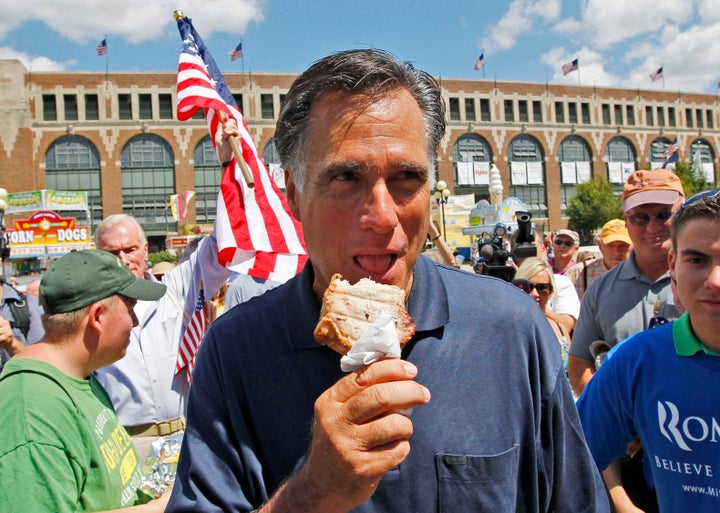 As Iowans descend on the town of Ames to bravely cast their ballots for the GOP presidential candidate they feel most deserves a momentary fundraising boost from an otherwise meaningless straw poll, it's hard not to marvel at the spectacle of American democracy at work. Amidst barbeque smoke-filled tents hung with red, white and blue, attendees will be guided by the most American of values when casting their votes: freedom, patriotism and getting free stuff.
Candidates realize that the freedom goes down better with a free pulled-pork sandwich and that the light of liberty shines brightest on those wearing an official Tim Pawlenty hockey jersey. So here's your guide to all the free food, swag and entertainment of the 2011 Ames Iowa Straw Poll:
Catch some tunes with Michele Bachmann. After what was surely extensive poll testing and focus group-ing, the Bachmann Campaign plans to draw voters in with the soothing lyrics and chiseled features of country-gospel superstar Randy Travis.
Travis will be joined on stage by country singers Charles Billingsley, Tim Rushlow, and Richie McDonald.
Like your music a little more Fox Newsy? Former Arkansas governor, 2008 Iowa Caucus winner and bass-tastic Fox News personality Mike Huckabee will be jamming on stage at Ames with Herman Cain, Tim Pawlenty and Rick Santorum.
Mmmm, pizza. Even as Herman Cain attempts to lower expectations for his actual vote-getting at Ames, the former fast food mogul will be looking to boost his all-important "Cheesy Deliciousness Index" by handing out free slices of Godfather's Pizza to supporters. No word on deep dish versus thin crust at this point.
Party with Santorum. Now, it's clear what everyone thinks when they first hear of a "Santorum Summer Dance Party," featuring music by The Crickets and The Big Bopper Jr. Why, they ask, would undefeated American values grand champion Rick Santorum ever condone both dancing and rock 'n' roll music? Regardless, this event may feature the best music in Ames.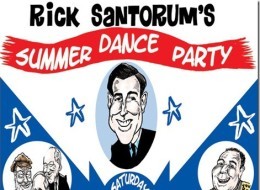 Pawlenty unleashes a SONICFLOOD.Better jump in your musical ark as Tim Pawlenty continues the worship music theme with Christian rockers SONICFLOOD. The Pawlenty tent will also feature music from Iowa favorites The Nadas, as well as Famous Dave's BBQ and Dairy Queen Blizzards. Don't miss what could be your last chance to wear that T-Paw hockey jersey!
Popular in the Community