An unexpected Christmas present landed under my tree this week with a thud. It came with a call from American Express.
"We know you're passionate about the national parks and you write about them quite a bit, so we want you to know what American Express is doing to help," she said.
Our National Parks are idealized as "Crown Jewels," yet few know how they suffer from a lack of appropriate funding. The National Park Foundation does a herculean job of fundraising to pick up the slack, and the National Parks Conservation Association advocates for Congress to allocate the funds needed. Still, for the 20 years I've been involved the funding has never been sufficient to cover all the needs. So to learn that American Express is investing in our parks is a sign of increasing corporate appreciation for our collectively-owned national treasures.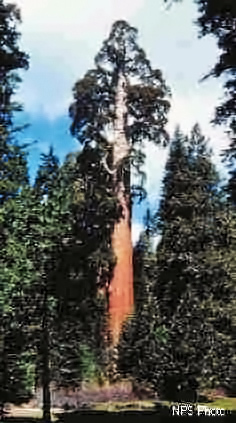 News of how AMEX is supporting our national parks reminds me of the feeling I got standing under the General Grant Tree in Sequoia National Park, California, designated our Nation's Christmas Tree by President Coolidge in 1926.
Among other things, AMEX is supporting the Department of Interior's initiative to mobilize one million volunteers in national parks and public lands; working with the Student Conservation Association to preserve 200,000 acres of park lands, and funding the National Trust for Historic Preservation to refurbish historic structures in or near five national parks.
"Please make certain you're including diverse grassroots organizations and local leaders," I said to their representative. "Greening Youth Foundation in Atlanta, for example, has an incredible youth corps that is perfect for such investment and opportunity."
"Oh yes!" she said." One of our projects is refurbishing some of the homes in the Martin Luther King Jr. National Historic District in Atlanta. I believe that's the group that will be doing the work. I'll check and get back with you."
Really? One degree of separation - as I served on the Foundation's board years ago, and today the organization is part of our nationwide network at Diverse Environmental Leaders Speakers Bureau that strives to expand the constituency supporting our public lands.
Soon I received this note,
"Preservation work on the Martin Luther King, Jr. birth home block in the MLK historic district will be performed by members of Greening Youth Foundation, a local youth corps, through the National Trust's HOPE Crew program. Named "HOPE Crew" for "Hands-On Preservation Experience," the program links preservation projects to the national youth corps movement.
"To enable the youth corps to successfully complete rehabilitation projects at historic sites, the Trust coordinates support from its broad network of partners, like the National Park Service, and preservation experts to provide training and guidance on each project. The advisor helps guide each project by answering preservation related questions as well as helping the crew members understand and appreciate the historic significance of the project. The craft expert helps train the corps members on techniques such as repointing, carpentry, and window restoration. ..."
Wow! I cannot think of a gift this Christmas that could make me more ecstatic. Corporate funding that helps expand our publicly owned lands, protect our historic legacy and connect young urbanites to the parks while improving their skill sets and economic outlook - these are gifts I did not expect this season.
REAL LIFE. REAL NEWS. REAL VOICES.
Help us tell more of the stories that matter from voices that too often remain unheard.