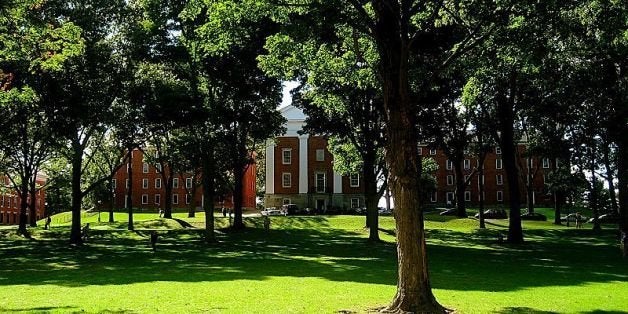 Amherst College said Tuesday it will ban students from joining fraternities and sororities, beginning this summer.
Amherst will prohibit student participation in fraternities and sororities and "fraternity-like and sorority-like organizations, either on or off campus," effective July 1, Cullen Murphy, Board of Trustees chair, told students in an email. The trustees also reaffirmed a 1984 decision barring formal college recognition of any Greek organizations.
"Violations of this decision will be treated consistent with other violations of the Honor Code, which sets forth standards and expectations that apply to all students, faculty and staff," Murphy wrote.
The college Sexual Misconduct Oversight Committee took note of the Greek organizations as well, saying underground frats "simultaneously exist but do not exist," and noted the college did not enforce student conduct rules with respect to the frat houses.
As the Amherst Student, the campus newspaper, reported at the time, the committee said it was time the trustees "figure out once and for all what the fraternities' role should be. Either they should be regularized or they should go entirely."
The trustees said Tuesday in a document accompanying the email that the board had considered restoring recognition to fraternities so that the school could police the system. Trustees also considered accepting the status quo, the document said, "along with its contradictions and consequences, indefinitely. Such a course, in the view of the Board and the Administration, would be counterproductive and unwise."
Instead, trustees chose "to reaffirm, unambiguously, the spirit and intention of the 1984 decision -- by prohibiting membership in off-campus fraternities, as peer institutions have done, while committing the College to new efforts on behalf of student life."
Students will be prohibited from on-campus activities "relating to rushing, pledging, initiating or otherwise admitting to or maintaining membership by any student of the College in any fraternity, sorority or other social club, society or organization (however denominated)," the email said. The email made no mention of students attending parties and other social events hosted by Greek organizations.
Other elite colleges and universities also have grappled with the status of Greek organizations.
Related
Popular in the Community