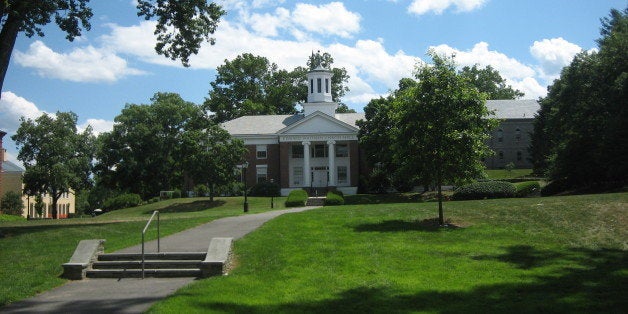 A few months after Angie Epifano accused Amherst College of failing her as a rape victim, the school president travelled from Massachusetts to Alabama to meet with her for a few hours.
Epifano left Amherst in summer 2012. That October, she published a lengthy op-ed in the school newspaper, writing that the college failed to adequately respond to her report of sexual assault, and sent her to a psychiatric ward after she told a school counselor she felt depressed. The article rocked the campus, drew national attention and prompted Amherst President Biddy Martin to immediately order a task force to review sexual violence policies.
Days before that task force report was to be released in January 2013, Martin and Gina Smith, an attorney Amherst hired to advise it on sexual violence issues, met with Epifano where she was living at the time. They wanted to prepare her for what would be released to the public, according to the college.
"They proceed to tell me that the deans that had worked with me and the counselors had gone above and beyond to help me stay in school and to heal, and I just hadn't been receptive of their help," Epifano said in an interview. "I think I was in too much shock to say anything in response. I felt like I was going to burst into tears at any moment."
Epifano liked Martin, and believed she was trying to improve Amherst. But she was upset the college administration wasn't admitting to what she saw as blatant failures and a violation of federal law.
Epifano and an anonymous former Amherst student lodged federal complaints against the college last month alleging violations of the Clery Act, a campus security law, and the federal gender equity statute Title IX. They coordinated with students filing similar complaints against Vanderbilt University in Tennessee.
Epifano said she decided to file the complaint, in large part, because the didn't think Amherst's response to sexual violence has been adequate. Amherst's task force report found that the college "failed to follow policy and procedure" responding to Epifano's case and made an "inadequate" attempt to help her.

She recalled a campus visit last August, nearly a year after her newspaper op-ed, and an encounter with three incoming male freshmen. The new students appeared shocked to learn that sexual assault occurs at Amherst, Epifano said.
"Three Amherst first-year men, who had just gone through the college's entire orientation, did not know that men could be raped or even that rape happens at Amherst," Epifano wrote in her complaint to the U.S. Department of Education.
Current Amherst students give the college credit for improvement, but said training in sexual respect for first-year students remains inadequate.
"The administration has mostly relied on skits during orientation depicting scenes at the socials -- the dorms most Amherst parties are thrown in -- and slogans like 'Consent is Sexy,'" senior Anna Seward said. She suggested the training be expanded, perhaps as a mandatory class.
Students noted that Amherst has improved how it handles the adjudication process for sexual violence. There are no more "character witnesses" for the perpetrators, for instance. A trained outside investigator now meets with the complainant, the accused and witnesses to prepare a report distributed to the two parties and to the school adjudication committee, Amherst spokesman Peter Rooney said.
"I think that the change in the makeup of the hearing board to include only off-campus, trained members is hugely important," said junior Andrew Edelman.
Amherst also recently hired a full-time Title IX coordinator and reorganized who handles sexual assault cases. There's a new "sexual respect educator," plus a new dean of students and full-time director of the Women's and Gender Center.
Yet punishing sex offenders remains a problem, Seward said.
"The typical laptop thief is suspended for five semesters," Seward said. "Rapists are not suspended for that long, if at all. No rapist convicted by a hearing board has been expelled from Amherst in 20 years. That's unacceptable and something Amherst has to change immediately."
Amherst declined to comment on how many students have been expelled for rape.
Student body president George Tepe said he's working to create a Title IX committee of students and faculty to act as a review board, publishing a report every semester on how Amherst is doing. His goal, he said, is to make sure the next generation of students pushes the college to do better.
Sophomore Shruthi Badri complained that the college has not engaged in discussing sexual assault with students who are concerned about it the most, like the women running It Happens Here magazine.
"The school really has been trying to talk about this stuff more, but they're not talking about it well," Badri said. As a result, she added, students are under the impression that everything has been "fixed."
"Students want the problem to go away," said one senior, a sexual assault victim who requested anonymity because of what she said was a toxic environment on campus. "I've heard everything from students saying, 'Who's this fucking Angie Epifano who's making my degree worthless,' to seniors telling activists to 'stop protesting, you're ruining my senior year,' to male students complaining that the nascent conversation around white male privilege 'makes me feel disempowered, even raped,' which is ironic given the topic."
Epifano said she waited to file her complaint to give Amherst a chance to change. But she said the school still lacks an environment where students who have been assaulted can report the crime with confidence.
"And that's something that's not unique to Amherst and Vanderbilt," Epifano said. "You can't just react to sexual assault you have be proactive about it."
Martin said Amherst will continue to improve how it handles complaints, and hopes to change the culture and inspire confidence that victims' reports will be taken seriously.
"We realize we have much work to do, but are working hard with passion and commitment," Martin said. "Are we done with the work of change? Not by a long shot. How could we possibly be?"
Related
Before You Go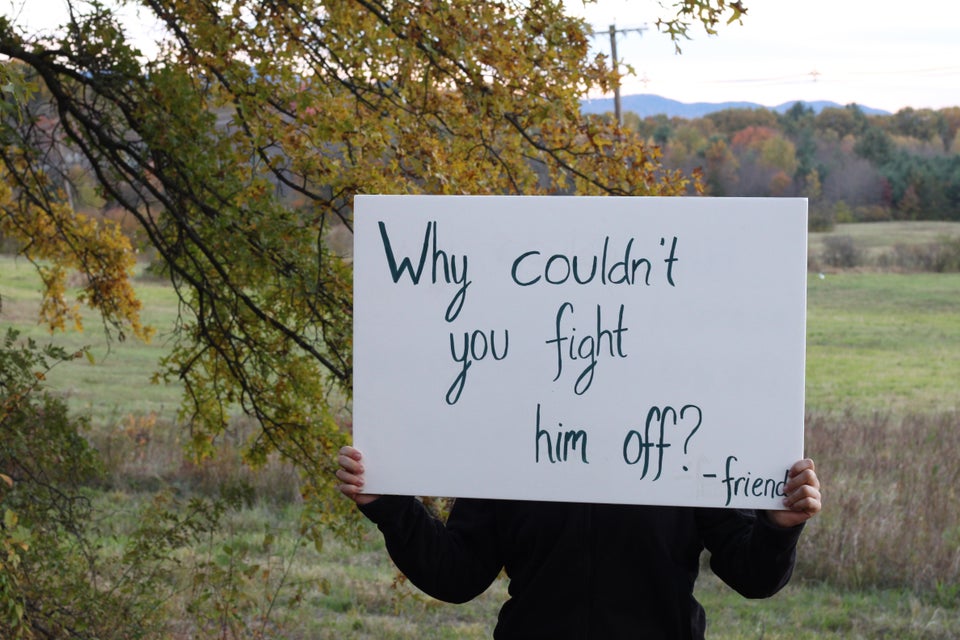 It Happens Here: Photos Of Men And Women Who Were Sexually Assaulted At Amherst College
Popular in the Community