On Sunday, Amherst's student magazine The Indicator published an unsettling article featuring excerpts from multiple email chains written by members of the men's cross-country team. The emails contained misogynistic, racist and generally lewd comments about women on campus. Hours later, the school issued a statement that they would be investigating the emails and that, in the interim, the men's cross-country team would be suspended from all team activities.
The content of the emails ranged from discussion of female students' bodies, to talk of sexual harassment and even rumored use of roofies.
One of the most appalling emails was sent in June 2015 by a current junior member of the team to the team's incoming freshmen. The email included a list of photos of women on campus coupled with details of their sexual histories.
According to The Indicator, the sender of that email referred to one woman as "a walking STD" and another as a "meat slab." The same teammate described a third woman as "a stuck up, snobby, bitch; AKA the perfect formal date for the desperate members of our team."
One response to that initial email read: "That was one of the most fucked up things ive [sic] read in a while. I know youre [sic] friends with most of these girls but you took it way past friendly messing around."
Student journalists Daniel Ahn, Helen Mayer and Sam Wohlforth, who broke the story for The Indicator, pointed out that this specific email was just one of many they had found.
"This is one entry in a series of similar emails sent during the early summer of 2015," they wrote. "And this series is in turn part of a misogynistic, racist, homophobic, and transphobic trend spanning verifiably from summer 2013 to summer 2015, and implicitly much further back in the team's history."
Other emails printed by The Indicator include lewd, at times racist comments such as "Do asians really have horizontal vaginas?" and "You know the girls at your high school who aren't that attractive or personable, so no one talks to them? Picture a college with ~900 of them and you have our lovely liberal arts institution."
In a statement issued by the school on Sunday, Amherst's athletic director Don Faulstick described the email chains as "racist, misogynist, and homophobic." "The exchanges and the behavior described in the article ― which team members acknowledge ― are disgusting," he said. "They have no place on our sports teams or anywhere at our College."
President of Amherst, Biddy Martin, added in the statement: "The messages are appalling. They are not only vulgar, they are cruel and hateful... My reaction is one of profound sadness, disappointment, and anger."
On Monday, the men's cross-country team issued a statement that they "sincerely and deeply apologize" for their actions. An excerpt from the statement reads:
There are no words to justify what was said and we are all responsible for the harm inflicted by our team's comments. We are embarrassed and ashamed by what was said by some members of our team.

... Once again, we are deeply sorry and hope to work with the community moving forward. We pledge to ensure transparency and accountability in this process, and hope that this apology is the first step to regaining the trust of the many people we have hurt.
The leaked emails are reminiscent of a recent scandal involving the Harvard men's soccer team. The Harvard Crimson found that the 2012 men's team had created a sexually explicit "scouting report" of the women's team. A few days after that story broke in October, the remainder of the Harvard men's team's season was cancelled.
Ahn, Mayer and Wohlforth wrote in a follow-up piece that they were motivated to cover the initial story because of the national conversation created by President-elect Donald Trump's use of the phrase "locker room talk" during his presidential campaign.
"The national debate about athlete culture has been framed by President-elect Donald Trump's description of his bragging about acts of sexual harassment as 'locker room talk,'" Ahn, Mayer and Wohlforth wrote. "... Every time we say 'locker room talk,' we are also suggesting that athletes need to keep one another accountable only in the locker room. If we keep using this phrase and choose to keep ignoring the role of virtual spaces in athlete culture, we will allow this discourse to keep unfolding with impunity. It's time we critically examine all athlete spaces."
Hopefully, these stories will send a message to college athletes across the country that misogynistic "locker room talk" is always unacceptable, on college campuses or otherwise.
Before You Go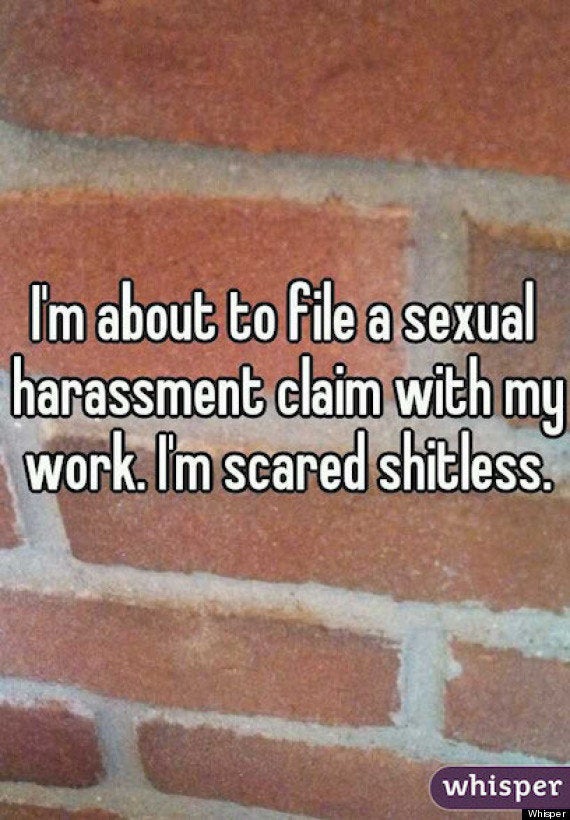 Women Who Reported Sexual Harassment
Popular in the Community