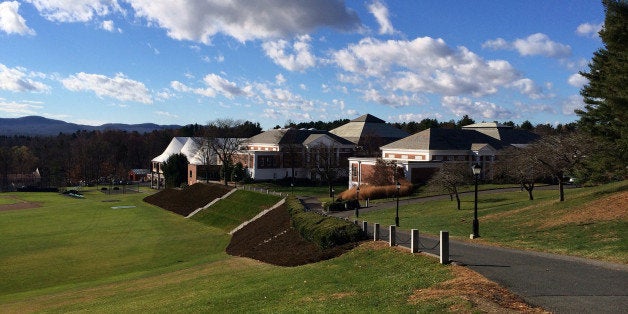 A would-be 2014 Amherst College graduate is suing the school for $2 million in damages after it withheld his diploma to investigate allegations that he sexually assaulted a former roommate almost five years ago.
Last month, the accused student filed a lawsuit against Amherst in U.S. District Court in Springfield, Massachusetts, under the name John Doe. The suit claims he's facing double jeopardy for an offense he didn't commit.
Because the case is now playing out in court, the roommate who claims he was assaulted told HuffPost that he feels forced out into the open. He never had any intention of making his allegations public, he said. Many of the documents related to the college's 2014 investigation, including some from the roommate and Doe, have been submitted to the court.
"If you are anyone from the class of 2013, you know him, and you know I was his roommate freshman year," Doe's former roommate, who requested anonymity to protect his privacy, told The Huffington Post. "It's sort of what I was trying to avoid."
According to court documents, Doe's roommate reported that in the early morning hours of Dec. 19, 2009, he awoke to find Doe in his bed, smelling of alcohol. Doe later told college investigators he had seven to nine drinks that night. According to undisputed facts of the investigation, the roommate told Doe that he did not want to have sex. The investigator's report states that Doe said it wasn't clear to him whether the complainant was enjoying his kissing, "but he did not show signs of resisting," and sexual contact ensued.
Court documents also indicate that during his freshman year in fall 2009, the roommate had reported Doe to the college for coming into his private bedroom on multiple occasions at night in just his underwear, alleging Doe was sometimes intoxicated and solicited him for sex. An Amherst investigator's report from 2014 stated such episodes like this happened on several occasions leading up to the alleged 2009 assault.
The roommate has denied reciprocating Doe's advances in any way on the morning of Dec. 19. According to statements to the investigator in 2014, he took a shower after the alleged assault and spent the rest of the night out of his room, contacting his family.
Emails submitted to the court indicate that later that morning, Doe's roommate called Assistant Director of Residential Life Pamela Stawasz, who relocated the roommate to another room and helped him purchase new bedding. The roommate told HuffPost that the school did not tell him at the time that pursuing adjudication was an option.
According to documents provided to the court, Dean Allen Hart placed Doe on medical leave in 2010 for problems with "alcohol use" and "deeper personal issues" that had contributed to "multiple episodes of improper, non-consensual personal contact with other students." Hart also wrote in another letter that he placed Doe on a medical leave "rather than impose a disciplinary suspension."
When Doe returned to the college, he was warned in a letter that if he violated the honor code, he could face "further disciplinary action." A March 2010 letter from the school to Doe, provided to the court, noted that his behavior had violated the honor code and "could have resulted in disciplinary actions being taken against you."
The roommate said he dropped out in 2011 to avoid going to school with Doe.
The roommate told HuffPost that he learned in the spring of 2014 that Doe had been hired by the college as a "Green Dean," which would require Doe to travel the country speaking to graduating high school seniors who were considering applying to Amherst.
The roommate told HuffPost he contacted Amherst officials to find out what happened. Court documents indicate that Hart was unaware that Doe had been hired by the college, and that the staff that hired him was unaware of the 2009 issue.
Amherst's annual report on discipline for the 2009-10 year makes no mention of the adjudication against Doe.
On May 14, Amherst Title IX coordinator Laurie Frankl, who oversees sexual misconduct complaints, learned of the incident and moved to have an independent attorney formally investigate the allegation against Doe, with the college as a complainant. The roommate who reported the assault is not a party to the investigation.
Doe states in his suit that he was informed he couldn't receive a degree until a misconduct board hearing took place. Then, Doe says he was told, the faculty and trustees would vote to confer his degree, in October at the earliest. Amherst also informed Doe that he would no longer be employed by the college.
Doe filed his lawsuit last month, seeking an injunction against Amherst to stop it from pursuing its disciplinary process. Doe claims he's facing double jeopardy in the case because his medical leave constituted a punishment.
Doe, a South Africa native, also told the court he risks deportation due to the loss of his job with the college. Luke Ryan, Doe's attorney, said his client "wishes to be compensated for the loss of a job with the Office of Admission that he was counting on," and to hold Amherst "accountable for its unjust actions." Ryan said Doe hopes the lawsuit "will make Amherst less likely to put another student through the ordeal he is experiencing."
"We allege that the College breached that contract by seeking to subject him to further discipline for an incident that led to him being placed on probation," Ryan added, noting his client was on probation after returning from medical leave.
When asked for comment, the college defended its actions as in keeping with its policies, and characterized Doe's claim that the loss of his employment with Amherst puts him at risk of deportation as "speculation."
The judge declined to rule from the bench Tuesday and is expected to issue a written opinion by July 21.
The roommate told HuffPost that he believes the college "mishandled everything" in 2009, but is trying to make things right.
"Amherst is making some really good decisions, from my point of view," he told HuffPost, "and they've put themselves in a very precarious legal situation to do that. They're getting sued ... and they don't necessarily have anything to gain from it."
REAL LIFE. REAL NEWS. REAL VOICES.
Help us tell more of the stories that matter from voices that too often remain unheard.
BEFORE YOU GO
PHOTO GALLERY
10 Major Crimes That Shocked the Nation (SLIDESHOW)