An offensive T-shirt printed by an off-campus fraternity at Amherst College has triggered a heated debate about the school's alleged "sexist" culture, which some students say has spawned an unsafe environment for women and survivors of sexual violence.
Earlier this year, a fraternity not directly affiliated with the Massachusetts school designed this image in honor of the frat's annual pig-roast party: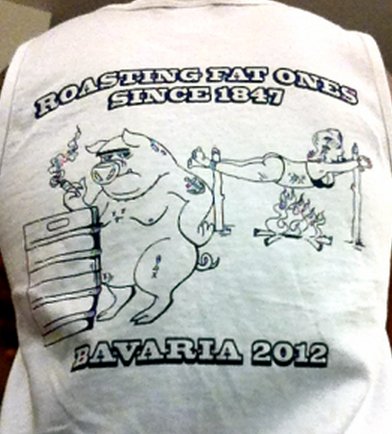 Dana Bolger, a 21-year-old junior at Amherst, recently wrote a blog post for AC Voice, a college publication, in which she discussed the offensive T-shirt and its broader implications.
Do you wonder what sexism and misogyny look like in 2012?

Imagine a drawing of a woman. She's clad only in a bra and a thong. She's got bruises on her side. There's an apple jammed in her mouth. And she's stretched out, tied up, suspended from a spit and roasting over a fire.

You don't have to imagine. [In] April, a fraternity at Amherst College designed this image, stuck it on a T-shirt and sold the shirt to students… By the way, there is a pig depicted on the shirt. It's in the corner, smoking a cigar and watching the woman roast. The words "Roasting Fat Ones Since 1847" appear above the image.
"What were they thinking? [The T-shirt's] not clever, it's not funny, it's not witty. It was just blatant … animalistic, violent sexism," Cat Bryars, who graduated from Amherst this May, told The Huffington Post.
Like Bolger, Bryars, 24, was -- and still is -- an activist on the Amherst campus. She says she's involved in campaigns that are trying to address a "campus culture of sexism," as well as encourage reform of the school administration's policies toward sexual violence.
"Amherst has a sexist culture, and it's one that I experienced on a daily basis," Bryars told HuffPost.
As a result of this culture, Bryars added, she didn't find the T-shirt incident particularly surprising. However, she stressed that she was stunned by how the administration handled the incident.
"They basically hushed it all up," Bryars said. "I only heard about it recently, and I was totally shocked that I hadn't heard about it. It really exposed to me how well it was incubated on campus."
And this, Bolger and Bryars say, is exactly the problem.
"When an incident of sexual assault or violence occurs, it's in the administration's interest to keep it closed-door, hushed up," Bryars said. "Dissent is silenced immediately and if you continue to point out problems, you're very quickly isolated."
Bolger, who is a rape survivor, concurred.
"When I came forward to my dean [about the sexual assault], I was basically urged to take the year off and go home and take a job at Starbucks…and to come back when the [perpetrator] was no longer here," she told HuffPost. "I really had to fight back."
Bolger eventually took a semester off school and lodged a complaint against the perpetrator, who she alleges was a student. Legal action was taken and she is now back on campus.
According to a Title IX committee meeting I attended last spring, Amherst has expelled only one student for rape in its entire history -- and only after a criminal court sentenced him to time in jail. Meanwhile, our disciplinary committee has found other students guilty of sexual misconduct but ultimately permitted them to continue their Amherst educations.

Faced with the non-choice of staying on campus with his/her rapist or leaving, many sexual assault survivors I know take time off, transfer or drop out altogether.
On Wednesday, Angie Epifano, a rape survivor and former student of Amherst, came forward with her story. It has since gone viral, spreading across news sites and colleges across the country.
Epifano, who transferred out of Amherst over the summer, says she was systematically silenced and made to feel "crazy" by the Amherst administration after she spoke up about being raped by a student.
I am sickened by the administration's attempts to cover up survivors' stories, cook their books to discount rapes, pretend that withdrawals never occur, quell attempts at change, and sweep sexual assaults under a rug. When politicians cover up affairs or scandals the masses often rise up in angry protestations and call for a more transparent government.

What is the difference between a government and the Amherst College campus? Why can't we know what is really happening on campus? Why should we be quiet about sexual assault?
The Amherst administration has been quick to address these allegations.
On Thursday, Biddy Martin, the school's president, posted a statement on the Amherst website that addressed Epifano's story specifically and sexual violence on the college's campus as a whole:
In response to [Epifano's] story, still more accounts of unreported sexual violence have appeared in social media postings and in emails I have received from several students and alumni. Clearly, the administration's responses to reports have left survivors feeling that they were badly served. That must change, and change immediately. I am investigating the handling of the incident that was recounted in the [Amherst Student].
Martin told The Huffington Post that hearing about Epifano's story and others have been very "upsetting."
"The realization that we need to make change is not new," she said. "But these stories have made it more imperative that the change happens sooner -- as soon as possible and that it be structural and not incremental."
Martin said that she hopes students will no longer feel silenced or fearful going forward.
"I not only want students here to feel safe coming forward about any forms of violence, assault, disrespect ... but I want them to know that if they experience any negative repercussions, I want them to come forward too," she said, adding that there would be "serious consequences for any administrator" who takes cases of sexual violence lightly.
As for the T-shirt incident, Martin said that she was "not apprised" of the case when it occurred, but admitted that the situation "could have been handled more effectively" and "more could have been done."
Fraternities were outlawed many years ago at Amherst. However, Bolger and Bryars told The Huffington Post that frats are still an influential presence on campus -- only they are considered "off-campus" student groups and are not directly affiliated with the college.
Ultimately, the students are hopeful that by speaking up, change can be enacted.
"There's definitely space for improvement and I am encouraged … and I hope these stories will continue to put a lot of pressure on the administration to make changes to their policies," Bolger said.
"I will always be a part of Amherst. It's not someone else's responsibility. It's ours. We are Amherst. This involvement, this campaigning... it's an active love. I know that the school could be better... and now that I have the chance to do something, I am doing what I can," she said.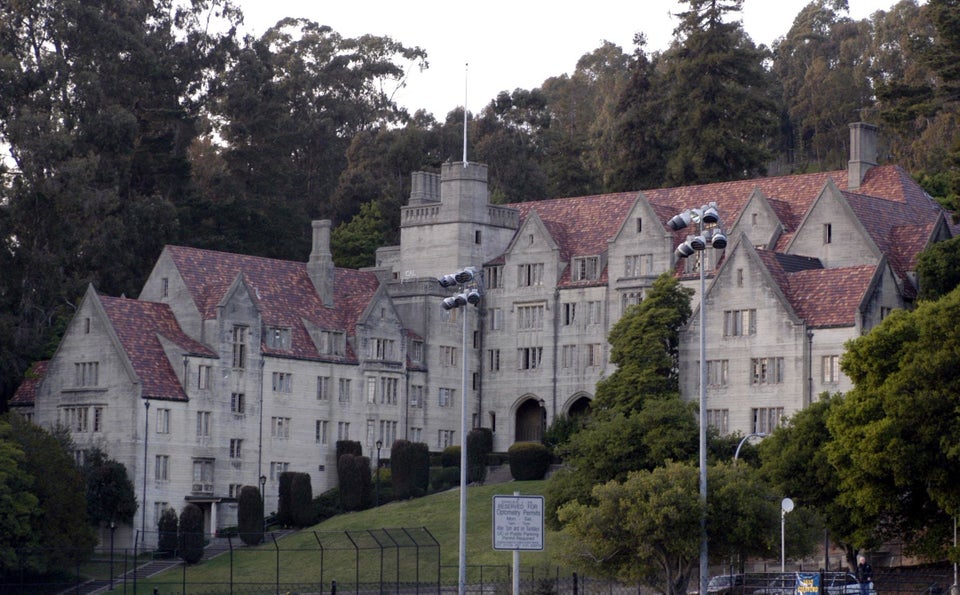 Best Public Schools
Popular in the Community