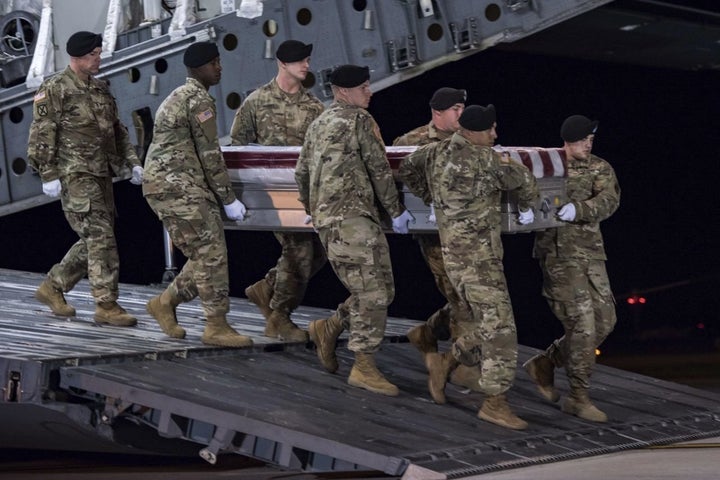 WASHINGTON — With the Afghanistan War in its 17th year and U.S. troops spread across the globe to combat terrorism, the Senate took a step late Thursday toward reviving the post-9/11 debate over where, when, how, why and on whose authority young Americans should go off to war. Those questions have new importance in the aftermath of the ambush that claimed the life of four U.S. servicemen in Niger.
The Senate Foreign Relations Committee announced that Secretary of State Rex Tillerson and Secretary of Defense Jim Mattis would testify at an Oct. 30 hearing on the Sept. 18, 2001, Authorization for the Use of Military Force (AUMF). That legislation greenlighted the invasion of Afghanistan and has been used by successive presidents as the legal justification for the global war on terrorism. (Technically, the question-and-answer session will also cover the 2002 AUMF that helped set up the invasion of Iraq, but that legislation plays a less consequential role in 2017.)
"As we face a wide array of threats abroad, it is perhaps more important than ever that we have a sober national conversation about Congress's constitutional role in authorizing the use of military force," said Sen. Bob Corker, R.-Tenn., the committee's chairman.
On Oct. 4, in the African country of Niger, extremists killed Army Sgt. La David Johnson, Staff Sgt. Bryan Black, Staff Sgt. Jeremiah Johnson and Staff Sgt. Dustin Wright. President Trump's call to Johnson's widow this week resulted in the White House's public feud with Rep. Frederica Wilson, D-Fla., who overheard the call and described it as dismissive toward the slain soldier's service.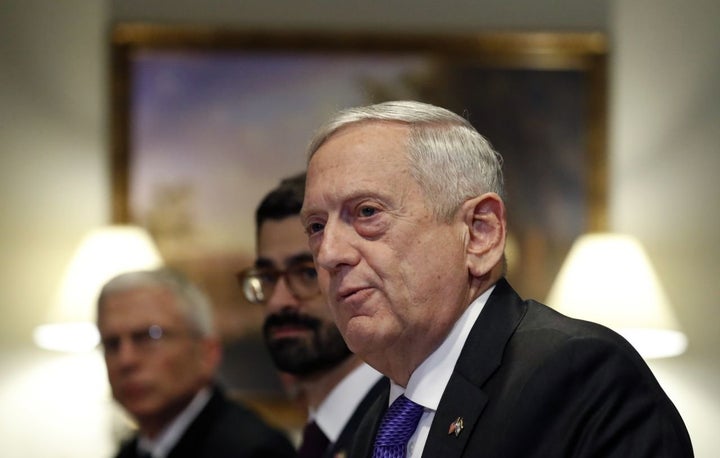 As Trump launches Twitter attacks on Wilson, lawmakers who favor replacing the 2001 AUMF have argued that the Niger ambush offers a fresh debate on important constitutional questions about war.
"The many questions surrounding the death of American servicemembers in Niger show the urgent need to have a public discussion about the current extent of our military operations around the world," Sen. Tim Kaine, D-Va., said in a Friday statement.
Kaine has pushed his colleagues for years to revise the 2001 AUMF and adopt a new authorization that would set some limits on presidential war-making powers. When then-President Barack Obama declared that the 2001 legislation covered his campaign against the so-called Islamic State, Kaine sharply dismissed that as an "Alice In Wonderland" argument.
The Democratic 2016 vice presidential candidate has teamed up with Sen. Jeff Flake, R-Ariz., to draft a new AUMF specifically tailored to the Islamic State. It would repeal the 2001 and 2002 authorizations but explicitly allow making war on ISIS, al-Qaida and the Taliban, as well as "associated forces," to be defined by the administration and Congress. The legislation would expire after five years.
"A new AUMF is not only legally necessary, it would also send an important message of resolve to the American public and our troops that we stand behind them in their mission," Kaine said on Friday.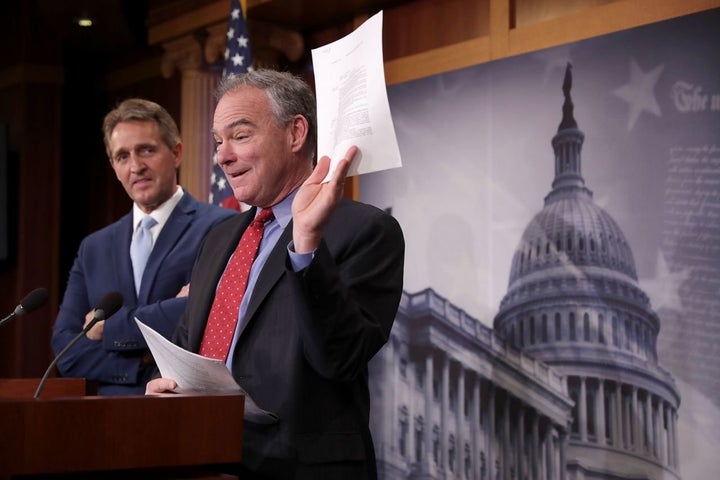 The Trump administration's position has been that it does not require a new authorization — that the 2001 and 2002 AUMFs, plus the president's commander in chief powers under the Constitution, offer sufficient legal justification. Mattis has said in the past that he would welcome a new AUMF, saying it would demonstrate American "resolve" against ISIS and other extremist groups. But he has also warned against limits, like restricting the authorization to certain kinds of military force in a defined geographic area. Obama's proposed AUMF imposed no such limits and would have expired after he left office.
The hearing with Tillerson and Mattis will build on an Aug. 2 closed Senate Foreign Relations Committee briefing with administration officials and a June 20 public hearing with private witnesses.
The United States has declared war formally against 11 nations in just five wars in its history: the War of 1812, the Mexican-American War, the Spanish-American War, World War I and World War II. Technically, America's longest war — the Afghanistan operation launched after Sept. 11 — isn't a declared war. Neither were Korea, Vietnam, Panama nor Iraq.
Read more from Yahoo News:
Popular in the Community