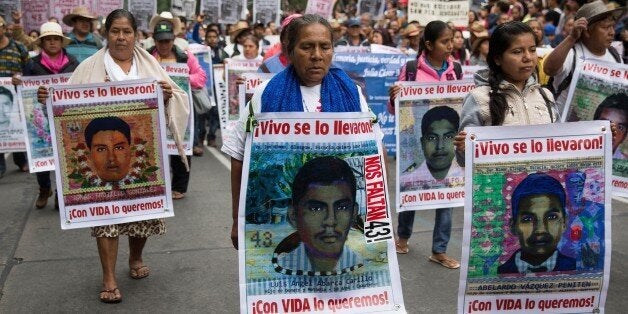 Editor's note: Today, The Huffington Post received the following letter from journalist Anabel Hernández detailing a threat she received this month clearly aimed at scaring her away from carrying out her work. Hernández is a HuffPost contributor and one of Mexico's most accomplished investigative journalists.
Since November of last year, Hernández and her colleague at the U.C.-Berkeley Investigative Reporting Program, Steve Fisher, have published a series of groundbreaking articles that flatly contradict the Mexican government's account of the attacks against the students in Iguala, in which six people were killed and 43 students abducted.
I'm writing to make public that I received a threat on Nov. 4 in my home in Mexico City that resulted from my work as an investigative reporter.
For years, I've struggled to avoid becoming another number on the list of murdered journalists. The threats I've suffered over the last five years have affected my life and that of my entire family. In spite of that, I'm not going to abandon the reporting I'm doing, because this is work of public interest and our society deserves to be informed.
On Nov. 4 of this year in the middle of the day, my home was again broken into by a group of at least four people who arrived in a new-model car. Security footage revealed the attackers consisted of at least one driver -- who never left the car -- one woman, and two other men.
Even though they saw the security cameras, the woman and the two men broke into the apartment complex where I live, without attempting to hide their faces. They spent nearly half an hour inside my home, but the group didn't steal anything of value, though they had ample opportunity to do so.
Instead, they left me a threat. The people who broke into my home took a framed picture of my children that had been tucked away out of view and put it face down out in the open.
This incident occurred as I'm carrying out an investigative reporting project into Mexico's most high-profile human rights crime -- last year's attack against a group of students from the Raúl Isidro Burgos Teachers College in Iguala that resulted in the disappearance of 43 of them. Since December of last year, I've published the results of this investigation in a series of several articles for Proceso Magazine, Univisión, Telemundo and The Huffington Post. This series of reports implicates Mexico's security and intelligence institutions in the attacks against the students, either as active participants or observers. Similarly, using medical reports from the Mexican Attorney General's office, I revealed that most of the accused attackers had been tortured or beaten. All of this reporting has contradicted the supposed "historical truth" that the Attorney General's Office constructed explain the case.
I am also working on an investigative project on the escape of drug lord Joaquín "El Chapo" Guzmán Loera from a maximum security prison on July 11 of this year. I published a report in August that revealed information the Mexican federal government had hidden about the escape, including the fact that security footage taken before and during Guzmán's escape contained audio in which the striking of metal against cement is heard. Despite the sounds, the guards did nothing to impede the escape. The drug kingpin lived a privileged life inside the prison for months before escaping. Since at least March, the Mexican government had evidence indicating that employees of Guzmán's had tried to obtain blueprints of the prison. I also mentioned the presumed involvement of members of the Federal Police and other government authorities in Guzmán's escape.
On Nov. 18, I made a formal request asking Mexico's Attorney General Areli Gómez González, as well as the other federal government agencies, to do their work impartially and to carry out a timely and efficient investigation to clarify the facts and punish those responsible for this threat.
I've worked as a journalist for 20 years. Over the last five years, my work has focused on issues of corruption, abuse of power and organized crime. Because of that work, my family and I have been repeatedly targeted and threatened, including on at least three occasions by people wielding guns.
We aren't the only ones facing threats. These events have occurred in a climate of increased attacks, threats and killings of journalists in Mexico.
I've quickly and formally reported all of these threats to all possible Mexican government agencies: The Mexico City Attorney General's office (FSP/B/T2/2671/10-12), the National Commission on Human Rights (CNDH/5/2010/6756Q) and in the Special Public Prosecutor's Office for Crimes Committed Against Freedom of Expression (FEADLE, in Spanish) of the federal Attorney General's Office (A.P.045/FEADLE/2011 and A.P.179/FEADLE/2013).
But not one of the files opened by FEADLE has advanced. The facts behind these threats remain unclear and the investigations have not led to the arrest of those responsible, despite the fact that the National Commission on Human Rights, known by its Spanish initials as CIDH, issued a statement on Aug. 19, 2013, criticizing "the impunity surrounding attacks against journalists." In my case specifically, the CIDH highlighted the authorities' inefficiency and neglect in carrying out the investigation into the threats I've suffered because of my investigative reporting.
On Dec. 21, 2013, a group of at least 11 armed men, who said they belonged to the Federal Police and the Zetas drug cartel, took control of the street where I live in Mexico City. They entered the apartment complex, and threatened my neighbors at gunpoint, asking them to show them which of the apartments was mine. They broke into my house. They didn't steal anything of value.
I wasn't home at the time, but at the attackers abducted and beat one my bodyguards. Though the FEADLE has had in its possession since the time of the event evidence including video footage, witness descriptions, testimony and the resources to carry out an investigation, no one has ever been arrested.
Because of these events, the last time the Mexican government's Mechanism for the Protection of Human Rights Defenders and Journalists -- an institution created to protect reporters and human rights workers -- evaluated my security situation in 2014, it classified me as facing "extraordinary risk."
Because the attackers were never punished and I continued to face an imminent risk, in August of 2014 I was forced to find alternatives to protect my family and find more secure conditions to continue my journalistic work. Currently, I live in the United States, where I work with the Investigative Reporting Program at the University of California at Berkeley and I limit my time in Mexico based on the requirements of my work and my need for security.
And yet, attackers broke into my home to deliver a threat once again on Nov. 4.
The FEADLE opened the investigation AP/120/FEADLE/2015 after I denounced the Nov. 4 break in. Despite the fact that it's clear that Mexican authorities have important evidence that could lead them to identify and arrest the attackers and clarify the motive and magnitude of the threat, as of now the public prosecutor's office has made no progress. They failed to take immediate actions that would be basic to any investigation to obtain and preserve evidence. They haven't taken into account the context of the reporting I've been doing, nor the prior threats I've faced. They haven't reviewed the files from incidents I reported in 2011 and 2013.
I know all of this because the public prosecutor's office has told me as much.
I spoke directly with Ricardo Najera, the head of FEADLE, who on Nov. 12 confirmed that no progress had been made in my case. With an attitude unbecoming of a public servant charged with helping victims of crime, the prosecutor told me that I should remain confident that they are doing their job -- which he had just told me he wasn't doing -- and proceeded to tell me that they would clarify the "historical truth" of what had happened in my home.
This phrase, which is uncommon in Spanish, is a clear reference to the "historical truth" that the Attorney General's office offered to explain the case of the disappeared students, which my reporting has refuted. It concerns me that this message from the prosecutor charged with solving cases of threats against journalists means that he uses his position to take revenge against publications that inconvenience him or the agency he works for. This clearly contradicts the role of a public servant.
Without the possibility of knowing the scope or seriousness of the threat made against me, without a hypothesis to explain the motive, it's impossible for me to take security measures to protect myself or my family.
I ask that you please help me make this information public.
Thank you for your attention.
Related
Popular in the Community