In light of new evidence that 2015 will likely be the hottest year ever recorded, Muslim, Hindu, Christian, Jewish, Buddhist and other religious leaders joined together at the Parliament of World Religions pledging faith-based action to combat climate change. The event took place in Salt Lake City, and brought together over 8,000 people from scores of faiths and nations.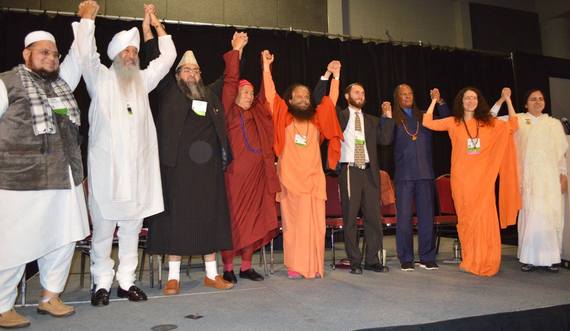 The Parliament was partially focused on climate change, and many speakers emphasized how the integrity of God's creation is at risk. Creation is crying out to its Creator: what has happened to the human being?
A highlight was the panel session 'Climate Change and You,' in which religious leaders from many faith traditions spoke. It was organized and led by the Global Interfaith WASH alliance. H.H. Swami Chidanand Saraswati, President of Parmarth Niketan, one of India's largest and most renowned interfaith spiritual institutions, talked about a fast-paced society of speed, with greed upstaging need, and encouraged people to connect to their spiritual source. He spoke of a global shortage of consciousness which is driving environmental degradation and contributing to an excess of energy use and greenhouse gas emissions.
Rev. Michael Bernard Beckwith, minister and founder of the Agape International Spiritual Center, and panel-organizer Sadhvi Bagawati Saraswati both emphasized the importance of reducing one's meat consumption as an act of conscious consumption that will benefit animals and the earth.
Sadhvi Bhagawati Saraswati, Secretary General of the Global Interfaith WASH Alliance, said "Most of us look only toward our governments to preserve our planet, to solve the climate change crisis. We sign petitions and go on marches. But there is much more we can do. Everything we eat, everything we buy and everything we wear has a direct impact on our Earth and all our brothers and sisters across the planet."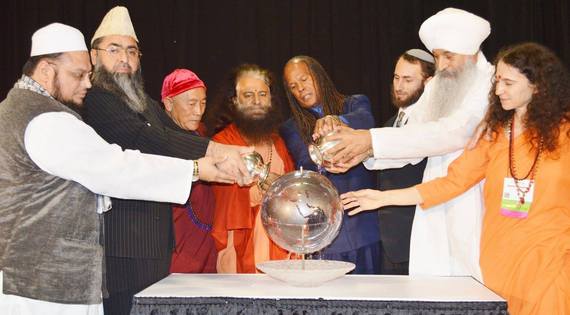 As the director of an interfaith organization, I was also privileged to speak on this panel, and spoke about how faith teachings can inform specific consumption choices that people make.
In some ways, Salt Lake City was a fitting frame for the interfaith conversations on climate change. The city is surrounded by mountains and lakes, and many residents enjoy the surrounding nature through outdoor recreation. The event began with an invocation by Native American chiefs, who mentioned how the location of the conference center was an ancient gathering place of the Shoshone, Ute, and Paiute peoples. Last winter, only two major snowstorms took place here, part of a climate change-induced trend of a drier West.
Salt Lake City is also an example of many of the issues that have created the climate crisis in the first place. Among them is urban sprawl. The city is part of the 120-mile long stretch of nearly contiguous urban and suburban settlement that includes ten counties, with a total population of about 2.5 million people. While the city built a light rail for the 2002 Olympics, personal automobile use is the norm. Many names in Utah invoke Zion, so Salt Lake City is also evocative of the Palestinian-Israeli urban belt that now stretches from Bethlehem to Jerusalem to Ramallah, and includes close to 1.5 million people.
Speakers at the Parliament of World Religions mentioned how with the climate crisis, suddenly we need religion as never before. Faith leaders and clergy can provide moral instruction in long-term thinking, moderation, and conscious consumption, and help address some of the roots of our ecological challenges. 2015 will likely be the hottest year on record, and also the year of the greatest faith-based ecological activism the world has ever seen.
Photo credits: Global Interfaith WASH Alliance
REAL LIFE. REAL NEWS. REAL VOICES.
Help us tell more of the stories that matter from voices that too often remain unheard.