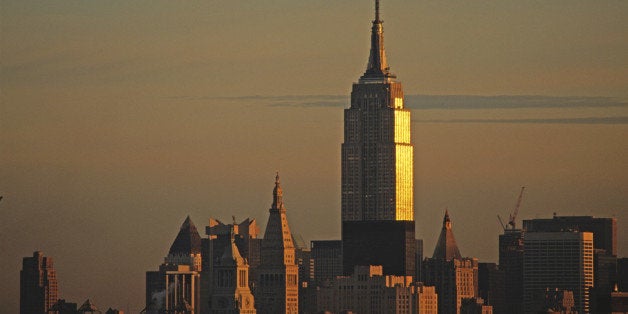 Amina and Fahad Tirmizi, a Muslim couple from Long Island, are suing the Empire State Building for $5 million over what appears to be a case of religious discrimination.
According the lawsuit obtained by The Huffington Post, the Tirmizis say their First and Fourteenth Amendment rights were violated when they were "assaulted, battered and forcibly removed" from the building's observation deck on July 2, 2013 as they peacefully recited evening prayers.
"We weren't doing anything wrong," Fahad told New York Post. "We just wanted to enjoy the view like everyone else."
New York lawyer Philip Hines is representing the couple in their lawsuit, filed on Tuesday against the Empire State Building Company, Malkin Properties, Empire State Realty, security company Andrews International Inc. and others. The Tirmizis believe they were targeted for being Muslim and wearing traditional religious clothing.
"To most, the Empire State Building is one of the great landmarks of this city, but for my client and his family it is a building of ignorance and injustice," Hines told New York Post.
The Tirmizis were visiting the famous building with their two children when they retreated to a quiet spot to perform evening prayers. Two security guards reportedly approached the couple and "menacingly poked" Fahad, saying they were not allowed to pray on the deck. They were then "forcibly escorted" out of the building.
The suit states that the guards "acted in such a way as to cause a commotion," resulting in other Observatory visitors watching as the Tirmizis and their children were escorted from the deck.
The suit also accuses the Empire State Building defendants of having an unlawful policy "whether express or implied, that subjects Muslims to greater and/or heightened suspicion, security and/or surveillance compared to other religious and non-religious individuals."
The Catholic League's Bill Donohue released a statement on Wednesday supporting the Tirmizis in their suit. He wrote:
On August 26, 2010, I led a rally of over 3,000 people in the street across from the Empire State Building to protest Anthony Malkin's (the principal owner) refusal to light the towers blue and white on the 100th anniversary of Mother Teresa's birthday. He had no problem honoring the anniversary of the Communist Chinese government, even though Mao and his minions murdered 77 million innocent men, women, and children, but he could not stomach any recognition of Mother Teresa. Now he is bullying Muslims.

Muslims who pray in public, including in public accommodations, are simply exercising their constitutional rights. In play are two First Amendment rights: freedom of speech and freedom of religion.

We hope that Hines investigates the extent to which security guards are expected to censor religious speech. We wish him, and this innocent Muslim couple, well.
Popular in the Community