 Amina Sboui met us in a small cafe in Tunis. She and two of her friends were talking about books, feminism, and politics. They have known each other for many years. "We used to go to rock concerts together," they said. About fifty meters away from the café, there was a tag saying "You don't terrorize us. If revolution is a crime, then, we are criminals," signed Feminism Attack. "This tag is ours. Do you like it?" one of Sboui's friends asked us proudly.
Sboui sparked a massive controversy in Tunisia in March 2013 by posting a topless photo on Facebook with the words "F**k your morals" written across her chest. Sboui was arrested in Kairouan on May 19, 2013 for painting the word "FEMEN," the name of an activist group know for its topless protests, on a cemetery wall. Feminists around the world called for her release. FEMEN leader Inna Shevchenko addressed Sboui's case in international media and the group staged protests around Europe under the name "International Topless Jihad Day". On May 29, three foreign FEMEN activists were arrested for a topless protest in front of the courthouse in Tunis.
Liberated on August 1st, after being detained for more than two months, Amina finally decided to quit FEMEN, accusing the group of Islamophobia and lack of financial transparency. Nevertheless, she didn't give up on her cause. On August 15, she posted another topless photo on the social networks. "Topless and anarchist," she said. Amina always surprises.
Why did you decide to quit the Femen group?I don't know how the movement is financed. I asked Inna several times, but I didn't get a clear answer. I don't want to be in a movement supported by dubious money. What if it is financed by Israel? I want to know. And then, I don't want my name to be associated with an Islamophobic organization. I did not appreciate the action taken by the girls shouting "Amina Akbar, Femen Akbar" in front of the Tunisian embassy in France, or when they burned the black Tawhid flag in front of a mosque in Paris. These actions offended many Muslims and many of my friends. We must respect everyone's religion.
But these actions were taken to support you while you were in prison. Why didn't you consider them as such?I thank them all for their support. Especially Joséphine, Marguerite and Pauline, who were also imprisoned. They took some good actions, but it wasn't the case for all of them. They should have asked for my lawyer's advice before taking some of these actions. This made my case even more difficult. Because of the protests I was charged with a new crime, "criminal conspiracy," when I was in prison.
Have you informed the Femen group about you quitting the organization?No. They are not going to like it, but that's the way it is.
So, you decided to quit the organization, but you posted another topless photo just four days ago…Yes, a topless photo of myself bearing a painted circled A, the anarchist symbol. It's different.
Feminism Attack is a movement preaching feminist and anarchist concepts. Do you intend to become a member of this group?To be honest, I'm not part of this group yet. I'm still thinking about it. But you know, I have no problem with parties like Ennahdha or with someone like Rached Ghannouchi. I don't like the system altogether. If the opposition parties took the lead tomorrow, it would be the same. History proves it; you can see it at Bardo Museum. My problem is not that I want to wear short skirts. I could do it if I wanted to. But I want women to be able to become president if they want to. I want women in rural areas to stop suffering.
How would you define the anarchy you are preaching?Anarchy doesn't mean disorder, like many would think. Anarchy doesn't mean we want to destroy everything. We just want to break down the wrong system. Certainly, if the police shoot somebody, I won't reward them by offering them a book. Sometimes, violence is mandatory.
Do you intend to take some action as part of the Feminist Attack group?We have some ideas. We are still thinking about what's to be done. We will communicate our intentions when the time comes.
Let's go back to the two and a half months you spent in prison. How did you manage?I thought I was supposed to stay in prison for seven years. I tried to create my own universe. I was raised in a boarding school, so I didn't really see the difference. My only problem was that they prevented me from reading. The second day there, I made a list of the four books I wanted. I still hadn't received them when I left the prison.
This interview was translated from French and originally appeared on HuffPost Maghreb.
Related
Before You Go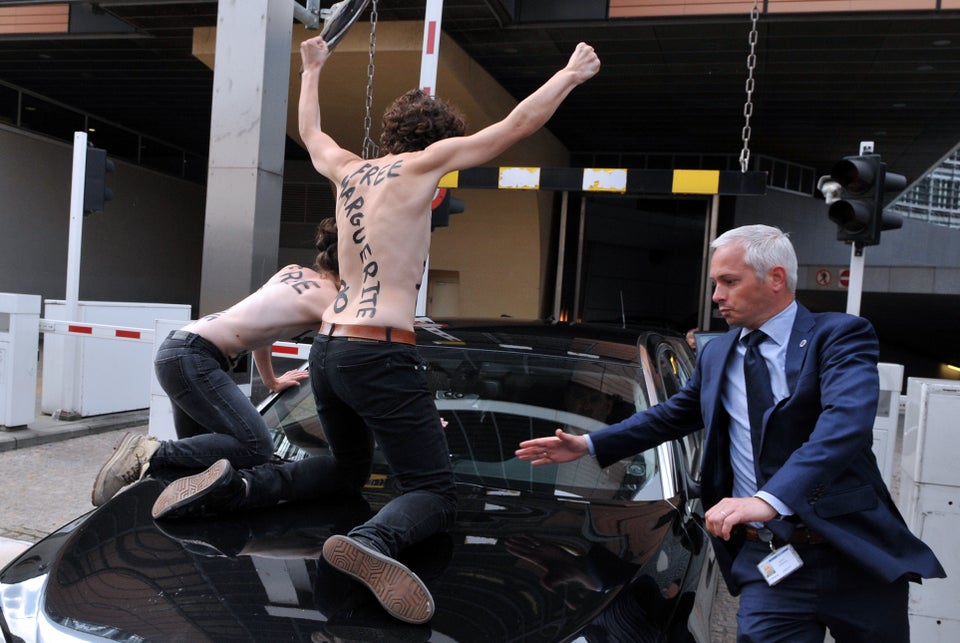 FEMEN Protest Tunisia's PM
Popular in the Community