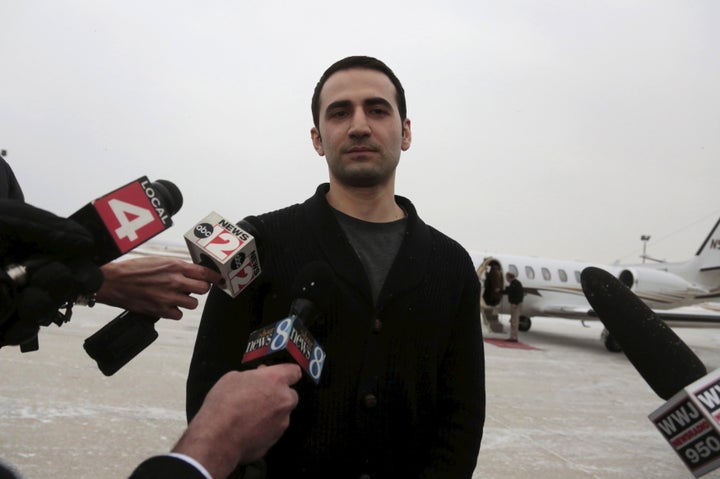 WASHINGTON -- A former U.S. Marine who was imprisoned in Iran for over four years is suing the Iranian government after publicly disclosing details about the torture he says he endured there.
Amir Hekmati was one of four Iranian-American prisoners released from the country in January as part of a negotiated prisoner agreement with the U.S. He is now seeking unspecified damages from the Iranian government for false imprisonment and torture, according to a civil complaint filed Monday with the U.S. District Court for the District of Columbia.
In the complaint, Hekmati's lawyers allege that Iranian intelligence officials whipped their client's feet, struck him with a Taser, forced him to into a "stress position" for hours, hit him with batons, threw cold water on the floor of his cell to keep him awake, and left a bright light on in his room at all times to "invoke sensory deprivation." His captors forced him to take addictive medications like lithium pills, only to withhold the medication later to induce symptoms of withdrawal, the lawyers charge.
The complaint states that Hekmati was held in solitary confinement in a 1.5-by-1-meter (roughly 5-by-3-feet) cell for the first 17 months of his confinement at Tehran's Evin Prison. He was allowed to leave his cell once every three days for 20 minutes to take a cold shower, according to the complaint.
During that time, intelligence officials allegedly tried multiple tactics to pressure the former Marine into confessing to be a spy for the CIA. In one interrogation, Hekmati's lawyers said, Iranian officials told him that his sister was in a serious car accident and he could only call his family after submitting a confession.
By December 2011, evidently frustrated at Hekmati's refusal to say he was a American spy, his captors moved him to the Parsian Esteghlal International Hotel, gave him a change of clothes, food and cigarettes, and told him he would be released after being interviewed for a training video for the Iranian Intelligence Ministry.
During the interview, Iranian officials told Hekmati to state that he worked for the CIA. He initially refused, but ultimately complied in hopes of being sent home. Afterwards, he was returned to his solitary cell in Evin and his "confession" was broadcast on Iranian state TV.
The former Marine later wrote Secretary of State John Kerry a letter that was smuggled out of prison, stating that his confession was "obtained by force, threats, miserable prison conditions and prolonged periods of solitary confinement."
The treatment detailed in Hekmati's 11-page complaint is just the "tip of the iceberg," said one of his lawyers, Scott Gilbert, in a phone conversation on Tuesday. Gilbert, who worked with the former Marine's family last year to help secure his release, also represented Alan Gross, a former U.S. development worker who spent five years imprisoned in Cuba.
Hekmati traveled to Iran in August 2011 to visit family. He planned to return home later that month to begin a graduate economics program in Michigan, but was arrested two days before his scheduled departure.
After a 15-minute, closed-door trial in January 2012, Hekmati was convicted of "espionage, waging war against God, and corrupting the earth," according to his complaint, becoming the first American to be sentenced to death in Iran since the 1979 revolution. An appeals court overturned his death penalty sentence in March, and he was re-sentenced to 10 years in prison for "cooperating with a hostile government," his complaint states.
Hekmati was freed in January 2016, along with Washington Post reporter Jason Rezaian, Christian pastor Saeed Abedini and Nosratollah Khosravi-Roodsari, who said he has worked as an FBI advisor. In exchange, the U.S. released or dropped the charges against seven Iranians accused of violating sanctions. 
Gilbert spoke positively of the State Department's efforts to release his client, but Hekmati's family has expressed concern that his freedom was tied to the fate of the nuclear negotiations between Iran, the U.S. and five other world powers. Indeed, the prisoner exchange occurred just hours after the nuclear accord was implemented earlier this year.
The State Department declined to comment on Hekmati's current legal proceedings.
Hekmati's lawyers are seeking damages from the Iranian government under the Foreign Sovereign Immunities Act. Iran, which does not recognize dual nationality and treated Hekmati as a U.S. citizen, is unlikely to honor a U.S. court ruling. If the court rules in Hekmati's favor, it is possible he could collect damages from seized Iranian assets, an outcome that may be supported by a recent Supreme Court ruling.
A spokesman at Iran's mission to the United Nations did not respond to a request for comment on Hekmati's case.
Hekmati served in the U.S. Marines from 2001-2005 as an infantry rifleman and translator, and later worked as a government contractor with a focus on translation services.
Now, nearly five years after his arrest, Hekmati is back home in Michigan, living mostly with his mother. After surviving two tours in Iraq as a Marine, he is plagued by post-traumatic stress disorder from his time in prison, said Gilbert.
"He truly wishes this could all be erased," the lawyer said. "He would like to get his life back."
Calling all HuffPost superfans!
Sign up for membership to become a founding member and help shape HuffPost's next chapter
BEFORE YOU GO
PHOTO GALLERY
Responses To Iran Deal