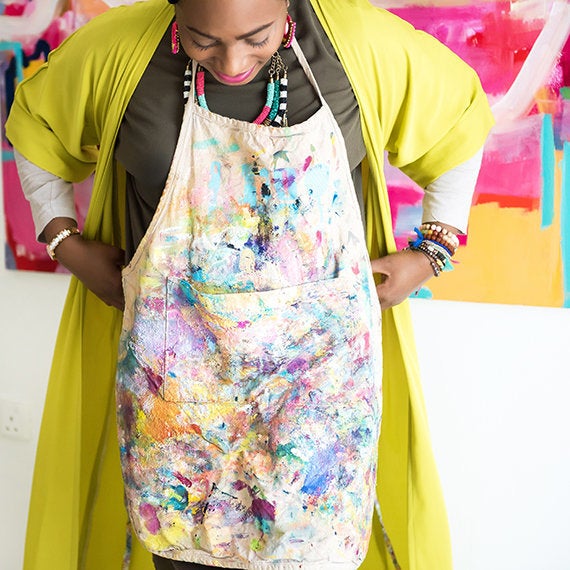 HuffPost Religion is highlighting the voices of Muslim artists this Ramadan. Every Friday of the holy month, we'll feature artwork and reflections from artists around the world on our Instagram account. You can follow along at @HuffPostRelig.
Amira Rahim (@amirarahimart) is an artist from New Jersey who is known for experimenting with vibrant color palettes to express her emotions. Although she's been drawing and painting since she was a child, Rahim initially planned to pursue a career in law.
College was a time of awakening for her, Rahim studied abroad and traveled frequently ― visiting Brazil and several countries in Europe. She explored a number of religious traditions before converting to Islam while studying in London, England, during her last year in college. Rahim then spent three years living in Abu Dhabi, United Arab Emirates, where she decided to pursue art full time.
Rahim took over HuffPost Religion's Instagram account on Friday to share examples of her remarkably vivid artwork. Read on to learn more about this inspiring Muslim artist.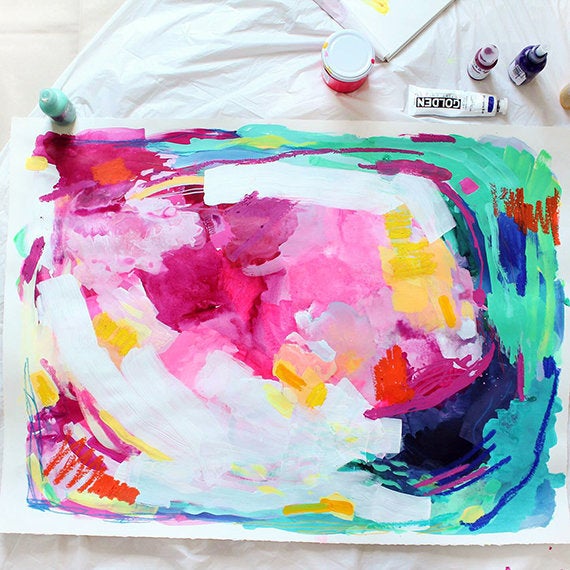 My name is Amira Rahim, and I am an artist. I've been drawing and painting for as long as I can remember, but I didn't call myself an "artist" until three years ago when I moved to the United Arab Emirates. I was in a new country, and quite excited but also anxious. I figured, "Hey, if I don't do this now, if I don't paint full-time, I may never have the chance again." We all are blessed with God-given talents and skills and it's up to us to push ourselves to the highest of our abilities, and inspire those around us to do the same.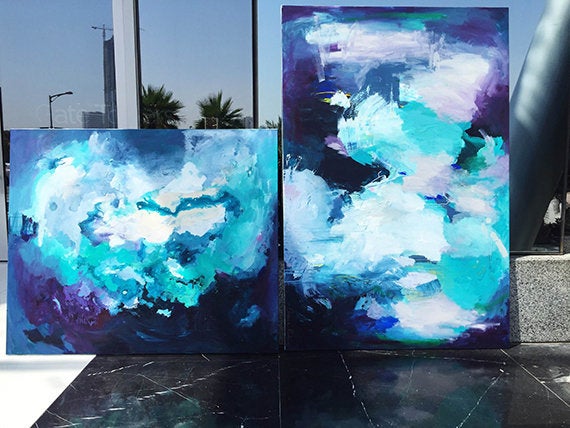 What does Ramadan mean to you?
This is my eighth time observing the holy month of Ramadan, and like most Muslims, I feel very fortunate to have made it to yet another year. Ramadan for me is a time of deeper reflection, connection to our families and selves, but also connection to the Creator. I am used to working during Ramadan and this year is no exception. I am currently working on a new body of work inspired by my recent travels to Bali and Italy. Both places were so colorful and invigorating. I am trying to capture that in a collection of abstract paintings on paper.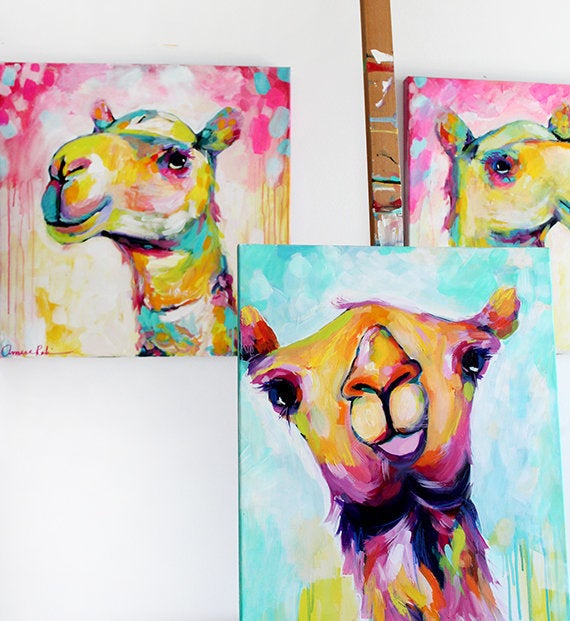 My work is very colorful and energetic. In the beginning of my art practice, I struggled to find my style. I tried really hard to paint like what I thought "real art" was supposed to look like. Recognizable, realistic, right. After giving myself permission to paint the colors of my soul, I found the act of painting to be so much more liberating. I am completely free at my easel. Time stands still and I no longer have to be anything other than myself. Abstract art is really freeing in that sense.
In addition to abstract work, I enjoy painting whimsical camels and figures. I recently returned home after spending three years in the United Arab Emirates. The Middle East definitely influenced me as an artist. The harsh terrain and monochromatic surroundings inspired me to be more imaginative and daring both in my use of color and my subject matter. Whether I'm painting a funny camel face, or group of colorful ladies in traditional abaya, I want my paintings to evoke a sense of joy and wonder.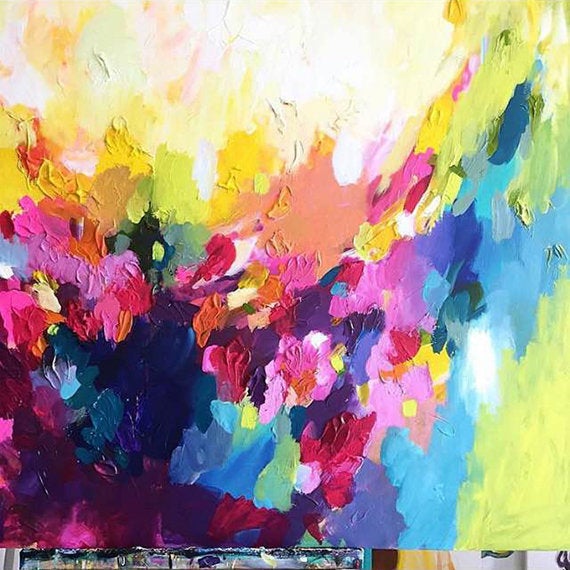 What do you hope people take away from your artwork?
I hope that people find happiness in my work. I believe to create anything is an act of love, and I truly love being an artist. I feel really fortunate to be born into a time where sharing content with millions of people is possible. We live in a world of incredible access and opportunity thanks the internet that just wasn't available before. This motivates me to get up each day and do something that can uplift and inspire. I'm happy to be back home in the [United] States. It was a bit of a risk for me to leave UAE and come back, because I have such a great fan-base there and collectors who really supported my work. But, I look forward to the challenge of creating gorgeous new paintings and seeing the new beautiful homes here that will house them.
Related
Before You Go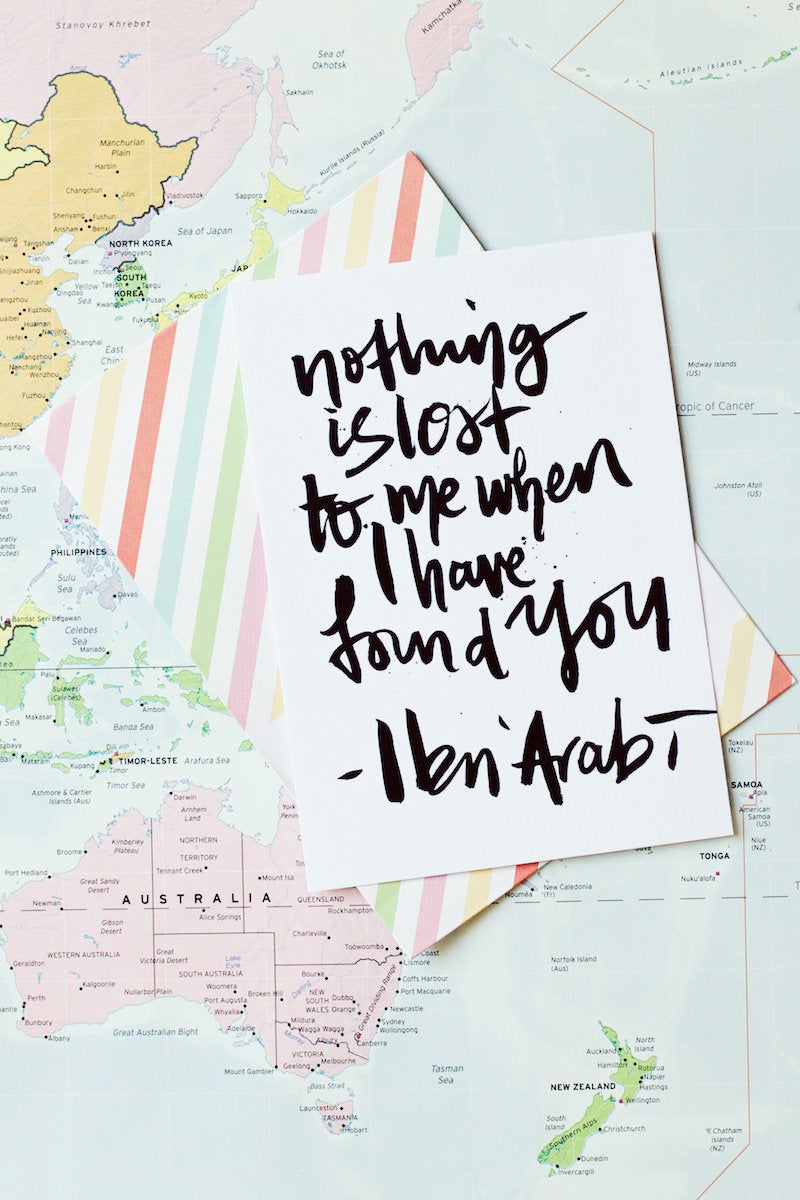 Muslim Artists Ramadan Series
Popular in the Community