Like many, I was saddened and prodded into reflection by the death last week of poet, playwright, activist and scholar Amiri Baraka. Among the many tributes, I especially appreciated the words of Martin Farawell, Director of the Dodge Poetry Program at New Jersey's Geraldine R. Dodge Foundation, expressing a community's love and admiration for a literary giant who, whether or not one agreed with his politics, was a riveting voice for change. As Farawell writes:
We knew him as someone intensely devoted to the idea that as an artist he had a responsibility to his community, and as someone who possessed a questing, relentless curiosity, a staggering erudition (his essays on the history of jazz and blues are essential reading for anyone who wants to understand American music), and a wicked sense of humor and wit. (Read the full article here.)
I got a sense of that wit in 1998 at the Dodge Poetry Festival, when I met Mr. Baraka, as he was waiting to go on stage at the 3,000- seat poetry tent, the main stage for the biannual festival that draws thousands. There under the big top, I went up to him and said, "Hey, I saw you in the movies." (He'd had a bit part in "Bulworth," a political satire featuring Warren Beatty.) We had a nice laugh, and it left me with a brief, but indelible memory.
On the day that I learned of Baraka's death, I learned of Alvin Aubert's death as well. Alvin Aubert was also one of the great African American poets of his generation, the author of numerous collections of poems, a playwright, editor and the founder of Obsidian: Black Literature in Review. He served as chair of Black Studies at Wayne State University, retiring in 1992 as a Professor of English Emeritus. It was humbling and an honor to have worked with him and counted him as a friend and fellow poet.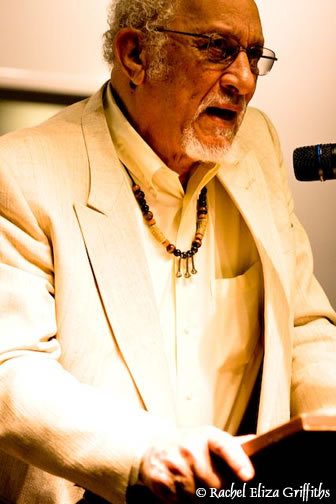 Alvin had great wit, a wonderful laugh, and he was full of stories -- stories of his French, Cajun, Native American, African ancestry and upbringing in a Mississippi River town on the periphery of Cajun country - that led to lines of profound simplicity such as these:
rarely did we drink
from the river. the rain
was usually sufficient,
great reservoir of our dreams,
inexhaustible cistern.

Alvin Aubert's was a kind but imposing presence, and he brought real gravitas to my classroom at Detroit's Communication and Media Arts High School as one of the first professional writers to work with InsideOut. As a visiting poet, Alvin inspired students with his openness to feeling, tearing up once at a particularly moving poem, and presenting a compassionate role model to male students in particular. Alvin Aubert was an exacting critic, encouraging students to think carefully and weigh the necessity of every single word. His editing suggestions helped Qiana, for example, peel back to the essentials in this poem.
Wearing Moonboots two sizes too big
I hike across a field of snow...
I dodge ice bullets
Thrown by my older brothers
To reach my hideaway
Where ice crystals hang from
A leafless tree.
The ground looks like frozen sky
And a mile-long field
Stretches behind me.
I know Mama said not to play on the ice on the pond
Behind the train tracks--
And don't get your hair wet
And don't talk back
And don't wear your good shoes outside.
Mama said a lot of stuff.
But as I step on the ice
With the largest icicle
As my wand
I am the ice princess, Qiana
Ruler of the pond behind the tracks.

-- Qiana Williams, Grade 10
Her line, "Mama said a lot of stuff" especially appealed to Alvin, and I can still hear the affirmation in his voice as he read it aloud to the class, and then repeated it slowly, as if feeling its weight. Yep. Mama said a lot of stuff. It still rings true.
Good writing is hard work. Alvin Aubert knew that, and he was initially not sure if teenagers were for him. But just as he inspired generations of college students, he had a powerful impact on my students. On Friday, January 17th, for the sixth year in a row, a team from InsideOut's Citywide Poets will open for the annual Wayne State University Martin Luther King, Jr. Tribute Luncheon at Orchestra Hall, presenting their stirring performance piece, "A Poem is not a Jukebox." The poem's title is taken from Detroit's first poet laureate, Dudley Randall, whose centennial along with that of another Detroit literary lion, Robert Hayden, we are celebrating in 2014.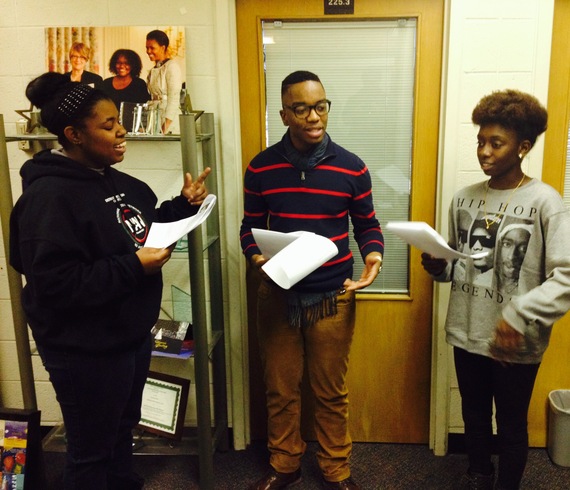 Arzelia Williams, Terrell Morrow, and Kennedie King practice "A Poem Is not a Jukebox" at the offices of InsideOut Literary Arts Project in Wayne State University's State Hall.
Weeks of hard work, revision and practice have gone into creating a blockbuster group poem of Detroit pride, affirmation, social critique -- a manifesto of youthful determination and hope for a better future, no matter what. With lines like
poetry doesn't just rebuild buildings
it rebuilds lives ...
when I think of Detroit
I think of...that house filled with hardcore work ethic strong backs connected to broad shoulders that stretched forth brown arms that pushed me onto this stage
Arzelia Williams, Kennedie King, and Terrell Morrow honor their sources of strength, their literary forbears and the creative powers that will carry them forward as leaders and thinkers. It's a wonderful ride, readers. I hope you can attend.
Calling all HuffPost superfans!
Sign up for membership to become a founding member and help shape HuffPost's next chapter