Rife with exotic palaces and temples worthy of exploration, Bangkok is a traveler's dream. But if you're looking for something a little different, a few hours in a garden kitchen can be a perfect way to spend the day.
Saddled with a 24-hour layover in Bangkok on my way to Myanmar, I was in a bit of quandary: I wanted to do something fun, but after flying 18-plus hours, the idea of doing anything that required a lot of walking, or would land me in the middle of a large crowd, made me want to put a fork in my eye -- effectively eliminating about 80 percent of my options.
I made a reservation at the Amita Thai Cooking Class, a charming urban oasis I visited on a previous trip and a wonderful alternative to the frenetic atmosphere of many tourist attractions. At Amita I would spend a half-day feasting on delicious Thai cuisine (my favorite!) while learning to prepare a traditional four-course meal. There would be very little walking, no more than 10 guests at a time, and a lot of good food -- the perfect recipe for a very special, but low-key day.
Situated along a canal, Amita is located behind the home of its owner, Tam Piyawadi Jantrupon, a little wisp of a woman with a big personality. The third generation of her family to grow up in the house, Tam watched her grandmother and aunt prepare the family meals -- and so began her love of cooking.
The day started at 8 a.m. with a pickup at my hotel and a leisurely 30-minute boat ride down the Chao Phraya River with Amita's seven other guests. During our journey, we passed many iconic sights, such as Wat Arun, known as the Temple of Dawn, and the Grand Palace, the ancestral home of past Thai kings. It was a great opportunity to view these historic wonders from a completely different perspective.
Upon our arrival, Tam met us at her dock with a team of four equally petite helpers, and a tray filled with chilled towels to wipe away the morning's humidity -- a lovely gesture I've always found appealing in hot climates. Moments later, a cold glass of a lemongrass drink was placed in our hands, accompanied by a homemade banana leaf straw.
We were invited to take a seat on a waterside veranda surrounded by trees and a garden so lush it was as if we had entered a jungle. There a plate of tempura (battered and deep-fried) flowers was served paired with a delicate sweet-and sour-dipping sauce. The flowers themselves didn't have much of a flavor, but the crunch of the tempura and the tang of the sauce made for a wonderfully exotic snack.
After a round of introductions that included each guest, Tam's team, and a very talkative pet mynah bird named Basil, Tam outlined the day's agenda: We were going to learn to prepare four dishes, beginning with chicken satay (tasty strips of grilled chicken served with a spicy peanut sauce), followed by kang keaw wan gai (green curry chicken in coconut milk), khao man som tam (coconut rice and papaya salad with chile-lemon sauce) and, for dessert, khao niew mamuang (mango sticky rice).
We then toured Tam's extensive garden. There she pointed out the fruits, vegetables, herbs and spices we'd use for our meal, and peppered the conversation with interesting facts about the historical and medicinal uses of each plant.
At one end of the garden stood the open-air kitchen, where all the magic would happen. There were 10 individual cooking stations and a large table near the back, where Tam would demonstrate how to prepare each dish first, before it was our turn to give it a go.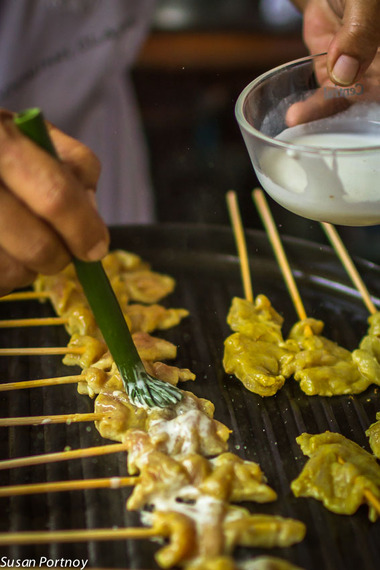 Satay grilling. Note the how the banana plant stalk is frayed at the end to use as a marinade brush.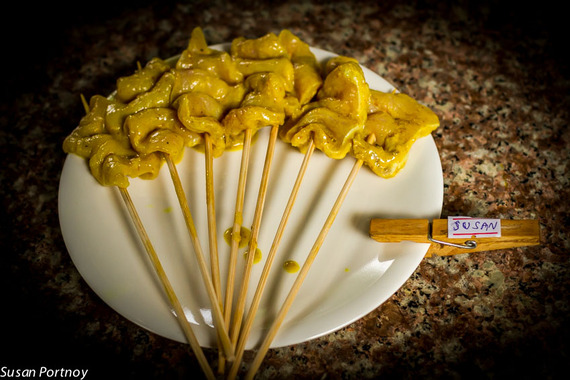 The chicken for satay that I prepared on skewers. Note the adorable clothespin name tag so that each person gets the dish they prepared at the end.
As Tam walked us step-by-step through each course, chopping and dicing and pummeling with a mortar and pestle, she also taught us some traditional Thai tricks of the trade. Things such as how to keep delicate herbs and spices fresh by wrapping them in banana leaves and -- my favorite -- how to turn a banana plant stalk into a marinade brush for the satay, by fraying one end with a knife.
When she finished with her demonstration, we were up at bat. We each chose a cooking station while Tam's assistants brought out separate trays loaded with ingredients. Now it was our job to pummel, mix, boil and grill, but to my delight, most of the tedious chopping, peeling and measuring had already been done.
As we cooked, the aromas were so tantalizing my stomach growled loud enough for the woman standing next to me to hear, and she erupted in laughter.
When we finished each dish, it was removed and kept hot until we completed the entire meal. As the last of us put down our wooden spoons, it was time for the feast to begin!
Meeting again on the veranda, we saw our meal beautifully laid out before us. For the next 45 minutes, we laughed and talked and stuffed ourselves silly.
Around 1:30 p.m., our visit was winding down. Tam and her ladies packed whatever was left, which wasn't much, into doggie bags and gave us recipe cards so we could try everything at home.
It was time for our merry band to head back to our respective hotels, which we did, happy and sated.
Hours of operation: Open every day except Wednesday (8 a.m. to approximately 1:30 p.m., including transportation to and from your hotel).
Number of guests: No more than 10 per class.
Cost: 3,000 baht (approximately $95).