In 1953 Mata Amritanandamayi (a.k.a. Amma) was born poor in a small coastal village in Southern India. Today she tours the world with an entourage (that includes hundreds of volunteers) spreading love via hugs and spiritual teachings. Last weekend she began her annual North American Tour in the Seattle area (Everett, WA) where thousands came to be with her, listen to the teachings Amma and her other teachers provide and perhaps receive darshan through her tradition of a hug.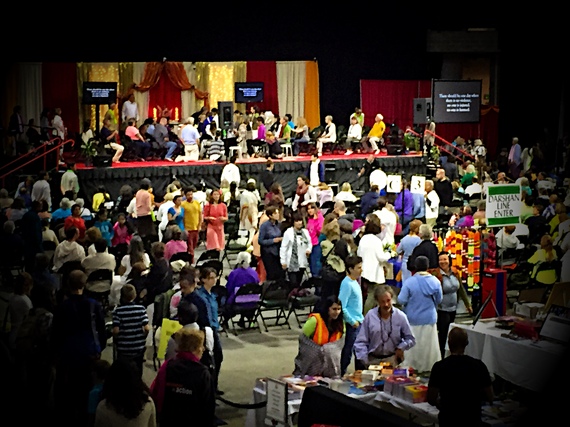 Unlike the visit of HH the 17th Karmapa a couple weeks ago when tickets ranged from $40 to $500 for two two-hour teachings, all of Amma's events were free. Her organization had to deal with the same logistical challenges as did Nalandbodhi in presenting HH the Karmapa in Seattle, but they managed to do so on a much larger scale while allowing anyone who wanted to attend to participate at no charge.
Everyone attending was welcomed as honored guests by an army of caring volunteers. There was no checking tickets, searching of bags and being run through a metal detector as was true for HH the Karmapa. Love rather than fear was prevailed, and everyone was treated with the utmost dignity and respect as they entered and moved seamlessly through the process of "meeting Amma" for that very special hug.
Even though I have participated in this experience almost every year for the past couple decades, it remains a unique and extraordinary out-of-time moment. The vast Xfinity Arena is not a particularly spiritual space (being known mainly the home of a local hockey team), but when Amma entered it became a spiritual sanctuary for the crowd of several thousand.
"Amma presents the kind of leadership we need for our planet to survive. This is the most heroic person I've probably ever met."
I concur. Amma is a leaders who gives freely all that she has in order to benefit others, and she does this consistently day after day with the simple act of a hug.
When it was my turn to receive a darshan hug from Amma, all I could do was remain as present as possible and enjoy the few seconds (which felt like a timeless moment) of direct contact with a genuine living saint. Then, it was back to "ordinary reality" within a safe and gentle environment provided by the huge staff of volunteers.
And never did anyone ask me for money. There were inconspicuous donation boxes throughout the venue, and sales of all kinds of spiritual goods were available but Amma's visit was about making sense and not making money. Plus, almost all of the money raised is transparently used for Amma's numerous charities.
When I stepped back to consider the experience, I realized that Amma and her crew do everything that they can to make people feel welcome and appreciated in what for many is a strange spiritual reality. She includes all people in her goal of "embracing the world," and being in her presence is something not to be missed if she comes anywhere near you.
May all people find the type of love and connection Amma shares so openly and freely.
Calling all HuffPost superfans!
Sign up for membership to become a founding member and help shape HuffPost's next chapter