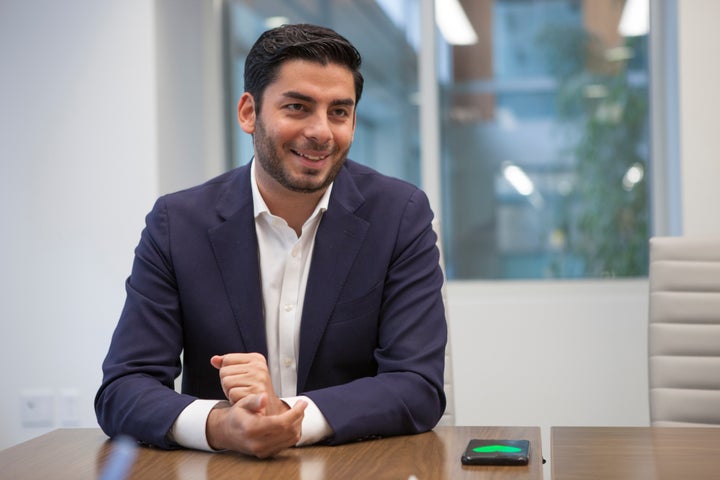 SAN DIEGO — On a sunny Sunday morning a month before Election Day, 29-year-old Democratic congressional candidate Ammar Campa-Najjar stood in front of dozens of volunteer canvassers and told them they could make history by flipping California's staunchly conservative 50th Congressional District, taking back the House and finally holding Donald Trump's administration accountable.
"I know a lot of you are resisters, right?" Campa-Najjar asked the volunteers, who shouted affirmatively.
"What you all have to understand — I need to stress this: We gotta check our feelings at the door about how we feel about the other side because there's no way on God's green earth that we can win this race with only Democrats. It can't happen," he continued. "This election is not about Trumpsters versus resisters," he said.
A Mexican-Palestinian-American Obama administration alumnus who's running against Rep. Duncan Hunter, Campa-Najjar faces a problem many Democratic candidates in traditionally Republican areas are wrestling with. In a district where just 27 percent of voters are registered Democrats, the odds of beating his opponent — even an opponent who is under federal indictment and is waging a racist campaign against him — are not in his favor. Even if Campa-Najjar gets every registered Democrat in his district to show up for him on Election Day, he may still lack enough votes to win. But if he caters too much to Republicans, he risks alienating his base while not winning many converts.
Campa-Najjar, who likes to say his race is "postpartisan," is trying to walk a middle path. It's a risky stance in a political climate that has rejected centrist candidates in favor of politicians who unabashedly take a side. But it might work in this race against an increasingly vulnerable incumbent.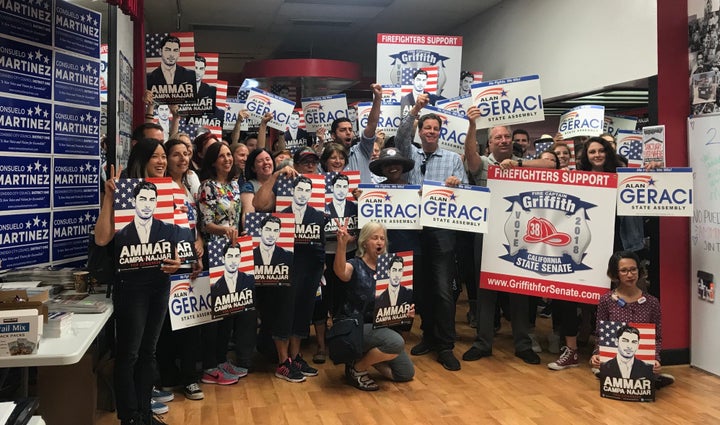 When he launched his campaign two years ago, replacing Hunter with a progressive Democrat seemed impossible. The 41-year-old Republican incumbent has represented the area since 2009, when he took over a House seat from his father, who was first elected in 1980. The last time the younger Hunter was up for re-election, he trounced his Democratic opponent by 27 percentage points. The district was one of the few in California that went for Donald Trump in 2016.
But in August, Hunter was indicted for allegedly funneling $250,000 of campaign funds toward personal expenses, including a vacation in Hawaii, a ski trip in Lake Tahoe and 30 shots of tequila at a bachelor party. A veteran, he told his wife to buy his "Hawaii shorts" at a golf pro shop so he could claim they purchased golf balls for a wounded warriors event, according to the indictment. Hunter denied any wrongdoing and blamed his wife, who was also indicted, for any misuse of campaign funds.
Campa-Najjar hopes that conservative voters who preach personal accountability, fiscal responsibility and family values will be so repelled by Hunter's alleged corruption — and his impulse to shove any blame onto his wife — that they'll give the Democratic newcomer a chance. "We cannot vote for a lawbreaker to be our lawmaker," Campa-Najjar constantly tells voters. "How can we trust somebody to pass laws that he himself cannot follow?"
He supports Medicare-for-all but talks about it in terms of expanding coverage and protecting people with existing conditions — a concept so popular that Republican lawmakers lie about supporting it. He favors investing in renewable energy but puts it in common-sense terms: Who wouldn't want their children to inherit a livable planet?
Some of his supporters are eager to point out similarities between him and Barack Obama, but these days Campa-Najjar brushes off the comparisons. "I'm not into that hopey-changey stuff. I'm not trying to be Barack Obama," he said at a meet-and-greet in Temecula, one of the more conservative parts of his district. "We're both skinny brown guys with funny names, but that's pretty much it."
"I'm not like a no-Trump-all-the-time kind of guy. Because if he's president, he has to sign my fucking bills. Otherwise, I'm just an activist yelling in the chamber"
Perhaps most emblematic of Campa-Najjar's approach is the way he explained his stance on immigration at a meet-and-greet in San Marcos. When Tom Theriault, a longtime Republican voter, pressed him on his commitment to comprehensive immigration reform, Campa-Najjar promised it was a high priority. But he stopped short of calling for decriminalizing unauthorized border crossings, as some progressive Democrats who are running for office did this year.
Instead, Campa-Najjar brought up the so-called Gang of Eight bill, a bipartisan immigration reform deal proposed in 2013 that would have provided a pathway to citizenship for millions of undocumented immigrants living in the U.S., in exchange for pumping billions more dollars into border security. He talked about his campaign manager, a Dreamer who was brought to the U.S. as a child without documentation, and quoted Bible verses that compel Christians to treat the most vulnerable with generosity. He said that some immigrants are rapists and killers — a nod to Trump supporters — but reminded the crowd that the biggest victims of crime by undocumented individuals are other undocumented immigrants, who are unlikely to go to the police out of fear of being deported. Campa-Najjar knew this wasn't the immigration response die-hard progressives craved.
"I could tell you guys the positive, like the 100 percent unvarnished Ammar happy dance about immigration," he said. "But this is the message that I can tell every single person in my district. The Republicans. The hard-core ones."
Theriault, a former pastor at a Presbyterian church, was impressed with Campa-Najjar, even if Theriault didn't agree with everything the candidate said. Theriault said he stopped voting Republican because of the party's hard-line immigration policies over the past several years.
If voters like Theriault can come around to Campa-Najjar, Hunter might be in trouble. So he's fighting back — dirty. His campaign has produced a series of misleading and Islamophobic attack ads falsely suggesting Campa-Najjar is a "radical Muslim" "trying to infiltrate the U.S. government."
Campa-Najjar, whose mom is Mexican-American and father is Palestinian-American, is Christian. He lived in the Gaza Strip during the second intifada for three years before his mother moved him and his brother back to San Diego, where she raised them as a working-class single parent. They lived with his maternal grandparents, and he worked as a janitor at his church to help his mom pay bills. He joined the church's youth ministry in high school.
Hunter's ads referred to Campa-Najjar's paternal grandfather, Muhammad Yusuf al-Najjar, a senior member of Black September, the Palestinian terrorist group that killed 11 Israeli athletes at the 1972 Olympics in Munich. Israeli commandos killed al-Najjar and his wife in 1973, 16 years before Campa-Najjar was born. Campa-Najjar has won support from pro-Israel groups for his positions on the Israeli-Palestinian conflict.
Hunter's racist attacks backfired, Campa-Najjar argued. At campaign events, he reminds voters that he was cleared by the FBI to work at the White House, while Hunter was investigated by the FBI for allegedly misusing campaign funds. "We raised money off of it," he told HuffPost.
Pressed about whether he really believes his rhetoric about his race being postpartisan, Campa-Najjar insists he's being sincere.
"I don't see the world as black and white because I just never had the luxury. Like, I was never Latino enough, never Arab enough, never American enough," he said. "I'm not like a no-Trump-all-the-time kind of guy. Because if he's president, he has to sign my fucking bills. Otherwise, I'm just an activist yelling in the chamber."
It would be foolish to dismiss Campa-Najjar's chances. He raised over $1.4 million in the third quarter — more than 10 times the cash Hunter brought in during the same period. A recent poll from Tulchin Research, which usually works for Democratic clients, found the candidates nearly tied.
But there are still plenty of people who would rather vote for a Republican who could be on his way to prison than for a Democrat. Another recent poll, from Monmouth University, found Hunter well ahead. Ten percent of surveyed voters in the district said they thought Hunter was probably guilty of the charges against him but planned to vote for him anyway.
Support HuffPost
The Stakes Have Never Been Higher
Popular in the Community