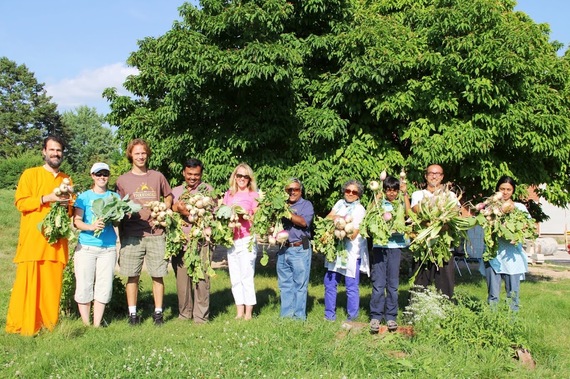 Amma, India's beloved hugging saint, is helping to set the tone for sustainable farming in Illinois.
If you've not heard of Amma, her story begins simply. In rural Kerala, South India in 1953, Sri Mata Amritanandamayi Devi was born. She came out of the womb with an innate passion to ease suffering. When she was a young girl, she offered hugs to comfort people, and those she comforted responded by calling her Amma, or mother.
Today she travels the world city to city offering thousands of hugs, setting an example of selfless giving that inspires others to give to each other and their communities, good deed by good deed.
"She believes in simple miracles, that hugs, a smile can change a person's attitude," says Shantamrita Chaitanya, who is resident swami, or teacher, at the Center.
From that beginning, a global community has evolved that takes these simple miracles and makes them blossom in a big way.
Much of Amma's work is undertaken by a global network of centers and community organizations that operate under an umbrella charitable organization, Embracing the World. This work -- some of it disaster relief, some of it housing, some of it healthcare --collectively adds up to millions of dollars and millions of man hours.
Although I had heard of India's hugging saint in the early 2000s, I first heard about Embracing the World's relief work after the massive 2004 Indian Ocean Tsunami. All told, Embracing the World responded with $46 million in relief. The response included construction of 6,200 tsunami-resistant houses in India and Sri Lanka, as well as providing 700 new fishing boats. Tsunami relief even included a public works project, construction of a multimillion-dollar bridge providing Alappad Panchayat, a peninsula community, an evacuation route to the mainland.
Like her hugs, now numbering in the millions, Amma's lessons are intended to linger, heal and engender new action. That's how the Chicago area, after more than 25 years of well-attended visits by Amma held in suburban hotels, finally got its own Center in 2012. Illinois Gov. Pat Quinn attended the 2012 inauguration of the MA Center in Elburn.
MA Center Chicago sits on 142 acres that was formerly a Seventh Day Adventist Boarding School. In addition to the main building, the Center includes 17 separate houses, a gymnasium, two warehouses, an industrial kitchen and two dormitories. In total, the Center has several hundred thousand square feet of floor space.
A leadership role in regenerative agriculture
Although MA Center Chicago was created to provide spiritual sustenance to the region and to provide a residential and retreat center, as important it is taking a leadership role in encouraging regenerative agriculture in Illinois. The work begins with sustainable farmland for the MA community and the intention is to help spread it to the larger community of the Midwest.
MA Center Chicago currently has 60 acres of agricultural land committed to sustainable principles, totally non GMO and organic. A regional farmer is pitching in with the conversion to organic, while learning along the way himself.

"Be like the honeybee who gathers only nectar wherever it goes. Seek the goodness that is found in everyone." Amma
The Center is hosting classes on beekeeping and organic gardening for any who want to come - many are free. On Aug. 16 through 19, MA Center Chicago will host Darren Doherty, who will be teaching courses on permaculture theory and application. Permaculture is the development of agricultural ecosystems intended to be sustainable and self-sufficient.
Through the GreenFriends project, MA Center Chicago plants, builds sustainable environments, educates others about soil, permaculture, pruning and other gardening techniques, and holds seasonal community events. GreenFriends also collaborates with affinity organizations, such as: Common Vision, Rodale Institute, BioLogic Systems, Savory Institute and Living Mandala, among others.
MA Center Chicago's single starter bee hive has grown into three through the lucky old fashioned method of harnessing a swarm, says Nancy Phillips, beekeeper. Each hive has from 20,000 to 65,000 bees.
This befits Amma's philosophy to serve and to have faith that what's needed will be provided. In Phillips case, she served the bees and they multiplied.
Although MA Center Chicago is early in its history, its growth could very well take a cue from the Center's bees.

"This place has a potential to be a huge sustainable village where people can absorb the energy but also facilitate healing within themselves," said Swami Chaitanya.
Spiritual guidance and hugs
Amma will be sharing spiritual guidance and giving hugs June 23-25 in Elburn. Her final program, Wednesday evening at 7 pm, will be a celebration of world peace.
While at Amma's, a visitor may be introduced to traditions and practices that derive from Hindu origins. Amma embraces all traditions and religions and encourages all to honor their religious roots. "My religion is love" is like a mantra from Amma. There is no other definitive description of her beliefs.
"She tells everybody to go deeper in their faith," said Swami Chaitanya, who was raised as a Presbyterian.
Calling all HuffPost superfans!
Sign up for membership to become a founding member and help shape HuffPost's next chapter