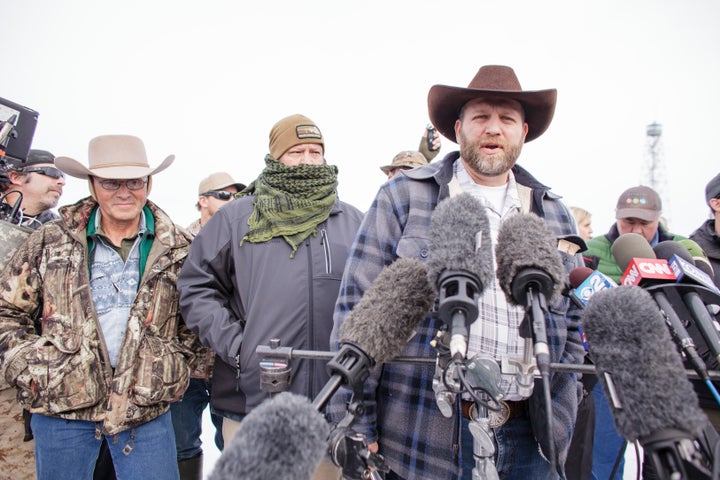 Anti-government protest leader Ammon Bundy, speaking from jail days after he was acquitted of federal conspiracy charges, criticized the government for arresting him and others involved in the armed occupation of an Oregon wildlife refuge. 
"It was our duty to stand. We did it peacefully. We did it legally, and the jury's verdicts confirmed that," Bundy, 41, told The Oregonian in a phone interview from Multnomah County Detention Center in Oregon that was published Monday night.
A jury in Portland, Oregon last week cleared Bundy, his brother Ryan, and five others of conspiracy to interfere with federal employees in the 41-day armed takeover of the remote Malheur National Wildlife Refuge. Defendants were also found not guilty of weapons possession at a federal facility and theft of government property, though the jury deadlocked on the theft charge for Ryan Bundy. 
The Bundy brothers remain locked up, however, awaiting a separate trial in Nevada on charges of taking part in a 2014 armed standoff alongside their father, Cliven Bundy, against federal land managers over unpaid ranching fees. The charges, announced after the brothers' arrests in the Oregon conflict, include conspiracy, extortion, obstruction of justice and assault on a federal officer. 
"We will continue to stand," Bundy vowed. "We know what we did in Nevada was right. We're very confident God will continue to protect us and show forth his hand in Nevada.''
Last week's acquittals in Oregon came as a surprise to many who had watched the trial. A Reuters reporter heard gasps in the courtroom as the verdicts were announced. 
"I felt pretty comfortable. I felt at peace with what was going to happen,'' Bundy told The Oregonian. "I knew what we did was right. We had no ill intent.''
The wildlife refuge occupation began as a protest supporting two ranchers facing a prison sentence for arson that Bundy decried as unjust. Bundy, as ringleader, testified that he believed the Constitution allows citizens to seize land from the government and that he planned to turn the bird refuge into an engine for economic growth by opening it to ranching and mining. 
Government officials, alarmed by the verdict in the case, fear it may embolden other protesters to take strident action in the rural West where the federal government is a large landowner. 
Calling all HuffPost superfans!
Sign up for membership to become a founding member and help shape HuffPost's next chapter
BEFORE YOU GO