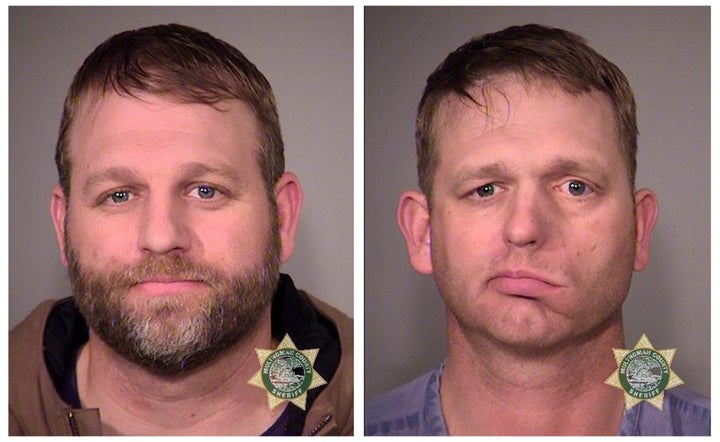 PORTLAND, Oregon — The stage is nearly set for the alleged ringleader of an armed takeover of a federal wildlife refuge near Burns, Oregon, to testify in his own defense on Tuesday. 
Though defense attorneys often warn against defendants taking the stand, Ammon Bundy said it's necessary because of how the federal trial has so far unfolded against him and six co-defendants who occupied the Malheur National Wildlife Refuge for 41 days in January and February. 
"I do not feel I have a choice to testify or not," said Bundy, 41, in response to questions from U.S. District Court Judge Anna Brown after the jury had been excused on Monday. "I have no choice to get the truth to the jury but to get on the stand." 
Central to the opinion of Bundy and the other defendants, including his older brother Ryan, is their claim that federal authorities did not have constitutional authority over the refuge. But Brown has forbidden the defense from broaching that topic. This trial is an inappropriate venue for debating views of federal land ownership and it has no bearing on whether the defendants are guilty of the charges, Brown has said. 
Bundy made limited comments on Monday, but others around him have complained that the judge has too often ruled against defendants. That seemed apparent on Monday as Brown repeatedly agreed with many of the prosecution's objections to the defense's questioning of witnesses. 
In a sign of frustration from the Bundy camp, his wife, Lisa Bundy, told KGW-TV during Monday's lunch recess, "I feel that the judge is very biased."
Brown, meanwhile, vented her frustrations with Bundy's attorney Marcus Mumford on Monday. Bundy was expected to begin testifying in the afternoon, but this was postponed as Brown admonished Mumford for not giving enough notice on what video and photo exhibits he wants to use as evidence. 
"I've asked repeatedly for you to be prepared," she said. "I'm not going to waste the jurors' time."
Before Bundy testifies, the prosecution and defense will try to resolve the questions of evidence.
The occupiers seized the bird refuge to demand that authorities release a local father and son convicted of arson and cede control of federal land. The seven on trial have been charged with conspiracy to impede federal officers from carrying out their duties. In addition, Bundy and two others have been charged with possessing a firearm at a federal facility, while Ryan Bundy, 43, and another defendant have been charged with theft of government property. 
If convicted, they face a minimum of six years in prison. 
Defense witnesses testified on Monday about conditions at Malheur during the occupation. Though they acknowledged seeing occupiers with weapons, they said the atmosphere was peaceful. One talked about children frolicking in the snow. 
"It was as laid back an environment as you could ask for," said Pat Horlacher, a silversmith in Burns, Oregon, who made several visits to the refuge. 
Brand Nu Thornton, who participated in the occupation but was not arrested, testified that no one would have interfered with U.S. Fish and Wildlife Service employees if any had shown up. 
"Get out of the way and let them go to work," Thornton said when asked what the occupiers planned to do in the event workers returned.
Thornton's presence solved a small mystery. He revealed that he was the man who appeared in photos blowing a ram's horn during the occupation, whom the FBI had identified only as "Idaho Jerry" because of a hat he wore with those words on it. 
Thornton and Horlacher's statements contrasted with the case presented by the prosecution earlier, during which they presented 22 long guns, 12 handguns and thousands of rounds of ammunition that were confiscated from the refuge, according to The Oregonian. 
The Bundy brothers also face charges in Nevada where they participated in a similar armed showdown with authorities over unpaid fines for cattle grazing, led by their father, Cliven Bundy. That Ammon Bundy's statements in Oregon may be used against him in the Nevada trial is one reason the judge cautioned him against testifying. But Bundy said he wasn't concerned.
"What we did in Bunkerville," Bundy said, referring to the site of the other protest, "I'm very pleased at and very excited to discuss that further in this court and in any other court." 
CORRECTION: An earlier version of this article misstated the television station that reported the comments of Lisa Bundy. 
Calling all HuffPost superfans!
Sign up for membership to become a founding member and help shape HuffPost's next chapter
BEFORE YOU GO