I dare President Trump to give the same speech he delivered Sunday at the Arab Islamic American Summit to his own followers at his next rally in the United States. To say in Ohio: "We must practice tolerance and respect for each other again." To tell Alabamans that the majority of victims of terrorism have been people of Muslim heritage and that this "deadliest toll" has been "a tragedy of epic proportions." To celebrate here at home the possibilities of the "bonds of friendship, security, culture and commerce" between Muslims and Americans. To declare for middle America that "this is not a battle between different faiths." To call for God to bless Muslim majority countries and the United States of America in the same breath, as he did at the end of his address, at the next CPAC.
Doing so would be a real contribution to the global struggle against all forms of extremism, including far-right extremism in the West, and much-needed proof he actually meant what he said in Riyadh. It could also help defuse some of the hate violence and vitriol targeting people of Muslim heritage living in the U.S. that his strikingly different campaign rhetoric helped fuel. He should take seriously First Daughter Ivanka Trump's otherwise hollow call at the Tweep summit for "a future of tolerance."
The most shocking aspect of President Trump's speech – perhaps except for the singling out of Iran ― was the lack of shocking language. As Fox News noted, the President "toned down the rhetoric." What a difference a teleprompter makes. But one is left wondering if the president believes that everyone – at home and around the world ― has had a sudden and irreversible attack of amnesia. In the commentary leading up to this first trip abroad, there was much talk in the media of the rather large elephant in Sunday's lavish meeting room – his advocacy of travel bans on people from a number of Muslim majority countries and his view that "Islam [seemingly a person] hates us."
If he stands by all of what he said in Saudi Arabia, he must apologize for and disown many of his previous statements about these topics.
What stays with me, however, is a tweet from February, shocking even by Trumpian standards ― in which he claimed that "supporting Muslims is supporting female genitalia mutilation." (sic) Has he changed his mind? In Riyadh, he expressed admiration for Saudi efforts to improve the status of women ― without noting that women still could not have driven themselves to any of his events. Which of the two diametrically opposed views about Islam and Muslims that he has expressed in the space of four months does he believe? If he stands by all of what he said in Saudi Arabia, he must apologize for and disown many of his previous statements about these topics.
As an American of Muslim Arab heritage who has worked against extremism for 25 years, I am actually glad the president called for terrorists to be driven out of Muslim places of worship and for Muslim majority countries to "do what it takes to destroy the terror that threatens the world." Like many others from the same background, I agree with the sentiment he expressed about Islamism, if not the sci-fi tinged rhetoric he used to do so, when he suggested Muslims must send this "wicked ideology into oblivion." Critics of the president should not make the mistake of discounting the importance of that message regardless of the messenger. The metastasizing of Islamism from Indonesia to Libya and beyond is indeed a threat to "the futures of many generations."
However, I cannot see how such calls from a man who has never atoned for repeatedly expressing deeply anti-Muslim views can possibly advance these causes at the popular level. Many governments in these regions may strategically forgive the U.S. president in exchange for his willingness to tolerate their human rights abuses, but ordinary people and especially the 65 percent under the age of 30 whom he highlighted are unlikely to do so.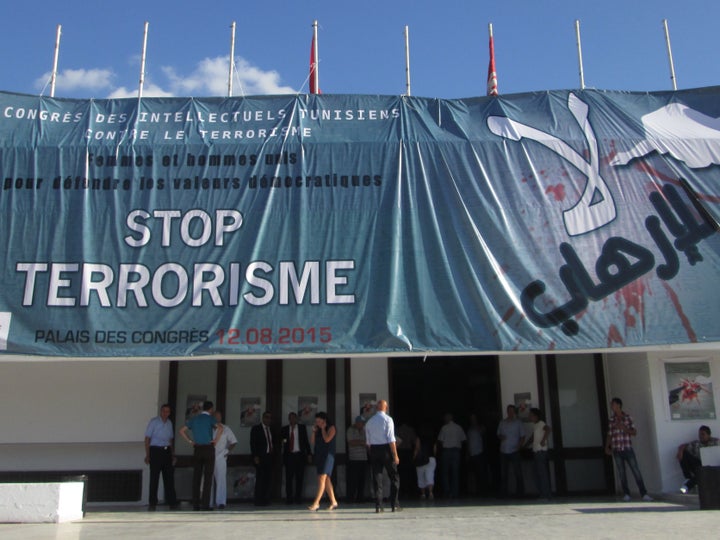 Moreover, as expressed by Zuriani Zonneveld, Malaysian-American founder of Muslims for Progressive Values, "Trump is making the same mistake as Obama. They keep pumping money into the very institutions and so-called partners that are the root of terrorism." She wonders if the new Terrorist Financing Targeting Center the U.S. is co-chairing with Saudi Arabia will do anything to halt the funding of radical imams that her organization has been attempting to counter with its "pitifully funded" #Imamsforshe initiative. Why not support and enable the real opponents of terrorism for once, rather than standing with its historic funders?
A key theme of the speech was that "the nations of the Middle East cannot wait for American power to crush this enemy for them." This is dangerous revisionist history. As I wrote in September 2014 after President Obama's speech to the UN General Assembly, similarly calling on Muslims to tackle the Islamism he declined to name, many people of Muslim heritage are out in front of the American president. They have been putting their lives on the line for years to confront that ideology, from Afghanistan to Mali. My own father did this in his native Algeria in the 1990s. Like him, liberal, secular, moderate, left-wing and feminist advocates in Muslim majority countries – not enough of them, but significant nonetheless ― have for decades been calling on the world to understand the danger they were facing and stand with them. Today, they include imprisoned Saudi blogger Raif Badawi. Instead of receiving international solidarity, just as we witnessed again in Riyadh, this crucial constituency watched the United States support the archaic Gulf monarchies that exported Wahhabism to all Muslim majority regions with their petrodollars while squashing opposition to fundamentalism at home.
King Salman said that President Trump's speech is one the whole world will remember. That will only be true if Mr. Trump takes his own message seriously, and if we collectively tackle the hate his rhetoric has spawned here at home, while thoughtfully addressing the complex realities he addressed abroad.
Calling all HuffPost superfans!
Sign up for membership to become a founding member and help shape HuffPost's next chapter
BEFORE YOU GO