Amnesty International is asking Latin American and Caribbean governments to decriminalize abortion and stop forcibly sterilizing women with HIV.  
The human rights group called attention to a wide-ranging series of public health failures across eight Latin American and Caribbean countries in a report released Monday, contending that state policies in the region often fuel violence against women.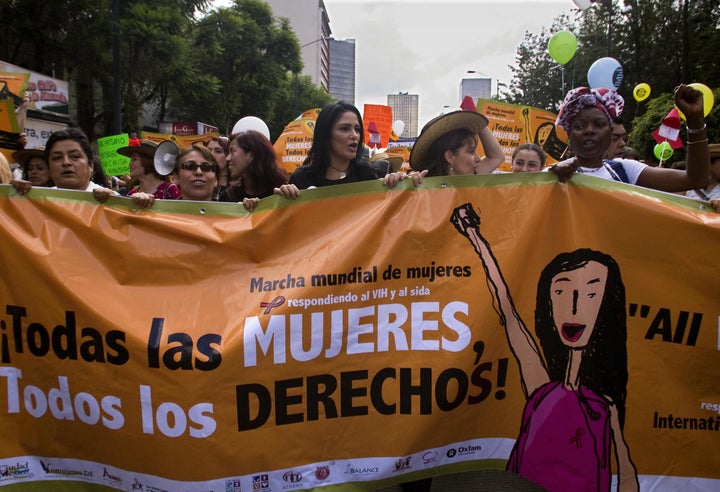 The report describes Latin America and the Caribbean as a region where "more than half of pregnancies are unwanted or unplanned, where there are extremely high rates of sexual violence, where the demand for contraception far outstrips availability and where cultural norms continue to give pride of place to women's role as mothers." Governments make matters worse by sharply restricting access to abortion, allowing religious groups too much influence over public health choices, and at times pressing women to make health decisions without their consent, the report says.
In one example, Amnesty cites the case of Michelle, a 23-year-old housewife from the Mexican state of Veracruz who discovered she was HIV-positive during a check up after entering her fourth month of pregnancy with her third child. State health workers at the hospital where she received care in preparation for the birth then insisted that she undergo a sterilization procedure, called a bilateral tubal occlusion, despite Michelle's insistence that she didn't want it, saying she preferred to use another form of contraception.
"I felt very pressured and I felt ashamed," Michelle told Amnesty International. "The doctor even had a go at my mother, telling her that, as a mother 'she must understand.' After a series of accusations and intimidation, he forced my mother to sign a paper authorizing the procedure."
"It caused me a great deal of suffering, not because I wanted to have another child -- I wasn't planning on having another baby -- but because it is a scar that I will carry all my life," she said. "It wasn't my decision. They did it to me by force."
When Michelle arrived at the hospital on Sept. 27, 2014, the surgeon on duty refused to perform a cesarean section on her. It took hours before a doctor willing to perform the procedure on a woman with HIV appeared, the report says.
Hospital staff subjected Michelle to what Amnesty International described as "discriminatory treatment." They placed a large sign above her bed with her name, age and the letters "HIV." When she suffered a hemorrhage, health workers gave her a piece of cloth and shouted at her to attend to it herself to avoid infecting them, according to the report. Unlike the other women, she was served food with disposable plates and utensils.
While it's unclear how widespread the practice is, the report cites research documenting cases of forced or coerced sterilization of women with HIV in El Salvador, Nicaragua and Honduras. The practice violates global human rights standards and should be considered a form of violence against women, according to Amnesty International. 
With treatment and precautions during pregnancy, delivery and breastfeeding, the risk of transmitting HIV from mother to child can be reduced to rates as low as 5 percent, according to the World Health Organization. Without treatment, rates range between 15 and 45 percent. 
The Amnesty report highlights a host of other problems affecting reproductive health policy in the region. It criticizes a tendency in Latin America and the Caribbean to prioritize the rights of the fetus over those of pregnant women and girls, noting the total prohibitions of abortion in the countries of El Salvador, the Dominican Republic and Chile, as well as partial restrictions in Argentina and Paraguay that Amnesty describes as near-total bans.
Some 97 percent of adult women in Latin America and the Caribbean live in countries where access to abortion is "severely restricted by law," according to Amnesty. The report's authors also say their research highlights the absurdity of asking women in Latin America to avoid pregnancy in order to minimize the effects of the Zika virus outbreak.
The report recommends decriminalizing abortion across the Americas and asks the region's governments to reduce gender violence by helping women make free and informed choices about their reproductive care, and offering greater access to both health care and contraception.
Calling all HuffPost superfans!
Sign up for membership to become a founding member and help shape HuffPost's next chapter
BEFORE YOU GO
PHOTO GALLERY
Myths About Abortion That Need To Be Busted