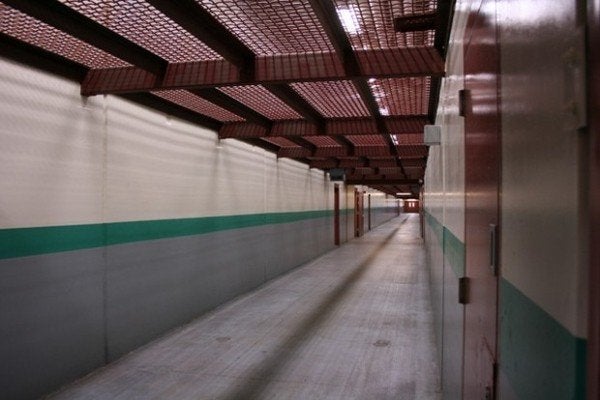 California's extensive use of solitary confinement in two state prisons subjects thousands of inmates to "cruel and degrading" conditions and amounts to illegal torture, Amnesty International said in a new report Thursday.
The human rights group compiled the extensive report after gaining rare access to Pelican Bay State Prison and California State Prison at Corcoran, two maximum-security prisons where about 3,000 prisoners are held in extreme isolation, often for decades or longer.
One prisoner told interviewers that his confinement made him feel he was "silently screaming 24 hours a day."
Hundreds of inmates at the two prisons have spent more than a decade in isolation, and nearly 80 have been confined more than 20 years with virtually no human contact. Corrections officials say the units are necessary to fight prison gangs and to maintain safety in the prison system by removing the "worst of the worst" from the general population.
Amnesty International called on authorities to scale back on solitary confinement, using it only as a last resort to maintain prison safety -- not as punishment for an accumulation of minor rule infractions, or as a method to gather intelligence on prison gangs, as prisoners and human rights advocates claim.
"This report is a wake-up call," Suzanne Nossel, executive director of Amnesty International USA, said in a statement. "The prospect of people spending years or decades of their lives with virtually no human contact, sunlight or stimulation is terrifying, and amounts to cruel, inhumane and degrading treatment."
Nossel said the use of long-term solitary confinement also posed a risk to the public, when psychologically damaged inmates are released back into society.
"This system is an affront to our values, and could pose a very real danger to society," she said.
In a statement to The Huffington Post, Jeffrey Callison, a spokesman for the California Department of Corrections and Rehabilitation, defended the agency's management of conditions at the two maximum-security facilities.
The agency "takes very seriously its responsibility to provide humane housing conditions for all of its inmates," Callison said.
Callison added that state and federal courts, and state oversight agencies have reviewed and monitored conditions at the two facilities for years.
"No courts have found CDCR facilities to be inhumane or in violation of offender rights," he said.
Yet Callison also said the agency was implementing changes in the classification of prisoners held in solitary confinement due to links to prison gangs.
Prisoners and their advocates have long complained that prisoners can become trapped in the solitary unit after being associated with a prison gang. Gangs are a pervasive problem in California's sprawling prison system.
To earn release from solitary, a gang-affiliated prisoner has long been required to "debrief," or identify other gang members for authorities, a dangerous prospect that exposes those who comply to retaliation.
Callison said within several weeks a new system would in place, giving prisoners a behavior-based path out of solitary. Every prisoner in the solitary units due to gang status will have their case reviewed, he said.
"The new strategy is behavior-based and engages the offender in how to discontinue gang activity and focus on returning to the general prison population," he said.
California currently faces a federal civil rights lawsuit over conditions in its solitary confinement units. The lawsuit alleges that the use of long-term isolation "strips prisoners of their basic humanity" and amounts to torture. That suit, filed in U.S. District Court in Oakland by the Center for Constitutional Rights in May, is pending.
The Amnesty International report also concluded that conditions at the two prisons were heinous enough to constitute torture. Investigators, who had rare access to the solitary units, found high rates of suicide and severe psychological distress, eye disease from lack of sunlight, and other maladies caused by long-term isolation.
"After being in solitary confinement for almost seven years, that rush of loneliness still vibrates through me," a former inmate, who was held in isolation after being convicted of armed robbery at age 16, said in the report.
Calling all HuffPost superfans!
Sign up for membership to become a founding member and help shape HuffPost's next chapter