Amnesty International is urging Cameroon to take action after the brutal murder of four demonstrators this week. On-going clashes between protestors and the police have led to unrest in the country's English-speaking regions while many of Cameroon's anglophones have long said they are treated as second-class citizens.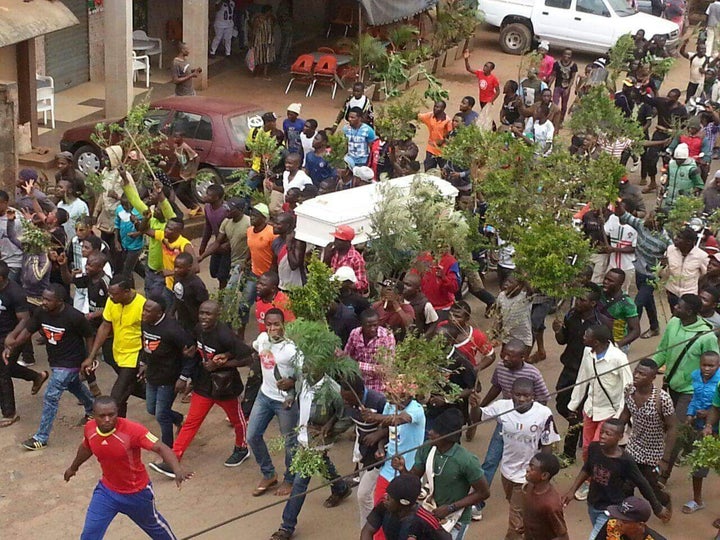 Teargas was set off in a busy marketplace in Bamenda - the country's largest English speaking city - this week, but there were no reports of protests at the time. Four people were killed after forces dramatically fired shots into the air.
"Authorities in Cameroon must shed light on the circumstances of these killings and injuries by immediately conducting thorough, impartial and effective investigations. Those reasonably suspected of criminal responsibility for these deaths must be brought to justice," said Ilaria Allegrozzi, Amnesty International's Central Africa Researcher.
"We call on the Cameroonian authorities to refrain from the use of unlawful force in its response to the protests. Responding to incidents of violence during protests with unnecessary or excessive force threatens to further enflame an already tense situation and could put more lives at risk."
The Cameroon Teachers' Trade Union (Cattu) announced the protests on 22 November for teachers and students in the two English speaking regions - North West and South West. It quickly spread throughout the country's English schools and universities and demonstrators are refusing to call off the strike amid increasing clashes with the police and military.
"They are killing and brutalising our brothers in Buea. Police officers breaking into student hostels and brutalising them. An officer brutally raped an innocent 17 year old girl. We should not be talking about peaceful protest now. We should be talking about how we are going to defend ourselves against the brutality of La Republique," said Dr. Ebezenr Akwaga, human rights activist and former political prisoner.
David Otto, security analyst of TGS and Step In Step Out in Cameroon, said that the police deployed to handle the strikes have been making a "huge mess of it."
"There is confirmed torture and imprisonment going on. The situation looks bleak," said Otto.
Well known Cameroonian journalist - Nfor Hanson - said that the clashes are some of the worst he has ever seen. "Amnesty International are on the side the people. The government has to respect the strike action. People here feel that those who are arrested should be released," said Hanson in Bamenda today.
But after the deaths related to the clashes in Buea last week, Cameroon's Communication Minister Isaa Tchiroma Bakary said that the military were acting professionally and according to how they were trained.
"The teachers and lawyers who began the strike the action have formed a consortium - they will be a body and set their demands. This includes lawyers and teachers," said Hanson. "I met with five of them - they said they will suspend the strike if the government agree to redeploy anglophone teachers to come back to anglophone schools and to deploy francophone teachers to go to francophone schools."
Students at the University of Buea have missed out on crucial tuition amid the demonstrations. "For weeks now we haven't been to school," said Epie Noella, Gender studies student at the university. "But it's not only the education sector - the economy is also struggling. People aren't going to the market in Buea and are not buying or selling. People are panicking, not sure what to expect in the days ahead."
Speaking from the ground in Bamenda, Hanson said that traders are battling to sell at the local market. He said, "buyers are not coming to buy because they are afraid for their lives. They stay at home because they don't know what will happen to them."
Both Britain and France controlled parts of Cameroon until 1961. Cameroon gained independence but split into 10 semi-autonomous administrative regions. Eight are French speaking and mainly abide by French civil law. The two English speaking regions - North West and South West adhere to British common law.
A 1998 education law in Cameroon outlines the independence of the two systems of education but anglophones claim that the French system is the majority and fear it is wiping out their culture.
On social media, demonstrators posted shocking videos of the clashes. One video showed police beating a female student to the ground and rubbing her face in the mud.
"I'm a leader of the anglophone community and my people are dying. They are killing them everyday" said Dr. Akwanga. "Forces are invading universities overnight. Students are held responsible for what's going on. People are dying every day."
The Cameroon president Paul Biya is yet to react to the reports of violence and clashes. Secretary General for Cameroon's ruling party - the People's Democratic Movement - sparked fury last week when he said that the military forces were reacting appropriately.
Calling all HuffPost superfans!
Sign up for membership to become a founding member and help shape HuffPost's next chapter
BEFORE YOU GO