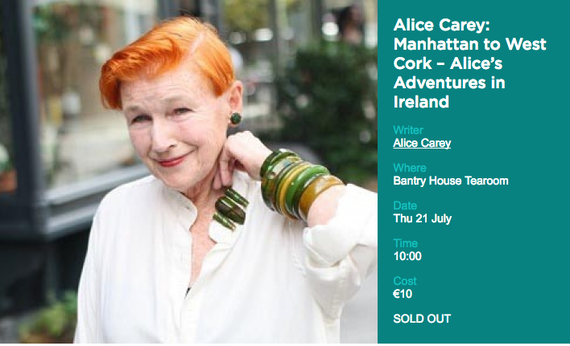 It was only as I was standing in the kitchen of my Irish home, washing up the breakfast dishes, that the importance of what I'll be doing this week stunned me so much I had to sit down for a minute.
I'd been listening to writer, John Banville discuss his 16th novel, The Blue Guitar on the radio, to get a gist of what he sounds like, as he and a host of other writers as well as myself, will be participating in the West Cork Literary Festival in Bantry, Co. Cork, Ireland.
After Banville gracefully finished expounding about his love of music and not his novel, a promo came on naming famous writers who will be reading from their books at the Festival: "John Banville, Gloria Steinem, Zadie Smith, Louis de Bernieres and Fintan O'Toole, among others." Those two words--"among others"--simple words that they are, drew me in and commanded my attention by christening me an Irish writer.
Having two books published in America, I am already considered a professional writer. But all I've ever really wanted was to be to be published in my native land. Yet no matter how hard I tried I had no success. Then, after four years of knocking on every door, working ever angle and even exploring self-publication, through serendipitous seating at a New Year's Eve dinner, I sat beside a literary agent who boldly took me on, and after a year or so of tweaking and cutting, sold my book to an Irish publisher. Now, after six complete re-writes for The Collins Press, my memoir is published and I have been asked to participate at the renowned West Cork Literary Festival.
When I was a child, the word 'festival' loomed as something extremely special. Weddings are weddings. Christmas is Christmas. But Festival!--as it appears in my mind complete with exclamation point--is far beyond a regular event. It's mythic. Yet strangely enough, now that I'm a part of a Festival! I find myself taking it all in stride.
I'm not turning cartwheels in the fields, or documenting my feelings on Facebook. Rather, I am surprisingly calm and happy - actually happy, an uncommon feeling for me - that all my efforts have paid off. Manhattan to West Cork: Alice's Adventure's in Ireland is a beautifully published book lying on tables in bookstores all over Ireland and England, waiting for the passing glance, a look through, and a possible sale.
Songwriters, Kander and Ebb wrote a rarely performed lovely little song for Liza Minnelli called "A Quiet Thing":
"When it all comes true just the way you planned,
it's funny but the bells don't ring.
It's a quiet thing.
Happiness comes in on tip-toe,
Well what'd ya know, it's a quiet thing,
A very quiet thing."
What'd ya know, it is.
To be "among others" is a happy, quiet thing indeed.