"I got a room at the top of the world tonight/ And I ain't comin' down."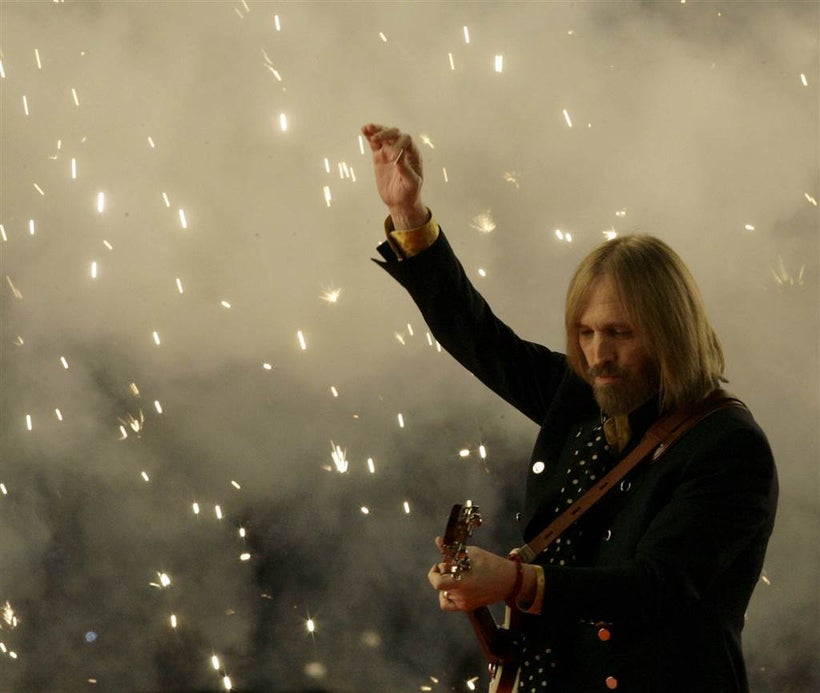 Memory: I'm five years old, in the kitchen of the old house, socks on hard wood, twirling to my dance routine to "Free Fallin.'"
Memory: Maybe 7 years old. Playground girls looking at Trapper Keepers of New Kids on the Block. "What's your favorite band?" someone turns to me. "The Heartbreakers." Blank stares. "…Or The Traveling Wilburys."
Memory: I'm 14, first Tom Petty show. "This," my dad tells me, as we walk to the cheap seats, "is the best live band on the planet. Watch these guys. They're a machine. " Light strobes, drums going crazy with "Don't Come Around Here No More." The band stops on a dime when Petty flicks a hand.
Memory: 16 with a sketch pad, listening to "You Don't Know How it Feels to Be Me." Repeat track. Repeat track.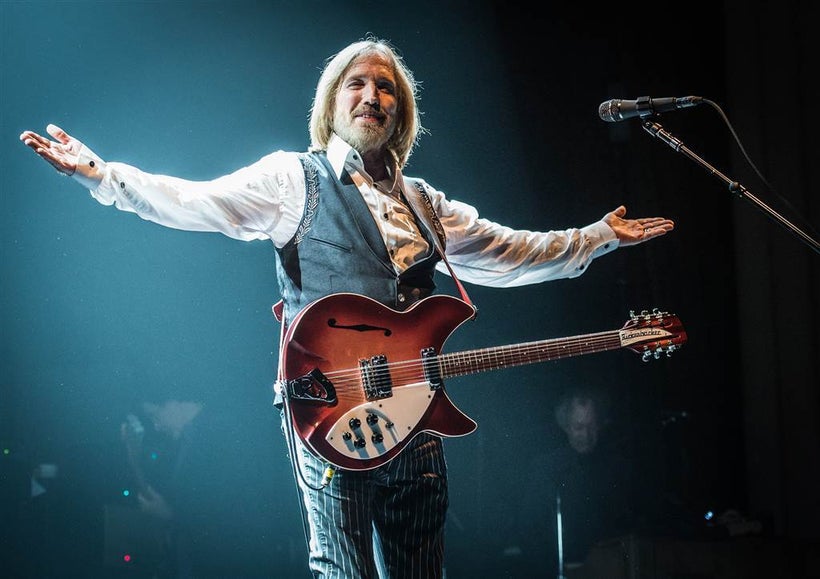 Tom Petty — as he was for many, maybe for you — was part of the soundtrack to my life.
For us die-hards, there were Petty songs we played at weddings, and others we played after funerals. Songs for parties, karaoke bars, snapshot memories of friends—and Petty songs we played when just wanted to sit alone and cry.
There's a Petty song for everyone, because that was Petty did best: Songs for the Everyman.
When I read yesterday that he died, my heart fluttered. My arms felt weak. Brother, I cried.
The reaction felt extreme and unexpected. I didn't know him at all— and yet I did, intimately, and for as long as I have memory.
Lots of us feel this way right now. For Tom Petty fans, and we are legion, we didn't just lose a legend— we lost a friend.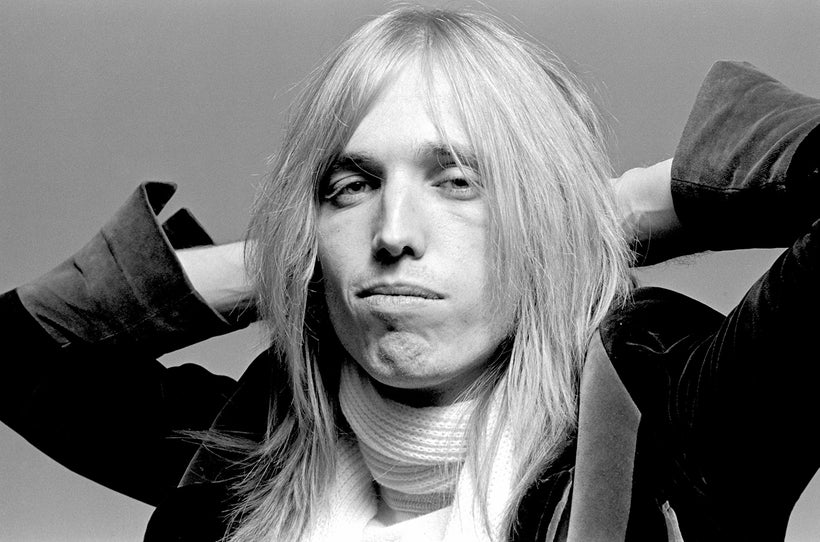 Thomas Earl Petty, a pale skinny kid from Gainsville, somehow made it out of Florida and onto MTV, and the cover of Rolling Stone, and into a supergroup with Bob Dylan and George Harrison.
There was a Southern Accent where he came from, but he wasn't Southern rock.
On guitar, he was on par with Neil Young. In terms of aura, he could've been Bob Dylan's younger cousin from Florida. Raybans. That bit of mystery. Cool as hell.
Wiry, white blond, he prowled the stage, snarled, slinked. Growled and snapped, curled back his lips for "ya'll" and "ain't" and "baby," all nerves and tendon. Wildcat.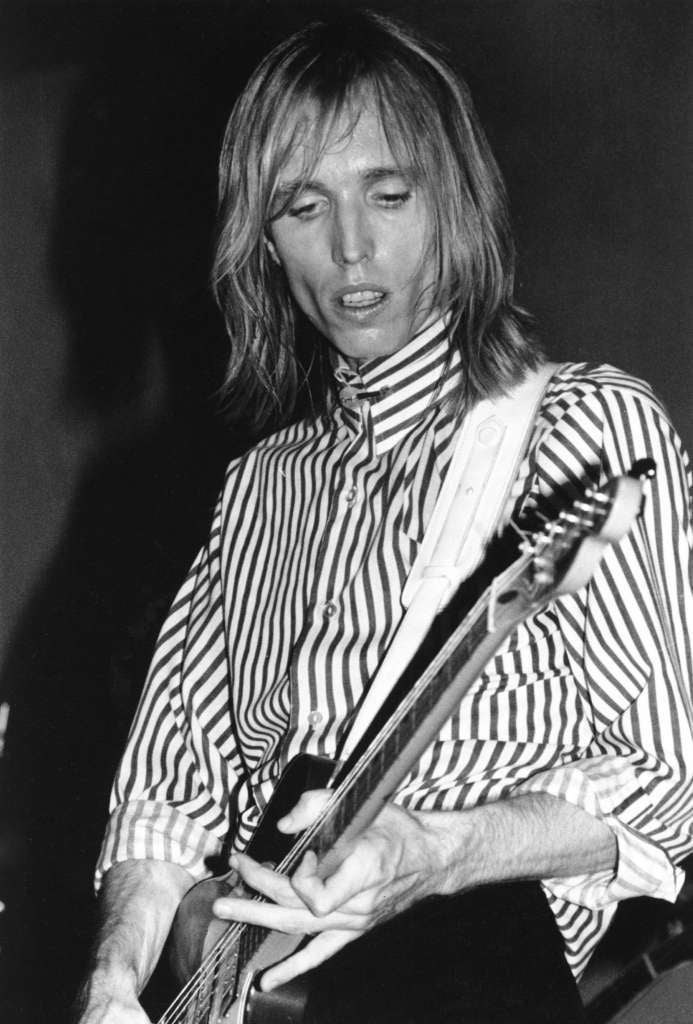 But while Dylan wrote epic poems, Petty was spartan in lyrics, almost Hemingway-esque in his simplicity of short stories about romance and heart-break and, his canvass of choice, American suburbia:
American girls raised on promises, who can't help but think there's a little more to life somewhere else. It's the same sad echo around here. Good girls who love Elvis and horses, and bad boys who don't even miss her. The girl at the high school dance and the boy in the corduroy pants. All the vampires, walkin' through the valley, moving west down Ventura Boulevard. Or those who every day see one more card. You take it on faith, you take it to the heart (The waiting is the hardest part.) And how bout a cheer for all those bad girls? And all those boys that play that rock and roll. They love it like you love Jesus. It does the same thing to their souls.
Petty's were songs of escape, of free-falling out into nothing, leaving this world for awhile. Rally cries. "You can stand me up at the gates of hell / But I won't back down." And "You don't know how it feels to be me."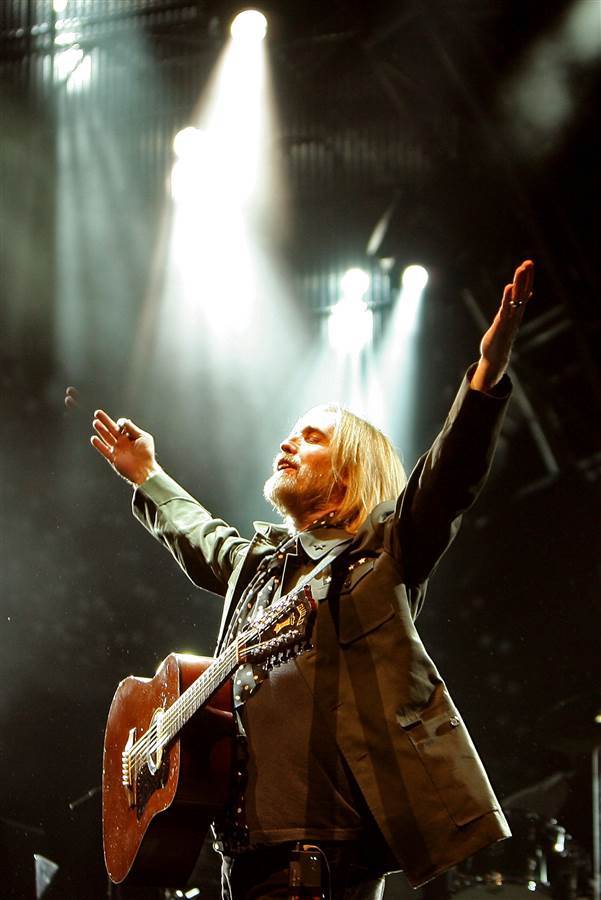 When I think of Tom now, though, I see him, as I so often did, from a distance, in the cheap seats, the back of the stadium.
I think of all of us—maybe you were there, too— answering his call of "Learning to fly," with a unified, "But I ain't got wings!"
Because this isn't just the death of a musician, but the death of a band. A machine. Our machine.
When they played live, there was palpable camaraderie in the air, an almost physical release, something chemical, you felt it, singing those words with thousand of others. Something ancient. Some communal force that harkened back to cavemen, drum beats around a fire, flickers of flame, smoke animal fat and pigment smeared on cave walls: We are here, now, feeling this beat together.
When I think of Tom now, I think of two songs: "Room at the Top " and "Wildflowers."
I hope tonight, he's got a room where everyone can have a drink and forget the things that went wrong with their life.
Because Tom, buddy, you belong among the wildflowers. You belong in a boat out at sea. Sail away, kill off the hours. You belong somewhere you feel free.
REAL LIFE. REAL NEWS. REAL VOICES.
Help us tell more of the stories that matter from voices that too often remain unheard.
This post was published on the now-closed HuffPost Contributor platform. Contributors control their own work and posted freely to our site. If you need to flag this entry as abusive,
send us an email
.